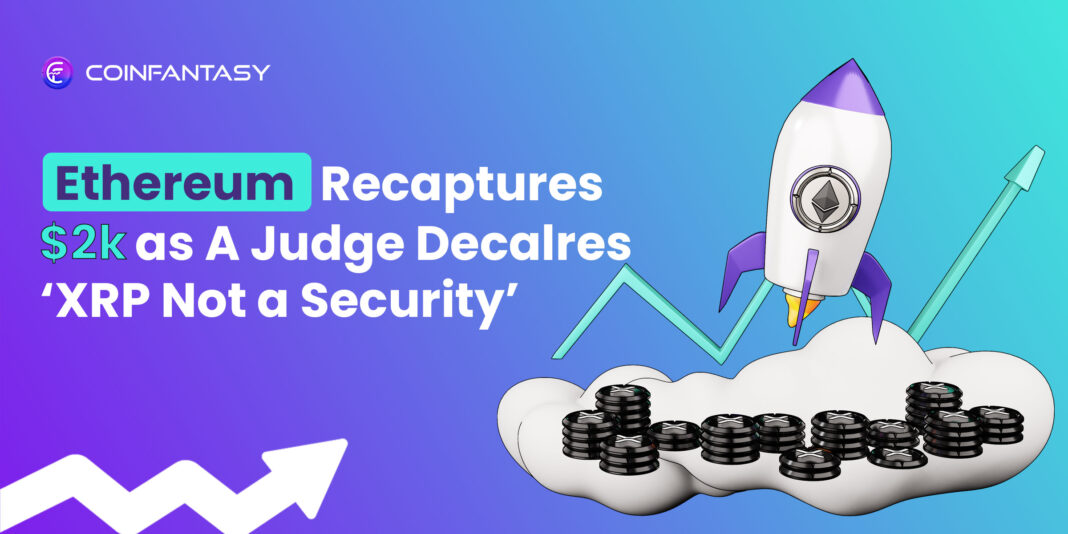 Following a U.S. federal judge's ruling that XRP should not be deemed a security in some settings, the larger cryptocurrency sector is flashing green practically everywhere today. This bull run has lifted Ethereum, the second-largest cryptocurrency by market capitalization. Ethereum recaptures $2k for the first time in more than two months.
Around the Asian morning hours, the second largest cryptocurrency by market size was up 7.4% at $2,010. Following the Ripple vs SEC verdict last Thursday, other layer-1 tokens, including Solana's SOL, which has been charged by the SEC of being a security, saw double-digit increases.
Furthermore, the product, which Gary Gensler and the SEC designated as a security, has outpaced Bitcoin, which has only achieved a 3.5% daily rise.
Ethereum Recaptures $2k For the First Time in a While
According to CoinGecko statistics, Ethereum soared as high as $2,009 on 14th, July, but has since fallen slightly to $1,985 within a few hours. This is a 5% increase in the previous 24 hours and a 14% increase in the last month.
As reported by CoinGecko, the last time Ethereum moved above $2,000 was on May 5. Ethereum nearly surpassed $2,100 in April, but other than those two short times, ETH has stayed below the $2,000 mark for the previous 11 months.
Despite the 14th July price increase, Ethereum is still down 59% from its record price of $4,878 established at the pinnacle of the cryptocurrency marketplace for November 2021.
Ethereum is far away from the only cryptocurrency or token to profit from the XRP ruling's growth, which has driven XRP's price by 81% in the previous 24 hours.
#ETH is dancing around the 2k mark! This is more than just a number, it's a sign of strength and resilience. Keep your eyes on the prize, folks. $ETH is not done yet! 🚀💪 #Crypto #Ethereum pic.twitter.com/QvfMlErtji

— Cryptachi (@itachi_cryptoo) July 14, 2023
The Ripple Victory has Given Ethereum an Extra Push
On July 13, Judge Torres, the judge hearing the Ripple case, said that additional sales of XRP were not investment contracts. The SEC has suffered a setback as XRP is no longer deemed an investment in this case.
As a consequence, it has been re-listed on multiple exchanges, including Coinbase, where its price has increased by more than 70%. Other assets that the SEC said were securities, like Ethereum, have benefited from the price increase.
With the rise, Ethereum recaptures $2k value and remains inside its sideways trend when zoomed out. It has to get through resistance around the mid-April high of $2,120 to post further benefits, so it may return to range-bound territory for a time.
Nonetheless, ETH has gained 16% in the last month, with half of that gain occurring in the last few hours.
As noted by Nansen, Ethereum staking statistics are similarly positive, with a record high of 24 million staked ETH. This is an increase of 20% of the total supply and is worth $48 billion at the moment.
Other Altcoins have Increased Dramatically in Value
The total value of the market is up 6.4% on the day to $1.3 trillion, the biggest level since mid-April, while Ethereum recaptures $2k.
Speaking out, however, prices have been sideways until mid-March, and today's gains are a glitch.
Other cryptocurrencies benefiting greatly from the Ripple triumph include BNB, which is up more than 6% at $258. Cardano (ADA) has risen 26% to $0.363, while Solana is up 33% to $29 on that day.
Other cryptocurrencies seeing double-digit increases today include Dogecoin (DOGE), Polygon (MATIC), Avalanche (AVAX), Uniswap (UNI), and Stellar (XLM), which is up 55% to $0.148.
Ripple's Win Against SEC Seems Positive Three Years Later
The SEC filed a complaint over Ripple Labs and its founders, Brad Garlinghouse and Christian Larsen, in December 2020, saying that the business and its top managers engaged in an unregistered securities transaction by selling XRP.
The SEC contended that XRP should be categorized as a security, bringing it inside the regulatory scope of the authority. Ripple, on the other hand, publicly rejected the claims and launched a strong legal defense.
Ripple secured a key win on July 13, 2023, after almost three years of hard legislative struggle, when Judge Analisa Torres, hearing over the case, determined that the majority of tokens in XRP trades are not considered securities transactions.
Closing Thoughts
The ripple vs SEC playing positively for XRP has soared the prices of many cryptocurrencies including ETH. Ethereum recaptures $2k while other cryptos are also going on a bull run. But it hasn't existed for a long time.