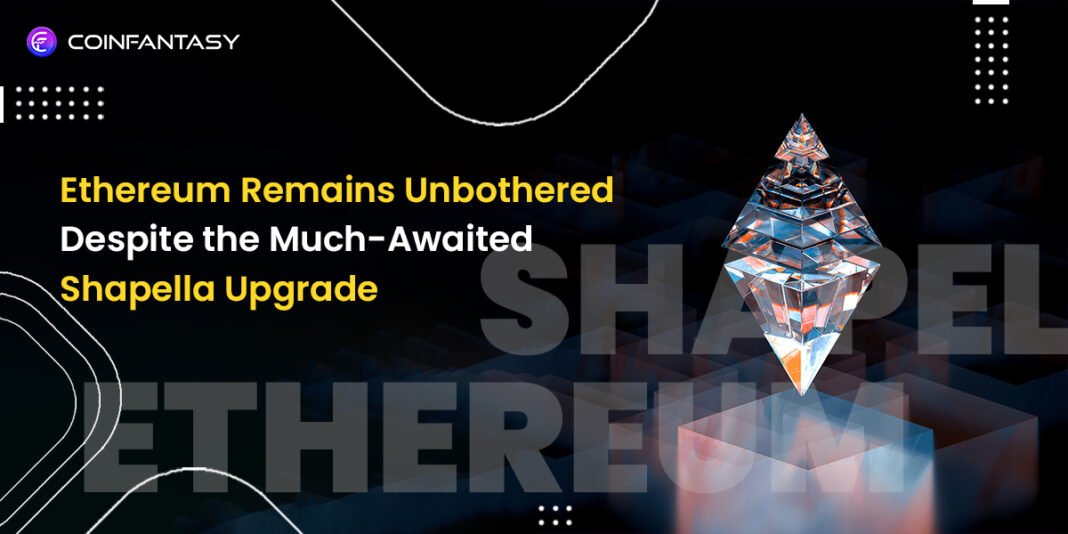 The most popular cryptocurrency in the world, Ethereum, has received a lot of attention recently. The capacity of Ethereum to create decentralized apps on top of its strong network is one feature that sets it apart from others. Despite these capabilities, many believe the ETH Merge update will significantly improve the Ethereum network. Nevertheless, Ethereum remains unbothered despite the overwhelming enthusiasm. The market also appears to be unaffected by this improvement until now.
After a highly anticipated software upgrade to the most significant blockchain for business went smoothly, and fears of initial, erratic withdrawals proved unwarranted, Ether surged beyond $2,000 for the first time since August.
The Shanghai Upgrade Didn't Make The Expected Difference on Ethereum
The "Shanghai" upgrade enables investors to stand in line to withdraw the Ether currency they had pledged to support the maintenance of the Ethereum network in exchange for incentives, a process known as staking. According to a researcher, 96% of the withdrawal volume has been made by users withdrawing their rewards rather than their total holdings.
Last week, the price of Ether increased by as much as 6% to $2,023, reaching levels last seen in May 2022. Its 68% annual rise is still less than Bitcoin's 84% annual growth. However, if the volume of withdrawals in the queue, which is currently two weeks long, stays low, there may be some extra benefits.
'Crypto Is Macro Now' newsletter author Noelle Acheson warned that "this could still be volatile." He added that the "overall liquidity situation is favorable for crypto assets," despite the "forming queue for ETH withdrawals" and the "looming sell pressure from Kraken, Celsius and others — that have to un-stake."
According to statistics, Kraken dominated the initial exit line and is ceasing its staking products in the US as part of a settlement with US Securities.
The Unlocking of 18.2 Milion Ethereum Locked in the Network
However, having total liquidity once more does make a difference, and the market has speculated on what this may mean for the price. Regardless of whether it was priced in or not, there was a sizable 18.2 million ETH locked up as the update went live.
That indicates that more than 15% of the supply was restricted and then unexpectedly made available for direct sale when compared to the total supply.
The hold time is particularly intriguing in this case. Early stakes secured their ETH in late 2020 when ETH was trading for less than $400. They then observed it increase to almost $5,000 per token before plummeting to less than $1,000. And throughout that time, it was locked.
Ethereum Shanghai Upgrade and Its Effect on the Crypto Market
The crypto market appears unaffected by the Shanghai upgrading, despite its widespread enthusiasm. Ethereum remains unbothered and the price hasn't significantly increased up until this point. First, there is a lot of volatility in the cryptocurrency market, and the prices of many other significant cryptocurrencies are falling dramatically. Second, Ethereum Shanghai Upgrade enhancements have been announced frequently, so the market may be accustomed to this information and not overly affected.
However, Shanghai's upgrading is still crucial for the future of Ethereum, even though the market appears unaffected. The network will be able to support more decentralized apps and scalability and accelerate deployment thanks to increased transaction throughput. Additionally, reducing transaction costs will make applications more affordable and available to a wider audience.
Conclusion
The Ethereum network changes made in Shanghai may not have an impact on the cryptocurrency market, but they are nonetheless crucial to Ethereum's future and the creation of decentralized apps. Significant network performance enhancements, such as higher transaction throughput, decreased transaction costs, and increased network security, are promised as a result of the Shanghai upgrade. Ethereum remains unbothered despite the network usage growth. So in the long run, investors and application developers should keep up with changes to the Shanghai network and Ethereum network.