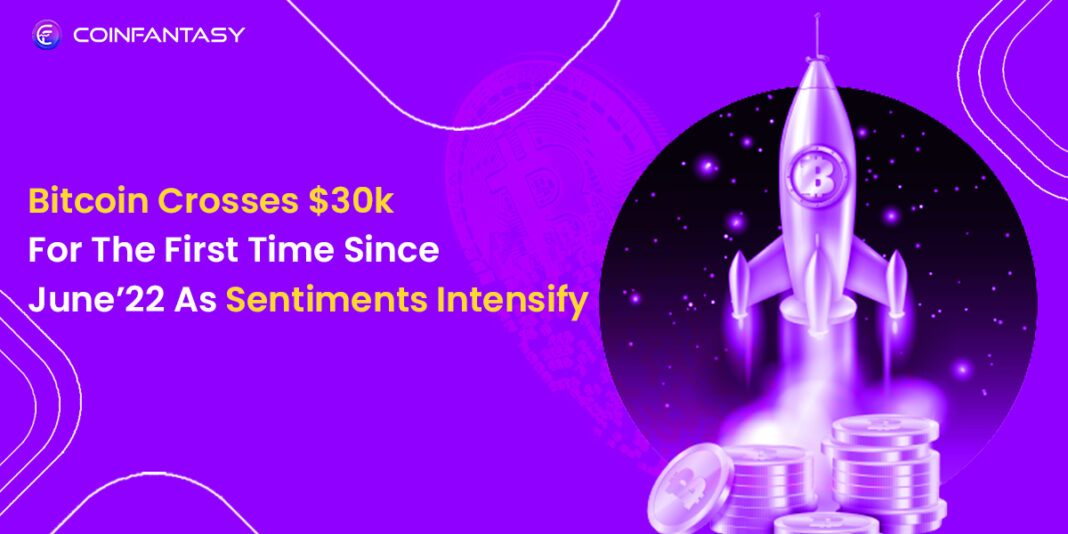 Bitcoin, the leading cryptocurrency by market capitalization, has increased by 6.13% overnight, breaking beyond a major resistance level for the first time in 2023. As bitcoin crosses $30k resistance, investors are jubilant and looking for additional increases.
The market capitalization of all cryptocurrencies rose by 4.15% in the previous day to reach $1.23 trillion, thanks to the BTC hype.
Long-Awaited $30k Milestone Achieved at Unexpected Timing
After a significant increase brought on by the US banking crisis around March 13, BTC has been barely consolidating near $28,000. At the time of writing, BTC had risen by more than 6% in the previous day and had broken above the range, moving into the $29.5k to 31.4k range.
If the bullish mood continues, BTC might try to retest the $31.4k barrier level. $31.4k to 32.6k is the next anticipated range aim. Given that the decline in May 2022 encountered no difficulties, closing over $32k might encounter very minor pushback.
A drop below $28.5k will be the first indication of fragility. If Bitcoin breaks both the previous range lower barrier of $26.8k and the 20 EMA (exponential moving average) of $27.97k, a bigger weakening could happen.
The purchasing pressure decreased but then increased when the RSI recovered and entered the overbought zone. Nonetheless, the OBV showed a sideways trend, indicating that volumes have been oscillating over the preceding few days.
What's Driving the Bitcoin Price?
Since its initial release in 2009, this coin has gained steadily in popularity.
Bitcoin crosses $30k is the result of several variables that are in its favor. Some of these elements consist of:
Improved Market Sentiment: Market sentiment favoring Bitcoin has increased over the last few months. Many investors and traders have started to view Bitcoin as an attractive investment due to its huge profit potential.
More Enabling Regulatory Announcements: Several countries have announced more conducive regulation of cryptocurrencies, which has boosted investor confidence and helped push Bitcoin prices higher.
Increasing Demand: The demand for Bitcoin has also increased over the last few months. Many people have decided to buy Bitcoins as a form of investment or as a means of payment that is accepted in some places.
The Next Stop for Bitcoin could Be $40k
The cryptocurrency has solidified its standing as a powerful asset on the international stage as it flies beyond the $30,000 threshold and central bank policies continue to change.
Bitcoin's recovery, which has seen an 80% year-to-date (YTD) increase, heralds a crucial development for the digital asset market and a new era for the crypto juggernaut.
A recent daring short-term prognosis for bitcoin (BTC) was made by an expert, who based it on a bullish flag breakout on the daily chart and established a target range of $34,000 to $36,000.
Furthermore, according to CoinCodex, BTC might increase by more than 33% and reach the $40,000 mark by April 17th.
These forecasts, however, should be treated with caution because the cryptocurrency industry is infamous for being unpredictable and prone to dramatic price swings. Investors should carefully examine their level of risk tolerance and make investments in line with it.
Analysts Still Uncertain About Bitcoin's Future Potential
Despite a recent rise in price, opinions among experts on the prospects for Bitcoin's future are still divided. Several analysts think that the recent rise in Bitcoin prices is unsustainable and that a correction is about to come. Others, however, contend that the growing acceptance of cryptocurrencies by big businesses and institutional investors will continue to fuel demand for Bitcoin and, over time, drive up its price.
The increased monitoring of cryptocurrencies by governments and regulatory bodies is one factor that could jeopardize Bitcoin's future chances. With concerns over money laundering and other criminal activity, numerous nations, notably China and India, have recently declared plans to crack down on cryptocurrencies.
Conclusion
The fact that Bitcoin crosses $30,000 is evidence of the growing positivity and optimism around the cryptocurrency. But opinions among experts on its prospects for the future are still varied; some believe a correction is imminent. Yet, it is anticipated that long-term demand for Bitcoin will continue to be driven by the growing use of cryptocurrencies by significant businesses and institutional investors. Before investing in cryptocurrencies like Bitcoin, it's crucial for people to properly weigh the dangers and potential returns.