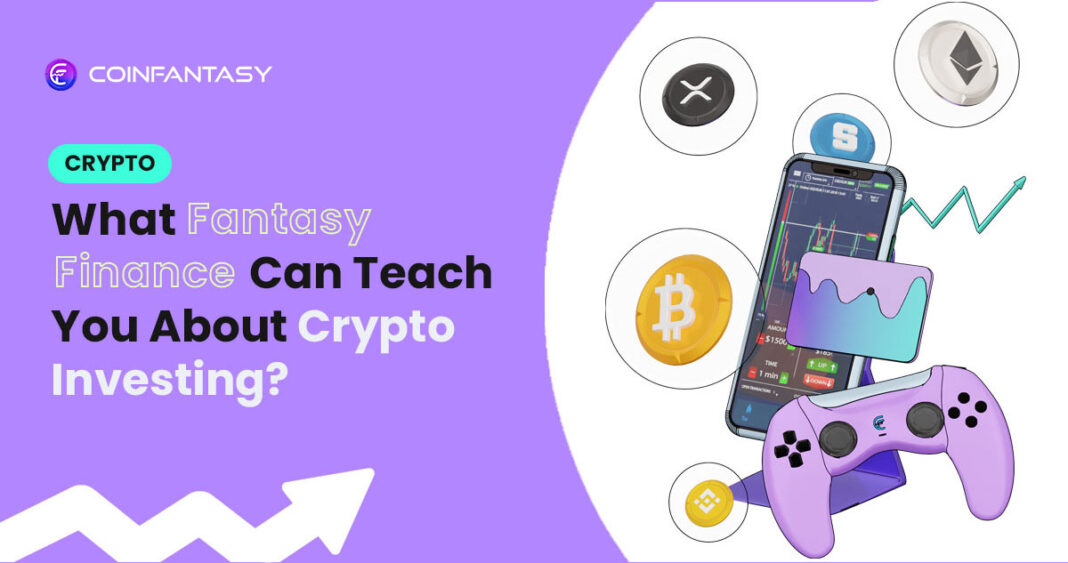 Crypto Fantasy finance games are without a doubt one of the most significant trends that are presently sweeping both the general finance and cryptocurrency sectors. If you have never invested in cryptocurrency before, this article will help you learn about it. You may make money while learning about how cryptocurrencies vary by playing crypto fantasy games and knowing how to invest in them.
Want to get into the crypto investing sector but don't know where to start? You might love the game of trades! In these games, players may engage in trading and get true rewards. You can join a variety of leagues regardless of your extent of trading knowledge.
Today, we'll talk about Crypto fantasy stock trading games, their advantages, how to invest in them, and their prospects. Let's start it.
What Exactly is Fantasy Finance Trading?
Crypto fantasy trading familiarizes crypto fans with all relevant problems while presenting no risk to anyone.
In simple terms, users of such platforms can trade in a virtual environment. Fantasy gaming is extremely helpful because of all of the tricks that can be learned and mastered. Furthermore, when communicating in such a context, there is no genuine risk of losing the actual token.
When game of trades and cryptocurrencies come together, the results are remarkable. Users benefit from several advantages, while risks are greatly decreased. They don't have to be concerned about losing anything while investing in the trade. They also have a lot of ease in making money. This concept simplifies how to deal with cryptocurrency investing for everyone.
The Role Of Crypto In Fantasy Finance Trading Games?
Fantasy cryptocurrency games look to be a good way for newcomers to gain a grip on things without being overwhelmed by them. Real-world crypto possibilities abound, but there are also hazards, particularly for newcomers.
The crypto fantasy game provides players with a realistic crypto trade environment in which they may engage in active trading situations. This will be possible because of the website's continuous updates, which will allow participants to observe every possible situation.
Such games allow you to assess your cryptocurrency trading technique and learn how to invest best while avoiding big money loss. The solutions make acquiring knowledge about the cryptocurrency industry interesting by utilizing a fantasy gaming approach.
In addition, gamers in crypto fantasy trading games have the use of a variety of information to help them make the best decisions. The user interface displays cryptocurrency information, current news, historical charts for each traded digital token, and real-time market data from many crypto exchanges.
A Look at the Crypto Fantasy Finance Game Market
Crypto fantasy gaming marketplace lets players use digital tokens to purchase, sell, and exchange in-game items. Weapons, armor, potions, and other items that might improve a player's character or gaming experience are examples of assets. They may also contain virtual cash, such as in-game gold or tokens, which may be used to buy these products or other in-game features. The marketplace is usually run on a blockchain, which enables safe and transparent transactions.
The marketplace will include an easy-to-use interface that allows gamers to explore and search for particular things as well as check the pricing and descriptions of each item. Players can list and price their goods for sale. As a cost to offer the platform, the marketplace will normally take a modest fee on each sale.
Fantasy gaming may also include an authority system in which participants may assess and examine other players and their transactions, increasing confidence and security in the process of buying and selling.
Primary Characteristics of Fantasy Finance in Crypto Investing
Rewards are offered to players with no cost or risk. While playing, students may learn about various initiatives and cryptocurrency investing tips. These platforms might be simple to use yet difficult to learn, with interesting tournaments that allow newbies to get knowledge about crypto trading.
Play-to-earn cryptocurrency games are already gaining popularity in the gaming industry. When integrated with technologies such as virtual reality (VR) and augmented reality (AR), play-to-earn might pave the way for a slew of large-scale initiatives with diverse methods. It provides a realistic cryptocurrency trading environment with situations that traders face regularly.
Trading cryptocurrencies and equities on the open market are quite expensive. Fantasy finance games make it much easier to understand. Your investment might nearly treble.
Recognizing for both players and developers: This is another key aspect driving the growth of cryptocurrency gaming. These games' free-to-play business model not only compensates players monetarily but also allows creators to expand their means of income as the play-to-earn crypto gaming ecosystem grows.
Crypto gaming allows users to produce cash by using their in-game currency and weapons through play-to-earn crypto games. Using blockchain technology, players may buy, sell, and digitally swap assets on a global scale. Cryptocurrency gaming transforms traditional experiences by providing the value of your in-game purchases in real life.
The field of crypto gaming is one of the more well-known areas of the greater blockchain and cryptocurrency organizations. Because of the increasing number of players, these games are effectively hastening the adoption to learn about cryptocurrency investment.
In cryptocurrency, the standard gaming technique is investing. Players may use their skill points and other in-game resources across several cryptocurrency gaming projects rather than just one.
Is it Worthwhile to Invest in Crypto Fantasy Finance Gaming?
The play-to-earn game market is expected to reach US$2890.29 Million by 2028 with a CAGR of 20.41%. Like any other asset, the success of cryptocurrency gaming is dependent on several things. Among these include your investment plan, risk tolerance, market conditions, the quality of the project you're investing in, and other considerations.
Before investing in any crypto gaming platform, we recommend that you perform your study and analyze the status of the industry.
The advantages of a crypto fantasy game:
Crypto fantasy games, often known as play-to-earn fantasy games, are more than ordinary games. It promises to reward your efforts. Here are some of the primary advantages of crypto fantasy games:
It is worthwhile to invest in since as players, you may gain rewards in proportion to your efforts. When you perform activities or tasks in the game, you may receive a variety of incentives, most notably cryptocurrency, NFT, avatars, virtual land, and so on.
Crypto fantasy games, unlike regular games, allow you to convert your in-game profits into money. For example, if you win cryptocurrency while playing a crypto trading game, you may trade it for money.
Fantasy Finance Games That Teach You About Crypto Investing
CoinFantasy:
Coinfantasy is the world's first decentralized invest-gaming platform that allows you to practice real-time trading. It offers substantial incentives to gamers who top the leaderboard.
In the game, participants can utilize a certain budget to select a set of tokens that they feel will perform well. If your lineup does well in the real-world market, you may earn prizes in the form of CFTs (CoinFantasy tokens). The no-loss gameplay is another noteworthy aspect.
Trade The Games:
Trade the Games is a game platform where you may practice your trading abilities while earning prizes and awards. Money is also a kind of reward.
To take part in Trade the Games, you must first register on the platform and become a member. After that, you may begin competing in contests by paying the admission fee. To maximize your chances of winning, you can enter many contests at the same time.
In many aspects, Trade The Games tournaments are similar to the real-world crypto market. For one thing, it prepares you for day-to-day trading conditions. Factors such as swings are identical to those found in the real crypto market.
Coins11:
Coins11 is yet another simple fantasy finance game. On the site, there are many sorts of contests, with varied entry fees. You are free to enter as many tournaments as you like. You can master the price fluctuations of the selected coins in the games. You can also bet on a set number of tokens.
You win contests and advance if your guesses come true. If you finish your game with an idea for a winning position, you will receive prizes and monetary incentives. To play the game, download the Coins11 app.
Closing Thoughts
Amazing crypto rewards are awarded in crypto fantasy finance trading games. In crypto fantasy games, traders have to collect the most coins and exceed other fantasy participants to win a daily, weekly, or monthly challenge. While having fun with friends and family in playing a game of trades, beginners may learn about the cryptocurrency market and how to invest in it with the help of fantasy trading competitions.
Furthermore, Blockchain technology in crypto gaming alters the experience of playing centralized, conventional games. Players can put their skills, points, prizes, and other items to use on various virtual platforms. Many participants benefit greatly from high-quality NFTs.
Understand market changes to boost playability and income. The top crypto games have already seen significant growth and popularity. The above-given points and games will help you to teach about crypto investing without spending your money and wisely in the future economy.