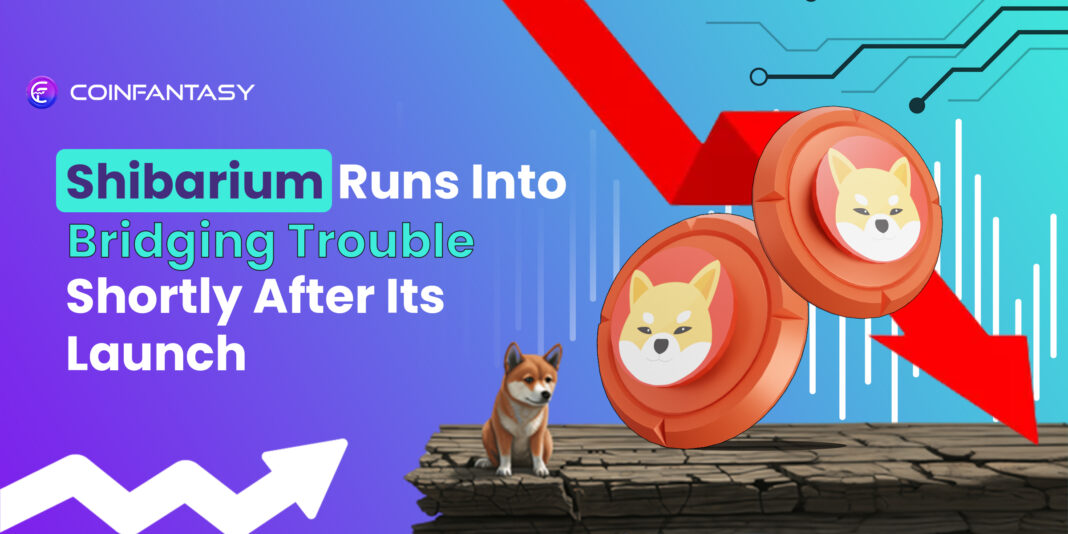 The Shiba Inu crew successfully released the mainnet of the much-awaited Ethereum layer 2 solution on Wednesday, August 16th. However, just a few hours after the release, sources claimed that the Shibarium bridge, which was meant to facilitate uniform bidirectional asset transfers with Ethereum, had become inoperable.
Shiba Inu's Ethereum layer-2 blockchain rollout did not go as planned. On its first day on the mainnet, the much-touted SHIB scalability approach encountered major issues.
When this issue emerged, over $1.7 million in ETH was blocked in the bridge, based on a post by Whale Chart on X.
There is no Shibarium Bridge Problem, Everything is OK: Kusama
Shytoshi Kusama, the lead developer of Shiba Inu, opened a message sent to the Shibarmy – a term used for Shiba Inu fans – by pointing out, "There was nothing wrong with the network bridge and all members' assets remained secure."
An image was distributed on X shortly after news of the bridge crisis arose, with a message reportedly from Kusama saying the assets stranded on the Shibarium bridge were "unretrievable." Kusama also threw away any screenshot's clarity.
$1.7M+ worth of $ETH transferred to Shib's Layer 2 bridge, known as 'Shibarium,' is reportedly irretrievable. pic.twitter.com/lLDXsNvAx9

— Ahmad 🧑🏻‍💻 (@Ahmadrobert_) August 17, 2023
Shiba Inu's primary developer confirmed that there was a technological problem, but it was not related to any of the layer-2 network's ideas. He added that the problem seen by Shibarium users was caused by "network overcrowding" that arose following the news of the mainnet's launch.
According to Shiba Inu's chief developer,
"Our operational challenge originates not from Shibarium, but from the MASSIVE flood of transactions and users that occurred at the same moment we declared the network was online."
As stated by Kusama, the Shiba Inu team is currently concentrating on growing the network to handle the operations of a "decentralized nation-state" like the Shiba Inu group.
Shibarium Exceeds 160 Million Computation Units in Half an Hour
Kusama used information gathered by Alchemy, one of the analytics businesses engaged with the Shiba Inu network, to back up his explanation of the upgrade's technological issue.
He added that Alchemy allocates 400 million computing units each month to the Shibarium project. However, within 30 minutes of the project's mainnet debut, it had surpassed 160 million computing units.
In this scenario, compute units indicate the processing resources necessary for running smart contracts or other blockchain-based functions.
According to the Shiba Inu creator, the network could attain billions of computation units per day if it remained growing at that rate, corresponding to the same capability as the most active layer 2 systems now in operation.
To wrap up his presentation, Kusama delivered some excellent news with the Shibarmy, claiming that over 1000 ETH and 600,000 BONE were moved to Shibarium within 15 minutes.
Finally, Shytoshi Kusama requested more time to expand the later-2 network while asking Shibarmy to "ignore all fud" and avoid any site links that are not affiliated with Shibainu's official site, shib.io.
SHIB, Shiba Inu's largest native cryptocurrency, is now trading at $0.000008413, down 7.15% in the past 24 hours, according to CoinMarketCap statistics.
What Happened On The Shiba Inu Network After The Launch?
64% SHIB Burn Up
According to August 16th data, SHIB appears to be performing well in the burn area. The overall amount of tokens burnt in the 24 hours was 64.77% greater than the previous day, as reported by burn tracker Shibburn.
For more precise data, the website reports that 357,075,351 tokens were burnt on August 16, with the amount increasing following the debut of Shibarium. A large portion of the tokens were burnt by the Marswap community token, which consumed almost 258 million tokens.
This burn tendency has not stopped as the tracking website's information reveals that the statistics over the previous 24 hours are also high. There have already been more than 322 million tokens burned in the last day, implying that the token burn for Thursday, August 17th could exceed that of the previous day as well.
With every additional day, the SHIB burn approaches cutting nearly half of its entire supply in half. This would be a big achievement for the community, albeit it would take some time considering the daily burn rate.
Closing Thoughts
Shiba Inu (SHIB) meme token and its ecosystem tokens $LEASH and $BONE also crashed dramatically on Thursday, after a rocky launch of the Shibarium layer-2 Ethereum scaling solution by Shiba Inu.  
$SHIBA last traded approximately 7.5% down on Thursday and is currently down around 25% from last week's highs around $0.0000011. Meanwhile, $LEASH dropped roughly 8% near $450 and was down more than 33% from its three-day highs above $690.
Finally, $BONE was down approximately 10.5% on Thursday and is down around 33% from its previous monthly highs at current levels near $1.20. Everyone is waiting for the network to get back on track. Let's see how the team is going to solve the bridging trouble.