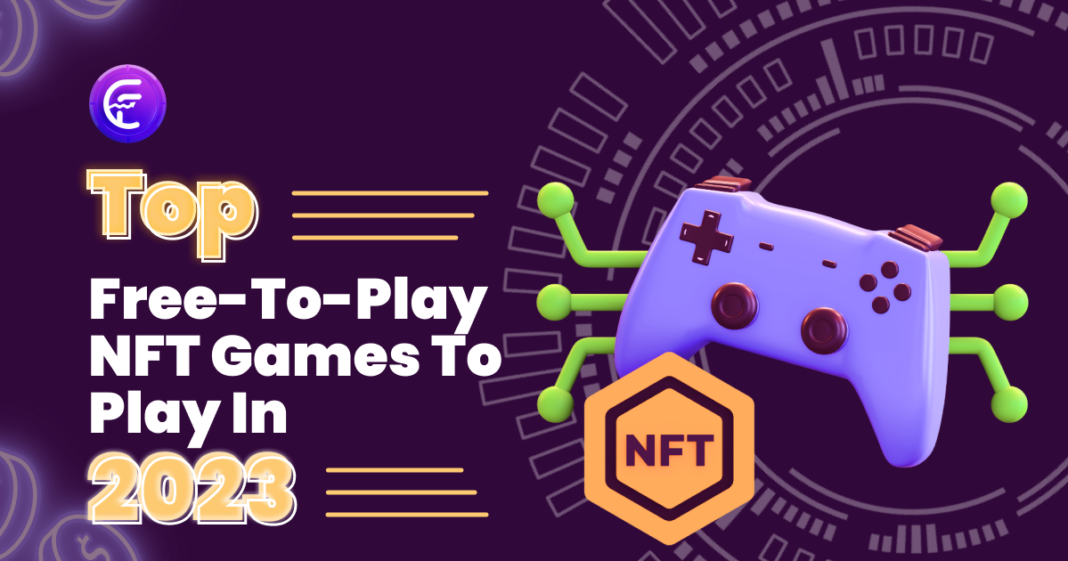 Game makers have recently transformed the crypto community by creating free NFT games that provide players with crypto rewards. Through their free-to-play and play-to-earn games, players may steadily develop their digital assets while delighting themselves. Free-to-play games are a new gaming paradigm made possible by the advent of NFTs in the gaming industry.
Have you ever thought about playing a free game that rewards players hugely? If yes, you have landed on the right blog. This blog provides all the information regarding free-to-play NFT games.
Free-to-play NFT games: Quick Overview!
Nowadays, the notoriety of NFT Games is increasing each day. Free-to-play NFT games aren't just any other ordinary game. It's a way for gamers and traders to have fun and earn NFT tokens that can be traded later on. In order for players of NFT games to obtain ownership and control over their digital assets, they must play the game well.
The Worldwide NFT Games Market is estimated to be worth USD 788.05 Million in 2021 and to grow at a CAGR of 20.41% to reach USD 2890.29 Million by 2028.
Players were advised to play strategically by breeding or creating new gaming characters and purchasing digital treasures on the main or from other third-party platforms.
How are NFT games Different From Traditional Games?
In traditional games, players don't even have independent ownership rights they hold in the game. This is evident from the fact that the assets or incentives obtained cannot be exchanged outside of these games.
In the meanwhile, NFT games give participants a chance to gather NFTs or obtain local tokens actively. The majority of the time, users are given complete ownership and control over their digital assets and are allowed to keep, acquire, or exchange them.
The top free-to-play NFT games of 2023!
Virtual tokens are used in online games to signify ownership of in-game products and give game designers much more control over how players can exchange or sell their assets.
Here are some free-to-play NFT games you should try out now!
CoinFantasy is the first decentralized fantasy game platform ever developed, and it was built utilizing the play-to-earn strategy used in crypto stock markets. Participants in our cutting-edge zero-loss gaming only win by participating.
By gamifying the crypto-stock markets, CoinFantasy hopes to create a layer two platform on top of the primary markets. In order to win prizes, participants can assemble a lineup of stocks or cryptos in the company's fantasy portfolio management games. Each player must select seven coins for their team or draw from the top 100 coins according to market capitalization. Each player also has a budget of 100 credits available to them to use to select the coins they want to include in their draught. For coins that have a longer track record of success on the crypto market, you will normally pay more credits.
Three groups—high cap, mid-cap, and low cap—are used to categorize coins. The maximum and lowest values must be taken into consideration when players choose their coins. The rewards in CoinFantasy's play-to-earn model grow as more users participate. A little cost that goes toward the pool is required when a participant registers for a game pool. Consequently, the prizes rise in value as more people participate.
Gods Unchained is probably one of the leading NFT games that are free to play. You will be given a set of 140 cards to get the game started. These cards cannot be sold since they are not listed on the blockchain. Once acquainted with the game, you can obtain certain packs of Common Core Cards. These cards really aren't minted in the blockchain, either.
The way that you can acquire FLUX, the currency in the game, is by playing ranked matches. The FLUX money is on the Ethereum blockchain, and you can exchange it via the marketplace.
Axie Infinity has built a niche of its own as the irrefutable leader in the free-to-play gaming community.
Players can build Axies with specific characters for gameplay reasons. The P2E game has several aspects with Pokemon, making it a big star among dedicated online gamers.
The game provides players an opportunity to win strong AXS tokens with the potential to decide the game's direction.
Axie NFTs are players' properties. They may trade them for a gain or earn more NFTs they could sell in the global market.
#4. Tamadoge
Tamadoge is the play-to-earn of the future. Players will be able to combat with their NFT pets to rise to the top of the Tamadoge ranking list and receive dogepoints. These points can subsequently be claimed as wins from the dogepool.
The project plans to release a Tamadoge augmented reality game to enable your pets to interact with other players in the metaverse. This will transform how players can involve themselves with NFTs and the metaverse.
#5. Pirates of Arrland
The multiplayer online battle arena (MOBA) warfare and an economic and strategic game are both combined for the first time in gaming history in Pirates of Arrland.
The project offers advanced gameplay and high-quality images, and it allows the player to own characters, items, ships, and lands obtained in the game due to blockchain technology. Players can therefore contribute to the continuing building of the Pirates of the Arrland's Metaverse.
Players with varied dispositions can meet, make alliances, influence one another, and trade. The ecosystem's common laws determine the value of tradable items, while supply and demand determine the price.
#6. Splinterlands
This free-to-play NFT game is simply a replica of Gods Unchained. Players here also create decks and battle each other, gaining their rating and the possibility of winning a unique card. Cards can be obtained by purchasing random booster packs or directly from an NPC for in-game currency. Not cards, but decks are transformed into NFTs.
Like Gods Unchained, this game works on the Hive blockchain, not Ethereum. Seasonal awards and card levels are only two of the novel concepts. The crucial characteristic is that a player's rating does not decrease. This encourages players to battle harder like they do not lose anything.
#7. The Sandbox
Artistic individuals will have joy playing this blockchain-based free NFT game. The Ethereum-based game allows users to build a bespoke environment, design games, and put their interpersonal skills to work by coordinating adventures.
Besides selling the developed games, they can also construct paid mini-games for the game's community of users.
Put your creative skills to work by making unique things you can exchange for money or other works that can win you SAND tokens. SAND is a versatile token for governance, wealth transfer, and mortgages.
#8. Decentraland
Decentraland is another fantastic game that you should try. It is a model that supports the ideal of two worlds, the metaverse, and the NFT. You only need to make your unique avatar to get started. After that, your avatar will be fairly flexible in the virtual world of Decentraland to start exploring it and connecting with other users. Another reason for the success of this game is the ability to design a personalized avatar to your desire.
Not only may you earn things, but there is also the chance of earning NFT that can be entirely customizable to enhance your experience in the game.
#9. Battle Infinity
Another recent blockchain project, Battle Infinity, intends to host several play-to-earn games where players will be paid with NFTs and cryptocurrencies. The game also combines the metaverse with its own virtual world.
The platform's most significant appeal is the IBAT Premier League, which enables gamers to assemble a 'dream squad' of players from a given sport. However, participants will need to purchase an NFT pass in order to access the IBAT Premier League. Then, gamers will get a budget to form their own virtual team. As players win matches, NFT passes can be approved and bought on secondary marketplaces later. Battle Infinity gives incentives in the form of IBAT – its native digital token.
#10. Star Atlas
With its distinctive graphic technology in NFT games, Star Atlas is probably one of the finest multiplayer NFT games. This is an intriguing game where players may trade and buy NFTs in-game, establish cities, create micro-economies, and build Decentralized Autonomous Organizations (DAO). The graphics and special effects in this game were created using Unity Engine 5.
#11. Pool Together
Pool together is a smartphone game that you may play for free or for actual money. You can earn money by playing PoolTogether, and it's another of the top picks on this list, though, because it is easy to start earning NFTs! The principle of the game is simple: you're given two digital tokens, and then you must select which one to HODL and which one to deposit on the table. When the timer expires, if your token is not closer to the ball than your opponent's token, it will be taken out of the game.
Conclusion
Free-to-play NFT games give users the opportunity to make money doing what they love.
A growing number of developers are incorporating cutting-edge features into their ecosystems due to the popularity of NFT games, which enables players to receive rewards from the real world. We wish this list had given you the motivation to play some of these games.