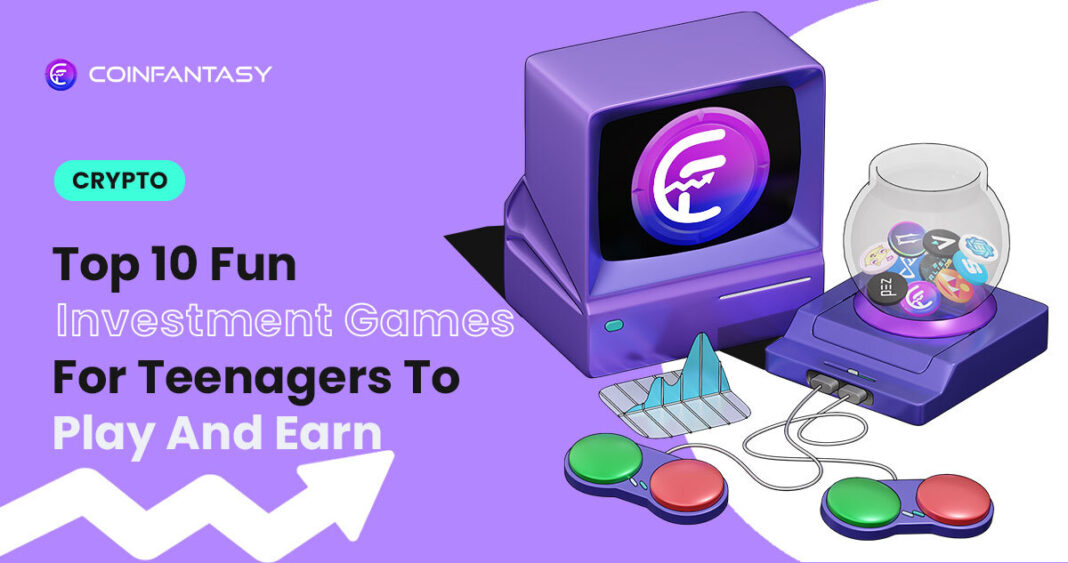 In recent times, Fun investment games are considered as a highly-rewarding side hustle. These crypto games, also known as P2E, have gone widespread in the past few years, becoming a major component of practically every metaverse. Most of the P2E gaming platforms have a native cryptocurrency to compensate online players and also help them learn crypto investing.
One of the primary reasons why play-to-earn games have grown so popular is the ability to earn real-world cash while having fun. Best investment apps provide different prizes – some in the form of tokens and others in the form of NFTs. But they all have real-world worth and can be swapped for other tokens or even exchanged for fiat money on specialized markets.
The following list will provide you with some of the greatest games to invest as a teenager. Some are well-established names with functional ecosystems, while others are just getting started and can help you get a jump start in the sector.
Let's Talk About Fun Investment Games
Typical games are centralized, which implies that things gained while playing can only be discovered within the game. Blockchain technology, on the other hand, is employed in crypto gaming, and user-won goods may be exchanged for real money. Meaning, players may now exchange their game rewards and other items on a variety of cryptocurrency gaming websites.
Fun investment games take things to the next level by allowing players to earn money as they play. This is also known as play-to-earn games. This drastically alters the nature of games and allows players to earn money. It is also a common type of side business.
Players can earn cryptocurrencies or non-fungible tokens (NFTs) by playing and managing the best investment apps. These digital profits (obtained through winning the game in-game) are then transformed into player resources. They can exchange these assets and transfer them into other cryptocurrencies or fiat money on crypto exchanges. They can also generate money by trading assets or selling digital files on the Internet.
Nowadays teenagers are getting familiar with the idea of games and tokens, which functions similarly to traditional video gaming. You cannot make money in traditional video games or apps, but here you can earn, trade, and sell whatever you want. Users in crypto games have total control over their game-related resources, such as tools, digital money, avatars, and weapons. After completing a match, players may exchange their points for fiat cash or other cryptocurrencies.
How Does Crypto Investment Games Work?
Players in crypto games can use real money to purchase in-game coins and tokens, as well as obtain in-game items and level up their characters. Earning money is undoubtedly one of the key reasons for the success of fun investment games. Traditional games, of course, include the same components, but you cannot earn money. Players can go on after finishing the game.
The potential to earn money by playing the game is the key here. Some games were formerly pay-to-play, with no refund. In crypto games, you may be required to pay a little fee, but the rewards are more. You may also study the fundamentals of investing by joining specific organizations.
Blockchain technology improves the game's security and safety. Your transactions may be kept private, and no one will suspect that you are making money through a play-to-earn program.
How Can Fun Investment Games Benefit Teenagers?
Almost 80% of teenagers play five or more types of games. Teenagers are generally interested in games, but when they get a chance to earn money from these fun sources, it will be pure bliss to their future. It will give teenagers a strategy plan to invest and save money wisely. The crypto games give you the following advantages, 
With less money, you may generate more crypto profits.
A safe and reliable platform for making extra money.
You will have access to real-world assets, which means you will be able to sell or trade your earned cryptocurrency.
Chance to get knowledge about crypto trading.
You can keep your coins in a wallet and later exchange them for fiat cash.
Top 10 Fun Investment Games for Teenagers to Earn Real Money
CoinFantasy
CoinFantasy is the world's first decentralized invest-gaming platform. The platform is dedicated to gamifying the cryptocurrency market through a variety of game genres, operating as a Layer 2 platform on top of the major marketplaces.
Users get introduced to a selection of tokens from which they may build a cryptocurrency lineup and outwit other players to earn prizes. Players learn about numerous asset kinds without being exposed to their volatility by purchasing the actual thing.
Winners will get CFT tokens, which may be exchanged for real money on cryptocurrency exchanges. 

Axie Infinity
This play-to-earn game is built on "Axies" Ethereum-minted NFTs that players may gather, breed, grow, combat against, and exchange with other online users. There are several Axies to pick from, and the options for modification are limitless. When a player defeats another user, they gain Smooth Love Potion tokens, which may be exchanged for Axie Infinity Shard tokens, the game's main utility tokens.
Decentraland
As one of the best fun investment games, Decentraland is a virtual reality platform that enables users to build their 3D environment by purchasing land and then creating it within the platform. When a person purchases land, they can do whatever they want with it, from creating a different game to opening an online store. A player can even pay other players to keep their land safe while they are away.
Alien Worlds
It is a future sci-fi adventure play-to-earn game with a straightforward premise: play, mine, and enhance to develop a thrilling gaming experience. It is centered on NFT alien species that a player may catch and employ to mine or discover various goods. The more a player improves, the better his or her chances of winning.
The Sandbox
In its blocky metaverse, this blockchain-based game allows participants to construct, craft, and live. Users of The Sandbox can purchase SAND in-game currency tokens to construct a house or castle, or to embark on missions to gain additional tokens. The Sandbox enables players to actively participate on the platform by buying and selling NFTs using innovation, strategy, and surviving abilities. The more objects players construct, the higher their level.
CryptoKitties
CryptoKitties has already established itself as a renowned P2E game, revolutionizing the crypto sector and paving the road for NFTs. The rules of the game are straightforward: breed and gather digital kittens, where each cat represents an NFT. CryptoKitty is now available in Chrome and Firefox, with a native version in the works.
Zed Run
Zed Run is a play-to-earn jockeying game that permits players to create a collection of different horses called NFTs that they can purchase, sell, and trade with other platform users. Users may also breed new horses or enhance existing ones to make them more powerful. This is one of the best fun investment games in the market.
Users battle their horses to gain rewards in this play-to-earn game. Each horse has unique characteristics and players may enhance them to make winning races simpler. They can also make money by betting on other players.
Gods Unchained
This blockchain-based play-to-earn game encourages gamers to acquire and compete with NFT cards. The game centers on powerful entities known as "Gods," each with a special skill. These cards may be purchased with the in-game currency, GODS, which can be obtained by beating other players in combat.
Star Atlas
It is a play-to-earn astronomy game in which users can discover space and exchange NFTs of planets, stars, and other commodities. Each planet or star has distinct characteristics that set it apart from the others in the game. Players can also explore new worlds by flying across this virtual cosmos at warp speed.
This blockchain-powered game is based on two tokens: the ATLAS, which serves as a token for use in the game, and the POLIS, which serves as a token for management. By staking their ATLAS tokens, players may win POLIS.
Illuvium
In this game, players may hunt and capture over 100 Illuvials' violent NFT creatures with hybrid and special skills over seven distinct extraterrestrial settings. Users may acquire ILV tokens in the Illuvium universe by playing, completing missions, and doing various duties. It can also be won in conjunction with other prizes at particular occasions and tournaments.
The ILV token may be used to bet on matches in the Leviathan arena, a PVP war arena where players test their Illuvials. In addition, on the IlluviDEX Illuvium marketplace players may exchange captured Illuvials, farmed minerals, and other NFTs.
Closing Thoughts
In summary, fun investment games are not only a kind of entertainment but also a platform for high-return crypto platforms. Best investment apps expand and evolve, and new opportunities for financial empowerment, cultural knowledge, and skill training arise. On these platforms, teenagers may earn various cryptocurrencies, but it is necessary to take precautions and follow good security procedures to maintain assets. Before starting to play the game, make sure about the gaming website and get feedback from regular players. At the same time, do your own research to avoid losing money.