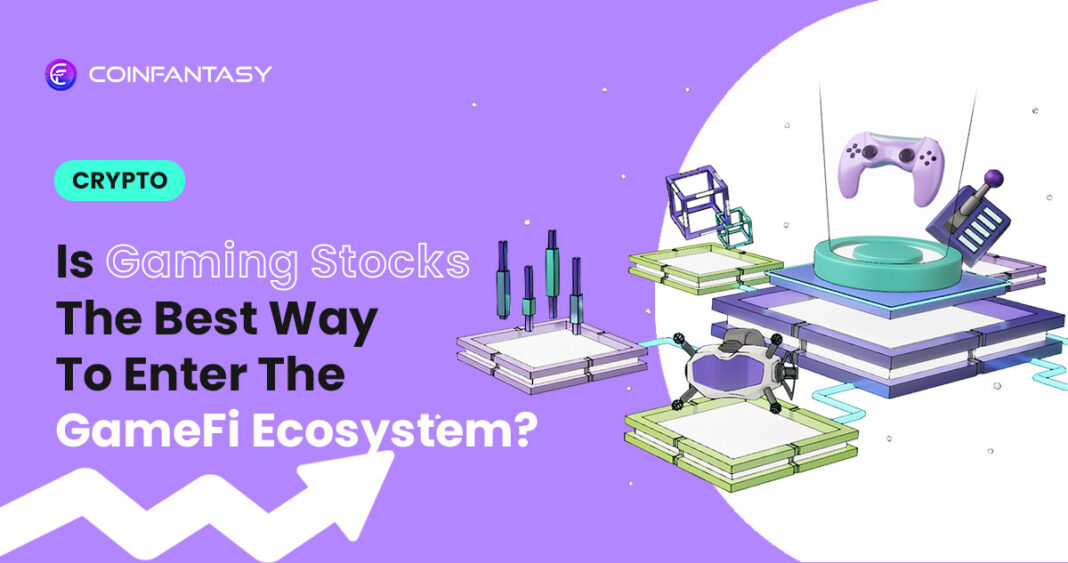 Gaming stocks have been an important source of growth in the crypto industry over the last few years. GameFi, a combination of gaming and finances, allows gamers to obtain prizes during playing. Stock market investing has been constantly expanding and now has a token market worth around $9.2 billion. GameFi networks are doing well throughout the crypto winter. The sector is expected to be valued at $74.2 billion by 2031.
GameFi is seen as a breakthrough in the gaming industry, and it does certainly open up new opportunities for both developers and users. It is feasible to combine the gaming and decentralized finance (DeFi) industries with GameFi. This combination helps developers get funds while also allowing players to play and earn passively through the investing market.
What Exactly is GameFi?
In the past, the video game business was evolving around pay-to-win or, maybe more appropriately, pay-to-play games. From putting quarters into a gaming machine to purchasing a gaming console at a store, gamers have always been both the players and the payers.
In recent years, several video game makers have included payment walls in their games, requiring gamers to pay more money to unlock particular elements of a game they have previously purchased.
GameFi games, on the other hand, are play-to-earn, meaning that gamers may earn cryptocurrencies by playing the game. The increasing dominance of P2E games have increased investor's interest in gaming stocks.
How GameFi Systems Function?
GameFi ecosystems are built on blockchain technology and benefit players through various in-game economic plans. The Gaming stock is often in the way of nonfungible tokens (NFTs) that can be traded on major exchanges. The goods which often take the shape of virtual territories, outfits, and weaponry, play an important role in broadening experiences for users.
The differences in gameplay strategy and economic arrangements are what distinguish each game. The play-to-earn (P2E) concept is one of the most common GameFi economic layouts. The approach is intended to keep consumers interested while also allowing them to receive incentives. On the sidelines, the interest of investors in gaming stocks has also increased.
It enables people to participate in games without investing any money. However, advancement might be impeded by a lack of resources needed to stand out successfully. As a result, players are frequently motivated to acquire in-game stuff to move to higher levels and gain greater benefits.
CoinFantansy, The Sandbox, Axie Infinity, etc., are examples of famous blockchain games that use the P2E GameFi architecture.
Why is GameFi Concept Gaining Popularity Recently?
Over the last few years, the GameFi universe has drawn millions of players in stock market investing. This is remarkable given that the sector was practically absent before 2015. The business now draws over 800,000 daily participants. Many of them are enticed to GameFi because of the variety of perks it offers.
One of them is the ease with which digital assets may be traded. According to a recent market survey issued by CoinMarketCap, around 75% of gamers are eager to swap in-game assets for some type of cash. This benefit is one of the primary reasons why GameFi is so appealing to gamers.
Some gaming stock, such as land, can be sold to other players. Users who want to earn money without engaging in gaming can engage in liquidity mining by staking assets. This is a significant benefit for consumers and those looking to monetize their game time.
Another advantage that many GameFi users value is the reduced cost of transactions. GameFi setups typically use cryptocurrencies, which makes transferring money extremely simple and inexpensive. This is a significant advantage over traditional money transfer methods, which are costly, particularly when conducting cross-border transfers. This has also attracted investors to gaming stocks.
Accessibility for user-generated material is another novel feature that draws GameFi users in. This functionality not only enables GameFi platforms to interact with users with diverse preferences, but also promotes player creation while spreading an independent ecosystem in which assets may be generated, sold, and exchanged openly.
These particular benefits, as well as various additional aspects, support GameFi's steady development.
How GameFi Helps Businesses Thrive?
GameFi projects utilize cryptocurrencies for payment transactions, which has helped significantly to the rise in digital currency use in recent years. Based on a recent analysis released by DappRadar, a platform that monitors decentralized application (DApp) activity, the total number of individual active wallets bound to the blockchain-based gaming sector increased significantly in the third quarter of 2021, making up roughly 49 percent of the 1.54 million daily UAWs enrolled over that period.
The data verifies GameFi's competitive ability and increasing utilization of cryptocurrencies in the gaming industry, which promotes their usage and development. Another study report issued by Chainplay, an NFT game gathering network, indicated that 75% of stock market investing people came into the crypto market through their engagement in GameFi, demonstrating GameFi's expanding influence on crypto adoption.
Aside from increasing the usage of cryptocurrencies, gaming stock has also made significant contributions to the growth of the NFT business. GameFi primarily depends on NFTs for in-game assets, increasing their value on the blockchain. Not unexpectedly, the emergence of the GameFi market in 2021 paralleled the NFT boom.
GameFi NFT revenues increased to $5.17 billion in 2021, up from $82 million in 2020. The sales figures contributed to the NFT market's expansion.
Gaming Stocks are the Future of GameFi Investment
Yearn. finance (YFI) creator Andre Conje invented the term "GameFi" to describe decentralized finance (DeFi) networks with enhanced aspects. However, given their intrinsic relationship to real-world economies, the world has developed to incorporate the economic aspects of blockchain games.
Therefore, GameFi enables gamers to engage in game-related activities such as fighting, crafting, and missions and helps to generate digital currency. GameFi can provide true control of in-game assets by utilizing blockchain technology, letting players purchase, sell, and exchange them much like real-world assets.
Unlike in the past, game development organizations are increasingly open to the concept of enabling external shareholders to participate in the company and benefit afterward. This has provided many opportunities for a wide range of investors; from IT titans to newcomers, there is a path to revenue and profit for all. Here is a short guide to investing in the gaming industry.
Make Investments in Game Development Firms
Investors with a primitive knowledge of the game development business should go with this approach. Many businesses spend time, money, and resources to develop their intellectual property. Investing in such firms makes sense since they possess solid foundations for developing games across genres and platforms. As a result, from an investing standpoint, gaming stocks are considered a secure and trustworthy option.
Invest in Innovative Game Concepts
If the premise of a new game is unique and impressive, it may be profitable to invest in it. A good initial investment could lead a game to profitability, boosting the likelihood of a higher ROI for investors. Even if a game is unremarkable, with sufficient investment, it may become successful; so, individuals searching for income prospects ought to continually turn their focus to fresh gaming concepts.
Choose Well-Known Games
This is contrary to investing in innovative game ideas, yet it is a profitable choice for inexperienced investors with limited gaming understanding. Investing in existing well-known games can assist to achieve high return volumes constantly. It also lowers risk and maintains investments in a pretty secure zone.
Where Do You Begin?
Most GameFi games are free to register and play, so all you have to get started is to create an account for yourself and a password. In certain situations, you may be prompted to create a digital wallet for any cryptocurrencies you earn while playing the game. Keep your login credentials secure because it is the only method to prove that you own the items in your wallet.
You don't have to be an experienced gamer or cryptocurrency specialist to get started, although it's a good idea to read game reviews first. If you've never been to the GameFi area, you should seek games that have a significant user base and an established fanbase.
Possibilities and Opportunities in the GameFi Industry
It is clear from the preceding arguments why GameFi provides several chances for creators and great potential for gamers. Game developers no longer need to devote months in development and labor for free during this period, but may instead raise funds from the start.
Similarly, won games produce a consistent cash flow. Gaming stocks invest in a project that will profit them in the long run. Aside from the possible development of the acquired NFTs or tokens, it may also provide them with benefits in the game.
When the blockchain game draws a large number of players, it does not end with the first investment; users constantly give additional capital. Each time a new NFT in the game is minted, the creator profits. That's why it leads people to invest in the stock market investing in the GameFi ecosystem.
As a result, GameFi makes value for game makers at all stages. Financial flexibility may be built in throughout development, resulting in complicated and bug-free games. The full game then provides a constant cash flow via fresh NFTs or significant demand for the in-game currency.
Closing Thoughts
Gaming stocks are a component of the crypto sector and are thus impacted by the digital currency market's ups and downs. As a result, during uptrends, the GameFi sector sees an increase in activity, while during downtrends, the reverse occurs. To keep people interested in GameFi platforms, creators must create engaging games that help ecosystems withstand market downturns. Currently, GameFi investors are focusing on enhancing gaming experiences to ensure long-term viability in stock market investing, but this is easier said than achieved.