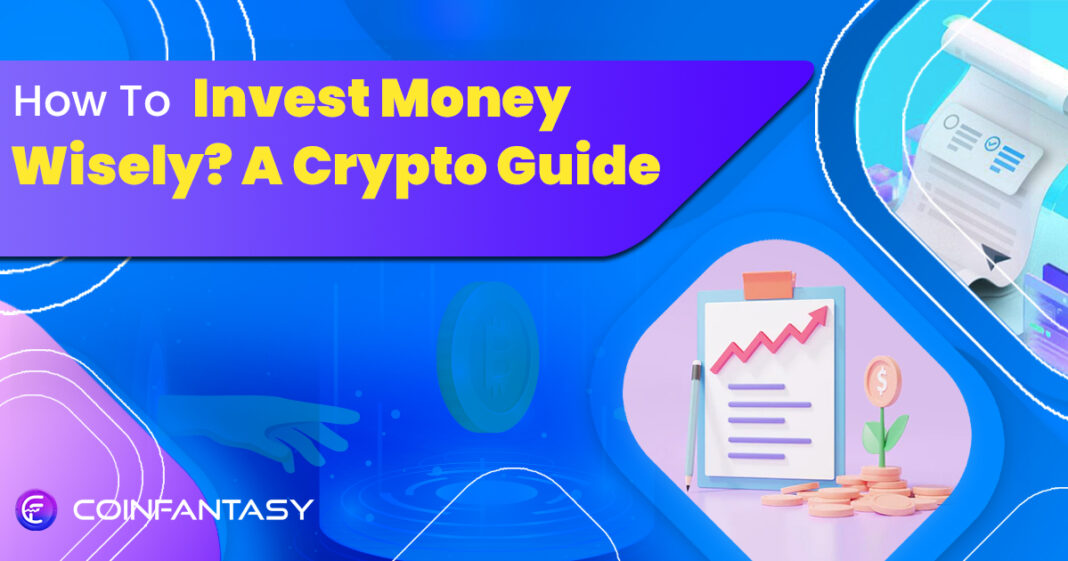 Nowadays, cryptocurrency is gaining popularity across the globe. Although the legalization of cryptos is a little critical, governments are still considering ways to streamline it. But many of us still don't know exactly how to invest money wisely in the decentralized space. Although there are many amazing methods available to invest, choosing the right one can be confusing. But investing for beginners can be made easy with proper learning and training. 
Sometimes, even if you invest well advisedly, it may not turn out as you expected and even disappoint you. There could be many reasons for this, but let's see how you can turn it to your advantage and start investing in it better.
You should always have the right plan before investment, which will give you the best investment idea. Here are a few crypto investment possibilities that help you to succeed. These will be a great guide and boon for beginners.
Investing Strategies for Beginners:
Before you start to invest the money, you should have the mentality that either profit or loss won't affect your day-to-day life.
Always use 1-5% of the money from your savings amount, don't invest more than that.
Go with a reputed exchange and coin for investing the money. Some new coins will scam people and loot their money.
Don't follow others, always do your research before investing because each will share their own experience. Sometimes it may work and sometimes it won't.
Take advice from crypto traders, they will guide you on what to do and not before investing the money.
Try to buy free coins during airdrops. It will help you to learn to trade, either you can HODL or sell it off.
Use trading bots or automated crypto exchanges, it will help you to pick the right time to invest.
Try to invest in the long run. It will help you to know more about the coin and can withdraw at a certain bull run phase.
Pro Guide for Crypto First-Timers to Invest Money Wisely
Follow your strategy: Before starting to invest money in crypto, do your research and have a strong strategy before investing in money in crypto. Cryptocurrency is volatile, so it's always better to think of questions like,
Which coin are you going to invest in?
Which platform is the best for trading?
Which exchange is good to buy coins?
How long has the coin been in the field?
What solution is given to the current market?
Read the white paper and their investors.
It will help you to know more in detail about the coin that you are going to invest in and you can analyze how long you can invest in that coin.
Have the ability to accept risk: Before investing in crypto, think that you won't always be 100% successful. Even with the best strategies, there is a possibility of loss at times. So you need to know how to deal with the loss and manage the risk in time. Only with that practice and learning, you will learn how to invest money wisely. Without this acceptance, you cannot be a good crypto investor.
Invest in various cryptocurrencies: You will have to do a lot of research before starting to invest in crypto and it's common to know what is ahead. So instead of researching one coin, always have the habit of knowing a few other coins too. It not only helps you to know about various tokens, but you can also have comparisons among those coins, and pick the best coins to invest in.
It is also advised not to invest in only one crypto all the time, it is better to invest in multiple coins and split your investments accordingly. So, if you lose in one crypto, another coin may give you a profit. By this, your savings will always be safe and secured. That's why it's good to use various crypto portfolios and start investing in them. This will help you become a good trader and you can build your strategies for investing money wisely.
Know how much to invest: This is the main thing you should always keep in your mind before investing in crypto. Before investing in crypto, you need to decide how much you can afford to invest. Always use the money from your savings to invest in crypto.
Your investment should be only from 1% – 5% and it should not affect your overall financial status. Whether it is profit or loss, you should have the capacity to manage your life. When you have invested huge amounts in crypto and if you face loss during trading, it is difficult to recover from it. Even if you are the best trader, never make investments that you can't handle.
Know about the latest trend in crypto: At present, there are 23,500 coins in the market. Each coin will come up with some kind of privacy solution to overcome the issues that we are facing in the centralized world. By knowing the latest trend in crypto, we can easily analyze the usage of the coin, how beneficial it is, whether will it run for the long term or short term, etc.
By the way, you can also know what new coins have been introduced in the market, and whether it is good to invest in or not. By keeping yourself up to date in crypto, you can learn how to invest wisely and earn profit.
Pros and cons of cryptocurrencies: Taking an Investors' Perspective Investment:
Pros:
You can learn the latest trend in the market.
Helps to become a successful trader.
Crypto regulation and adoption are increasing day by day, soon the value will increase and profits will be high.
It is safe and secure to invest.
Regular investing will help you to know more details about the crypto market.
Cons:
Crypto is volatile. It is difficult to predict the profit and loss phase from the market analysis. 
Hacking is possible in crypto, try to secure your coins in a cold wallet.
Keep your seed phrase and private keys secret. If you miss it, you can retrieve your coins at any time. 
Be aware of scam coins. 
Final Thoughts
Now that you got an idea of how to invest money wisely in crypto, it is time to take a deep dive into the market. Investing in cryptocurrency has never been simpler. In many respects, cryptocurrency is still hard to understand. If you decide to invest in cryptocurrency, make sure to analyze the coin yourself, follow guidelines, and keep a watch on the market. You should know precisely what you're getting and whether it meets your needs or not and then try to start investing in it.