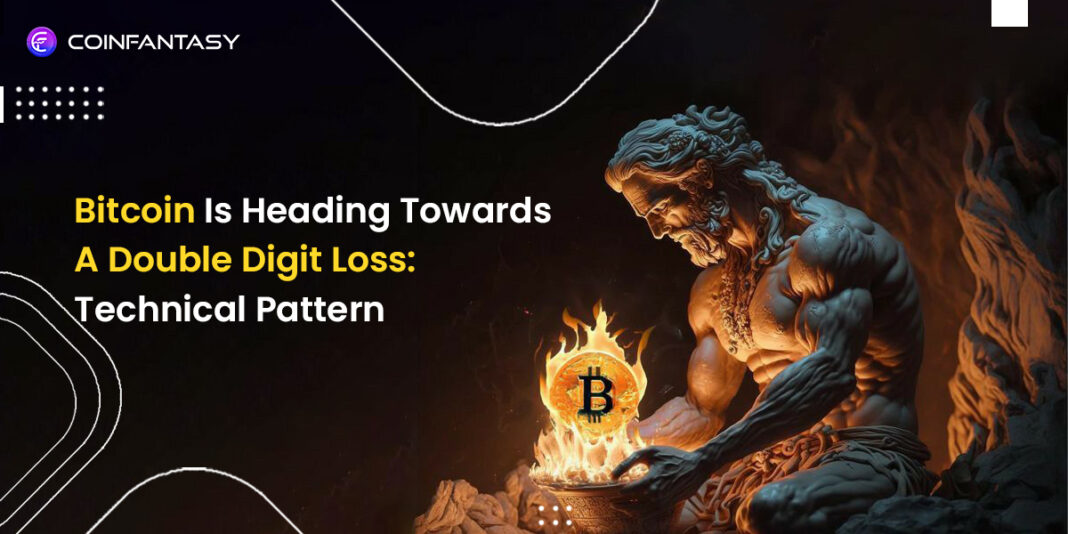 According to technical analysis, Bitcoin is heading towards a double digital loss in the coming weeks. This comes at a time when BTC has already recorded a 2% fall on the seven-week chart. 
The decline has affected many digital assets on the market. Other cryptocurrencies have all suffered enormous losses, resulting in double-digit losses in all metrics.
The crypto market fall has had a significant impact on all of the indicators. Even the Bitcoin index, which had been fighting the hardest, has fallen to it. The overall market cap has dropped by a significant amount of $1 trillion in a year as a result of the market-wide decline. The majority of cryptocurrencies have been continuing the same downward trend established by the market ruler, Bitcoin.
Nonetheless, bitcoin keeps on battling hard. However, the 'safe haven' that investors have fled to for protection barely remains above the declines registered by the other indicators.
Technical Analysis Suggests the Struggle of Bitcoin and Ethereum
Recently, Bitcoin fell from its April 14 peak of $31,019, reaching its highest point last June. BTC has dropped additional since May 5, when a transaction delay forced the price to fall on May 8. Throughout this year, the world's biggest cryptocurrency has increased by almost 58.6%.
After falling to $1,763 early Wednesday night, Ethereum recovered to almost $1,800 on Thursday. Ethereum reached an elevated price of $2,139 on April 16 – its highest-ever valuation as last May and went beyond the $2,000 threshold for the first time in a year on April 13 after the Shanghai transition to a proof-of-stake network. The No. 2 cryptocurrency is up over 50% year so far.
Bitcoin and Ether Suffer from a Lack of Socioeconomic Data
Over the last period of seven weeks, an unfavorable technical pattern has pulled down overall crypto market capitalization. Bitcoin's 2% loss, as well as BNB's 1.7% and XRP's 2.5% declines, were the main causes of the most current 1.3% drop from May 18 and May 25.
Persistent price increases keep on alarming investors, who are pricing in increased probabilities of additional increases in interest rates by the Federal Reserve of the United States. The country's most recent individual consumption index showed a 5% rise, much over the 2% inflation objective.
Furthermore, on May 25, figures from Germany's stats office revealed an adverse correction to the country's GDP from 0% to -0.3% for the first quarter of 2023 compared to the previous quarter, indicating the second straight fall. There's also the looming US debt limit confrontation and the reality that the US Treasury is rapidly running out of funds.
Several legal problems have also emerged as a result of various government's efforts to increase their grasp on crypto assets. The most recent incident concerned the European Central Bank's monitoring authority, the European Systemic Risk Board (ESRB), which suggested special attention to bank crisis concerns on stablecoins. The ESRB criticized the absence of openness in stablecoins, using Tether as an example. Amidst all this, Bitcoin is heading to an even more intense fall. 
Bears are Reluctant to Short, According to Futures
The underlying rate in everlasting contracts, referred to as inverse swaps, is normally levied every eight hours. The higher supporting rate shows that long (buyers) are looking for additional leverage. However, the converse circumstance arises when shorts (sellers) seek more leverage, forcing the funding price to fall.
The BTC and Ether seven-day price was neutral, showing equal interest from leveraged longs (buyers) and shorts (sellers) utilizing perpetual futures swaps. Traders can evaluate the market state by evaluating whether the greater activity is flowing through call (buy) choices or put (sell) choices to remove externalities that may have only influenced futures markets.
A sell-to-call ratio of 0.70 suggests that trading open interest trails behind positive calls and is hence bullish. A 1.40 indication, on the other hand, favors put options, which may be interpreted as bearish.
For the previous several weeks, the put-to-call percentage for Bitcoin futures volume has been under 1.0, showing an attraction for neutral-to-bullish call trades. Additionally, despite Bitcoin temporarily falling to $25,900 on May 25, there was no notable increase in interest in secured put options.
Several Factors Are Still Going to Exert a Downward Impact on Bitcoin's Price
Bitcoin decreased over 2% earlier in the day as higher-than-expected Consumer Prices Index data from the United Kingdom sent waves of shock across the broader equities markets. CPI measures a country's inflation rate; greater rates indicate more inflation.
The April CPI in the United Kingdom was 8.7% higher year on year, compared to 10.1% in March. Yet this figure was greater than the predicted reduction of 8.2%. These figures triggered a selloff in the stock market, which spilled over into Bitcoin. Bitcoin is on course to experience its first losing month in 2023.
Considering the equal interest on the futures markets, traders are unwilling to take larger wagers until the US debt stalemate is resolved. It remains to be seen if the cryptocurrency market will be capable of getting out of the falling wedge format.
Even though experienced traders aren't using futures for betting on an unfavorable result for Bitcoin's price, there are currently few signals for a bull run with the macroeconomic environment's unknowns. So, in the final phase, bears are in charge of the declining wedge heads for another 10% decline till July.
Closing Thoughts
All of the declines sustained by digital assets, whose connections with Bitcoin continue to climb, are allegedly being taken up by stablecoins as their respective market capitalizations expand.
Investments in digital assets are particularly volatile. While the basic principles and technical indicators of cryptocurrency may change, traders must concentrate on the same primary goals. At the same time, Bitcoin is heading towards a double-digit loss, which is inevitable.