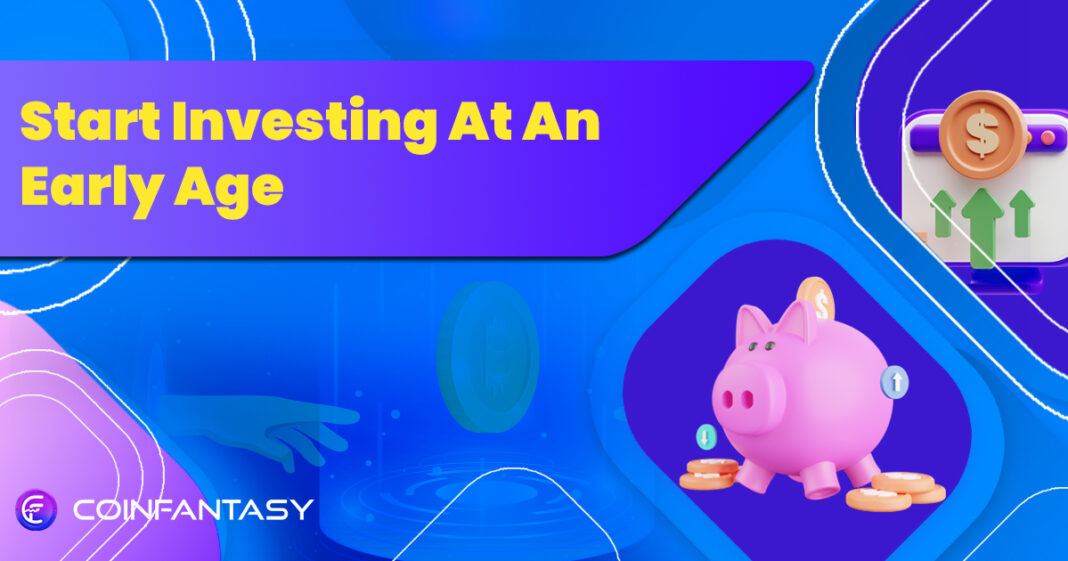 Before getting into the topic, do you know what crypto is and how it works? By knowing the basic concept you can decide how to start investing wisely. Cryptocurrency is a virtual currency that has the same value as fiat currency. At present, the real-world usage of crypto may be less, but it is expected to take great shape in the future. With the hype hitting your ears, it is necessary to know crypto investing for beginners and try your hand at it before it is too late. 
Learning investing tips for beginners is a great way to start your crypto journey. It might seem difficult and you might struggle to know how much money you need to invest here. But no worries, we will guide you through the whole process and give tips to invest with minimum initial investment.
Points To Remember Before You Start Crypto Investing At Early Age
Once you decide to start investing in crypto, you need to keep a few points. They are,
Always believe in yourself and do your own research.
Never go with others and don't believe in social media hype.
Read the project white paper and try to understand what they are doing.
Know how long the project has been in the crypto space.
Invest what you can lose and not more than that.
Try to invest in dips if you think it will yield positive income.
Buy from a reputable exchange.
Don't share your private key with others.
Don't go with the FOMO concept.
Investing Tips For Beginners In 3 Steps
If you've decided to start investing in cryptocurrency, you might be thinking, "How to invest your money wisely?"
Every cryptocurrency project is different, but when you want to make a profit, always go with reputed coins or tokens that have been so long in the crypto space. Then you need to follow these steps.
Select a trustworthy cryptocurrency exchange, where you can find good project coins.
Buy the cryptocurrency which you have decided on. (If it is not found in a reputed exchange choose some other coins)
After purchase, move your coins to your wallet and store them.
Buy from the Exchange:
To begin, select an exchange to purchase. After deciding on which exchange to invest in, establish an account with them. You cannot purchase until you create an account.
Purchase Your Coin:
Some exchanges enable you to buy cryptocurrency with a debit card. You must deposit fiat cash and convert it to USD. A well-known coin could potentially be worth hundreds of dollars. It is difficult for beginners to purchase one coin with less money. As a result, most exchanges enable you to purchase a small portion of a coin, which is significantly less expensive and the best strategy for beginners.
Store in a Wallet:
When you buy a cryptocurrency, it is added to your exchange wallet. The wallet is created when you open an account with an exchange. Then you may transfer to a more secure wallet.
How To Choose The Right Cryptocurrency to Invest with Less Money?
It is simple to start investing in any cryptocurrency just because someone suggested it. Nevertheless, it is always preferable to perform your own research. When investing in cryptocurrencies, keep in mind that it has no fundamental value (it is a volatile currency). It simply states that you hold a specific coin, which might rise or fall in value anytime.
The price is decided by several aspects such as what the project is doing, who is in the backend, how valuable it is to purchase, how long it has been on the market, whether it will bring any changes in the future, and so on. Before making an investment decision, read white papers and determine which cryptocurrencies may gain in worth in future years.
Tips To Invest With Less Money:
Make a plan: According to a statistics report, 115M people started crypto investment already. When you decide to start investing in crypto, first make a plan for how much you can invest. Don't invest money that you can't afford. Crypto investment is like two side coins, either you win or lose. 
Make a monthly budget for crypto and start saving it. The saving amount should be 1% to 5% of your whole monthly salary and not more than that. Meanwhile, you can research good crypto projects, and then once you decide you can invest in them.
Buy only a portion of coins: It's really not a good idea to invest large amounts in crypto as a beginner. At the same time, you can't quite invest in crypto for this reason. Save money every month and invest in it. So it won't be a burden to you.
Choose a well-known coin and buy a small fraction of the coin every month. For example, if you plan to buy ETH (USD 1472), it is impossible to buy one ETH at a time. So, every month you can buy some worth of Ethereum and after a few months, you will get one ETH as a whole.
Many exchanges allow you to buy a small portion of the coin, so by doing this, you can fulfill your wish to invest in crypto and buy your favorite coin too.
Staking plan: After investing in a coin, stake it. So, you can earn passive income. This is the best investment for beginners. There is no use in holding the coin simply, instead, you can stake it in a staking platform and earn ROI. By this, every day you can earn some coins according to the number of coins you have invested in the staking platform.
On one side, you can buy coins from your savings, and on the other side, you will get revenue too. Even if you don't have savings for one month, nothing will affect your investment plan.
Crypto Mistakes That People Often Do
You should now know about cryptocurrencies and whether it is a suitable investment for you or not. Because cryptocurrency is not a stable asset, it is a high-risk investment. Recognize that the money you invested has been gone. The majority of consumers purchase a certain cryptocurrency for the following reasons. 
Certify from well-known people: When public personalities, business leaders, or influencers recommend them, more people will purchase.
Media publicity: A film, article, or news feature about one cryptocurrency raises public awareness, which leads to a rise in purchases.
Reputability: When a crypto whale buys a high amount of one cryptocurrency, it will contact thousands of people and get them to invest as well. So people will also follow this. Eg: Elon Musk makes people purchase Dogecoin.
I will keep supporting Dogecoin

— Elon Musk (@elonmusk) June 19, 2022
Don't fall for these and invest in crypto. Do your research and start investing. Because crypto is a high-risk investment, you ought to try to make a passive income (i.e., staking the coin) that can effectively sustain any losses you might experience.
What Should You Do After Crypto Purchase?
Everyone starts investing in cryptocurrency because of the skyrocketing prices. You can also gain profit when you sell at the right time. You should sell it when the prices start to increase. This trick is followed by investors and they will again purchase on dips. By doing this, traders and investors will benefit greatly by selling their coins at the peak of demand. 
However, as a beginner, determining the best moment to sell your coins might be challenging. You may set a reminder on your exchange, and when the price rises, an alert notification will be sent. As a result, you may make money from your sale. And remember, no one can guarantee that it will always rise; whatever occurs, you must accept it.
Closing Thoughts
By following these points, you can start investing without worries. Always have in mind that you should not invest what you can't afford and don't run behind others' advice. Think twice before investing in crypto, do your own research, learn everything about the project, and invest in it. These investing tips will be helpful for long-term investors too, they will also struggle sometimes for a perfect guide to boost them up. Try to stake your coins to avoid uncertain loss in crypto and it won't affect your savings too.