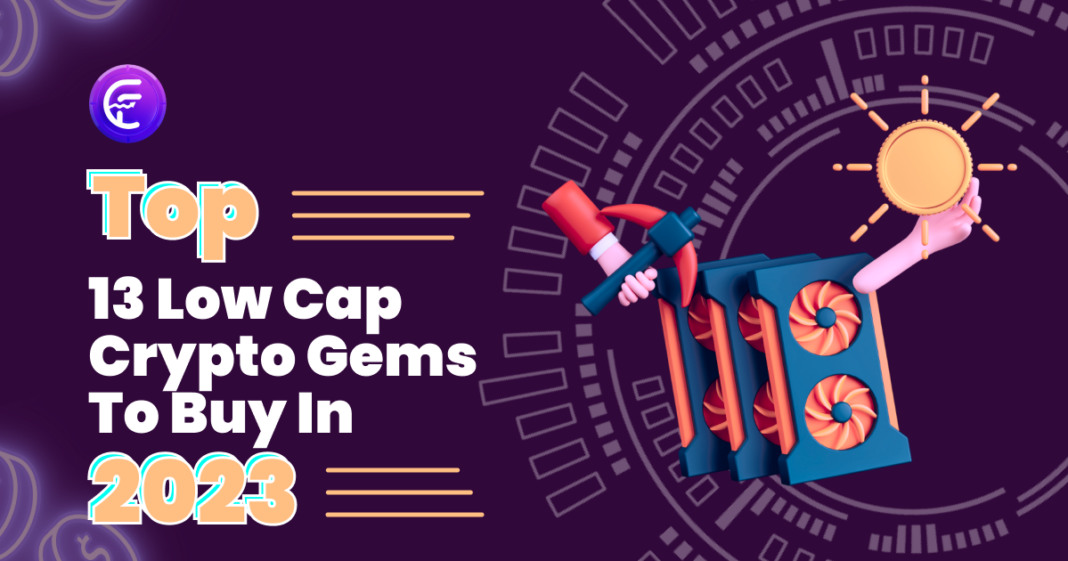 Every time a new cryptocurrency investor starts, they search for another coin that will yield a maximal return on their first investment. Of course, everyone dreams of finding a gold mine.
One needs to look at currencies with small-cap crypto that have room to increase by at least ten times their current value in order to do that. Experience, however, can provide that.
In today's blog, we'll look at low market-cap coins that have a lot of potential for future growth.
But, firstly, let's discuss,
Why Are Small Cap Crypto Gems So Special?
The low-cap cryptocurrencies, as their name suggests, are less valuable than their rivals in market capitalization. These assets are either still in their infancy, with latent potential that investors are just now realizing, or they were just recently launched, in which case time is an issue for them. Market cap is the term used to describe the overall worth of a coin's circulating supply. The undiscovered gems of the cryptocurrency world are low-cap ventures, which have helped many investors earn extraordinary returns.
These cryptocurrencies can potentially offer enormous profits in the long run, drawing investors' focus away from recent releases.
Moving ahead, let's talk about,
Top low-cap cryptos to watch out for in 2023!
Here are some of the low-cap cryptos that you can buy in 2023; take a look!
1. SiaCoin (SC)
SiaCoin was created as a means of payment to purchase disc space. Siacoin is working with some of the top blockchain businesses to decentralize the storage system. Furthermore, Sia offers a peer-to-peer storage mechanism that anyone can use, making it one of the top low market cap coins in 2023. One of the best low-cap crypto coins is made possible by a system that allows users to rent out underutilized hard disc space.
2. Battle Infinity (IBAT)
One of this week's best low-cap coins to buy right now has a market cap of $10 million, and that currency is named Battle Infinity.
The gaming platform Battle Infinity features a variety of P2E (play-to-earn) battle games. According to the developers, the games are merged into a Metaverse setting, the IBAT Battle Arena.
The Battle Infinity ecosystem also allows players to take advantage of and explore the rich metaverse reality.
3. Aavegotchi (GHST)
The market value of AaveGotchi is $124 million. This is quite low, therefore, anticipate high volatility for this coin. The GHST network went live on September 14, 2020.
The Aavegotchi eco-governance token is called GHST. The Aavegotchi universe contains a variety of digital assets that users can buy with GHST. In addition to participating in DAO governance, GHST holders can excel in Aavegotchi rarity farming to increase their GHST balance.
4. Crust Network (CRU)
Crust Network (CRU), a different decentralized storage project, recently partnered with Web3 Economy of Things (EoT) network Peaq built on Polkadot (DOT), enabling it to host decentralized applications (dApps) and access Crust's data storage market.
The current market capitalization of CRU is $5.6 million.
5. Tamadoge (TAMA)
The native token of the rapidly growing meme currency known as the Tamaverse is tamadoge (TAMA). Users of Tamaverse can create, breed, and engage in combat with their own Tamadoge pets in the metaverse.
Users of TAMA have the option to mint any number of doges. Additionally, the token enables owners to breed, train, and combat their Tamadoge NFTs and contend for the monthly leaderboard.
TAMA, which has a market worth of barely $27 million but is listed on various exchanges, is quickly gaining appeal.
6. THORChain (RUNE)
A decentralized and independent cross-chain liquidity network is THORChain (RUNE).
Through a network of open THORNodes and ecosystem products, THORChain seeks to decentralize bitcoin liquidity. Any person, product, or institution may access its native and cross-chain liquidity."
A chain-agnostic bridging protocol is being developed by THORChain to provide secure and trustless value-transfer links with the majority of other chains.
7. VFOX (VFOX)
If there is a persistent demand for them, rewards-based cryptocurrencies can have a lengthy lifespan. VFOX approaches the idea by offering a completely immersive metaverse shopping and retail experience. With a market worth under $4 million and a daily trading volume of less than $20,000, it is another small-cap metaverse coin. Even though the current narrowly trades above the all-time high, which was reached on June 29, 2020, the weekly price rise of 10% is pretty outstanding.
8. Audius (AUDIO)
Although Audius is already well-known in the cryptocurrency world, it is still a fantastic token for investors who are interested in music streaming.
The Solana blockchain hosts Audius, a decentralized music streaming technology. Audius' main objective was to fix the music industry's inefficiencies so that artists might receive greater compensation for their work.
A number of well-known exchanges, including Binance, KuCoin, FTX, Kraken, Huobi Global, and Bitstamp, offer AUDIO, which has a market cap of $154 million.
9. Maple (MPL)
Currently serving borrowers seeking open and effective finance is Maple, a decentralized corporate credit market. The technology provides these borrowers with fast and transparent funding that is totally on-chain. Additionally, Maple provides a sustainable income source by lending liquidity providers' assets to them. MPL is the native and governance token for the protocol. Holding this token entitles one to take part in Maple's governance and receive a portion of its earnings.
10. Lucky Block (LBLOCK)
Lucky Block, a revolutionary small-cap crypto that was introduced at the beginning of this year, has completely revolutionized the gaming industry.
The team at Lucky Block has only one goal: to give gamers access to a transparent, equitable, and inclusive gaming environment. To achieve this, the group depends on Chainlink's Verifiable Randomness (VRF) service, which makes sure that all winning tickets are generated randomly and without tampering. Additionally, because of its reliance on blockchain technology, consumers can be sure that all transactions are open and that anybody can play the game.
11. IMPT
A brand-new cryptocurrency project called IMPT is currently in stage 2 of its presale and has generated close to $13 million in financing in just over a month.
The concept is quite exciting because it aims to address the climate catastrophe by encouraging users to offset their carbon footprint, providing a novel and practical use case. The platform lets users earn tokens while they shop, and those tokens can then be exchanged for carbon credits, or NFTs, which are used to fund initiatives that have been approved to reduce carbon emissions and waste.
Credits can be bought, sold, and retired by users in exchange for one-of-a-kind NFTs, and they will have intrinsic value in addition to being acquired through shopping.
12. Synthetix (SNX)
The Ethereum synthetic asset issuance protocol is called Synthetix. It supports financial instruments like silver, gold, fake fiat money, fake cryptocurrency indexes, fake currencies, and fake inverse currencies. The platform's native coin, SNX, has a market capitalization of more than $770.6 million as of this writing. Commodities like silver, gold, or equities can be traded by investors. This is the main factor driving the SNX token's popularity among investors.
13. Ichi (ICHI)
Ichi enables the creation of stablecoins by backing each newly generated token with a dollar's worth of value. Users can build social tokens that are resistant to volatility in this fashion. Additionally, its community has given many other crypto communities the ability to control their own stablecoin. ICHI is the native and governance token.
Lastly, ICHI is a promising initiative, and analysts predict it won't be defeated easily. WalletInvestor predicts that the token will reach $21.3 by year-end, despite the positive run this week. PricePrediction is likewise upbeat about the token's future and predicts that it will reach $27.27 by December 2022.
As you have seen some small-cap cryptos are the reasons stating "why they're so special", it's clear that in coming years the low-cap cryptos mentioned above will dominate the industry. You know what? You can also start earning small-cap cryptos by playing decentralized investing games like CoinFantasy.
If you want to know more about such games, then read.
To sum up!
Recently, it has been a common business concept to locate these undervalued jewels and make investments in them before they become well-known.
As the projects behind these coins have small-cap crypto, their prices should all be highly unstable.
In their early years, many of them are overlooked due to their low ranks, but only those who have seen their rates of return soar in just a few years are genuinely aware of their intrinsic potential.
Low-cap cryptocurrencies may be unpredictable and risky, but if investors can recognize the real ones, they can use them as one of the fastest ways to reach their financial goals.