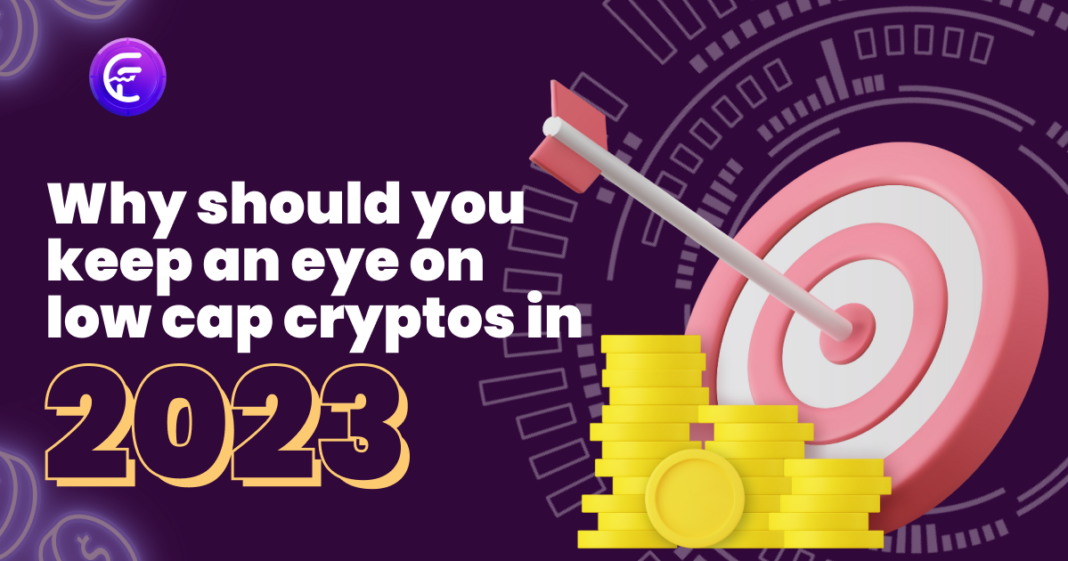 Being an investor if you really want to take full advantage of the cryptocurrency market, it is best to explore low-cap cryptocurrencies. This is because their upside potential is typically more significant than big-cap cryptocurrencies, leading to higher returns on investment.
In today's blog, we'll learn everything there is to know about low-cap crypto tokens, along with the benefits of investing in these tokens. Most investors who missed out on early Bitcoin and other token investments are still trying to kick themself into the low-cap crypto gems and coin market today.
Low Cap Crypto Tokens: What Are They?
The cryptocurrencies with lower market capitalization are known as low-cap crypto tokens. These assets may have just been released or are still in the beginning phases, but they have a high investment potential and can be profitable over the long term.
Are Low Market Cap Cryptocurrencies a Good Investment?
Yes, a cryptocurrency with a low market value is beneficial for investing since it has a great chance of producing significant returns. These low-cap assets are nonetheless regarded as suitable for investment despite their volatility and potential for higher risk.
Moving ahead, let's discuss this,
What risks exist when buying low-cap cryptos?
Cryptocurrencies with low market caps have just begun trading or are still in the early phases of development. The possibility exists that these initiatives won't succeed in reaching their objectives or drawing a sizable audience. At first glance, they could appear pretty alluring, yet they could fail for a number of reasons. Many were just established for speculative reasons and might collapse once they hit the market. So before risking your money, research the idea and the team behind it.
Why is low-cap crypto token investment getting a surge?
Many long-term investors are currently searching for low-cap crypto projects due to the exponential price increase of Bitcoin and other high-cap cryptocurrencies over the previous decade.
Having a market size of less than $1 billion, small-cap cryptocurrencies are the most prone to big swings in price based on head space in the market.
There are thousands of newly launched cryptocurrency projects that have significant potential in addition to the big market cap and established cryptos.
These low-cap crypto coins can be a practical approach to earning money quickly using cryptocurrency. Because of their low value and ongoing volatility, these cryptocurrencies have a strong likelihood of rewarding day traders and other short-term investors incredibly.
However, low-cap cryptos are not only a very rewarding investment but also quite risky. These coins aren't as well-established as Bitcoin, Ethereum, and other well-known cryptocurrencies because they are more recent to the market. You must be extremely cautious while buying cryptocurrencies, and you must pay great attention to the investments you are making.
Some other benefits are:
Less volatility – It doesn't take as much money to affect the price of low market cap crypto coins because they have significantly smaller market values and less liquidity. Thus, compared to other cryptos, small-cap crypto coins are far more volatile. Their price swings can be huge. It is very unusual for relatively small market cap cryptos to experience daily fluctuations of 10–20%, even 100% or more.
High potential – Low-cap cryptocurrency coins are frequently in their early stages of development. They can be compared to start-ups in their initial stages. This has the effect of making both the risks and the return potential exceedingly high. Not all low-cap coins, though, are new.
High growth – Many low-cap cryptos are still in the early stages of development; thus, if they survive, they usually expand quickly. It is, therefore, possible that their prices will increase substantially. This also implies that if they run across issues or cannot take off, they could degrade very quickly. Therefore, the possibility of dramatic price drops or even the death of a coin must always be considered.
It can be challenging to research every choice on the market and choose the finest one because there are so many of them.
The Best Low-Cap Crypto Tokens: Where To Look?
Investing in Low-cap cryptos, as we have already discussed, has a higher risk-to-reward ratio.
But scammers and low-quality cryptocurrencies also thrive on the low-cap side of the market.
Therefore, how can you pick the finest low-cap crypto token to invest in without putting yourself at risk?
Let's find out!
#1. Build a roadmap
Among the most crucial factors to take into account when investing in low-cap cryptocurrencies is the roadmap. A cryptocurrency with a clear roadmap for growth and development over time and a lot of potential for long-term involvement and use is typically more alluring.
The finest roadmaps give investors a quick overview of present objectives, successes, and upcoming milestones so they can follow the development of any cryptocurrency project. In order for investors to stay informed about key changes, a good roadmap should also feature a clear timeline with dates for upcoming events or releases.
In the end, this can result in longer-term investments that are more profitable, especially when investing in the low-cap portion of the cryptocurrency market.
#2. Check community
Beyond the core technology or the token's utility, it's critical to consider other factors when purchasing the best low cap crypto token to invest in 2023. The community of supporters is a critical sign of a project's prospective success, even though these factors are crucial for assessing a project's long-term viability. After all, a vibrant community is a priceless asset in raising awareness of the initiative. As word of this project spreads and more individuals are inspired to become aware of and involved with it, price action may escalate as a result.
As word of this project spreads and more individuals are inspired to learn about and participate in it, this could result in more price movement. These efforts may include schemes like airdrops, which can increase interest in a cryptocurrency while also enabling current investors to contribute to its value growth. A cryptocurrency project can also attract more investors by growing a community of new users.
#3. Check volatility
Extra volatility may be advantageous for those looking to purchase and sell in the near term because it increases their chances of making money. On the other hand, long-term investors often seek out low-cap cryptos with solid scalability and growth prospects because these offer more long-term value.
Investors must therefore consider whether they are interested in trading or holding before deciding which low-cap cryptos are ideal for their portfolio. The suitability of a certain cryptocurrency investment for short-term trades or long-term growth potential can also be determined by factors like token usefulness.
Before making any significant choices regarding which cryptocurrencies to invest in, it is crucial to carefully analyze one's investment approach because ultimately, various traders will have different aims and risk tolerances.
Conclusion
Low-cap crypto tokens are those crypto assets that one may think about investing in and trading. To find low-cap assets for investing, one would need to go to the exchange platform. Make sure to investigate these resources and assess their investment potential before investing in any of the cryptocurrencies. We hope this blog about low-cap cryptos has given you enough information.