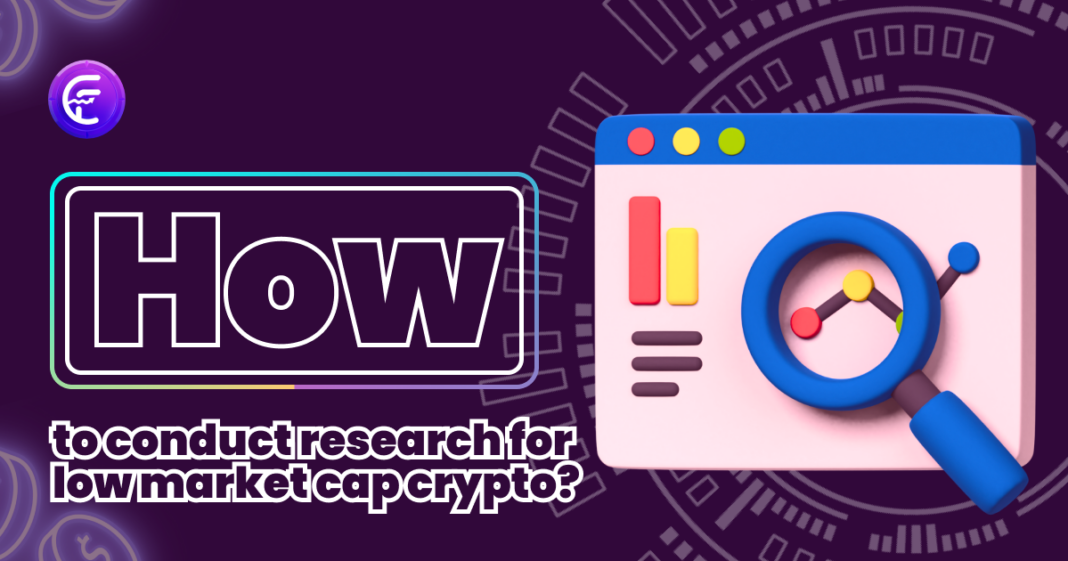 Presently there are more than 22,168 cryptocurrencies in the crypto industry. Unfortunately, deciding which ones would be worthwhile isn't very easy. The "low-cap" or "small-cap" cryptocurrencies that are still developing provide the greatest potential for profit.
These days, a lot of long-term investors are searching for low market-cap crypto projects, undiscovered treasures with the capacity to expand.
But what exactly is low market cap crypto, and how to find the right low cap crypto gems? 
Let's find out!
In today's blog, we'll discuss everything you need to know about low-cap cryptos, and we'll also give you some tips to find the best low-cap crypto for your portfolio in 2023! 
What is low market cap crypto?
Low market capitalization is abbreviated as "low-cap" or "small-cap".
Newly released tokens, risky crypto assets, coins currently in the early phases of development, and coins typically following the presale or ICO stage are all typically included in the low market cap class of cryptocurrencies. 
There are far more low-cap cryptocurrencies than mid-cap and large-cap cryptocurrencies, which makes them much riskier. However, many of these cryptocurrencies have enormous development potential since they intend to introduce a good or service that will draw a lot of investors and increase demand.
This low-cap crypto can be a practical approach to earning money quickly using cryptocurrency. Because of their low value and volatility, these cryptocurrencies have a strong likelihood of rewarding traders and other short-term investors greatly.
Before investing in these cryptocurrencies, one must proceed with the utmost care, supported by careful research. These cryptocurrencies include SelfKey, DragonChain, Terra, and others.
But,
Are they better than significant cap cryptos?
Low-cap coins are riskier than large-cap cryptocurrencies even though they have significant growth potential. The reason is that low-cap cryptos are unproven or frequently just based on the vision and potential that has been promised. The gains could, however, outweigh this danger. Low-cap currency increases of up to 100 times are not implausible.
Okay, but,
Is Investing in Low Market Cap Cryptocurrencies a Great Idea?
If you're still undecided about buying low-cap cryptocurrencies, you may need to know more about their profitability so that you can make a more informed choice.
The advantages of buying low-cap crypto gems are listed below:
#1. Utility
Additionally, low-cap cryptocurrencies are more valuable than their large-cap counterparts. The only other functions of the BTC asset are to enable network fee payments and secure the network.
#2. Helps to generate passive income
Many cryptocurrencies with low market caps are developed using blockchains that use the PoW consensus algorithm. It implies that token owners can temporarily lock up their assets and support network growth and security.
#3. Profitability
The majority of low-cap coins are inexpensive and have tremendous growth potential, which is the next advantageous feature of these coins. Such coins' high volume of price fluctuations makes them a successful investment.
#4. Affordability
Low-cap cryptocurrencies are inexpensive, but they are also unproven and might be risky investments. As long as you will only lose a small amount of money if the cryptocurrency crashes, investing in such small sums also greatly decreases the chance of losing too much money.
As you've seen the benefits of buying low market cap crypto in 2023; Now, let's move forward and discuss,
How to find the ideal low market-cap crypto?
Notwithstanding, there are a few pointers we'd like to offer you to assist in choosing the top low market-cap crypto. Take a look!
#1. Use data aggregators
Websites that collect data, such as Coinmarketcap, often list new coins. Numerous projects can be found on these sites. The "Recently Added" tags are updated with newly listed coins. Investors can select by market cap and price for low-cap cryptocurrencies in the Trending area to identify the projects debuting on the global cryptocurrency charts.
#2. Check the project's roadmap
The finest roadmaps give traders a quick overview of present objectives, successes, and upcoming milestones so they can follow the development of any cryptocurrency project.
So that investors may stay informed about key developments, a good roadmap should also provide a clear timeline with dates for upcoming events or releases.
Overall, having access to this information enables investors to make wise investment decisions supported by useful facts.
#3. Check team & community
Find out what other projects they have worked on, whether they can deliver on their claims, how active they are on social media handles, and whether or not they take community ideas into account. Consider the project's roadmap, potential use cases, and how the coin fits into the overall crypto ecosystem. While studying the team, find out who is funding the project.
#4. Check price & supply
Due to the fact that what investors are prepared to pay represents an object's true value, these two indicators may be a little arbitrary. But to get a feel of what pricing would be reasonable, we can compare it with other coins with a comparable supply. Additionally, comparing by market capitalization will provide us a clue as to the coin's chances of growth.
Some other points are:
Analyze and make predictions in detail
Read in-depth reports, old news, or any forecasts that could impact your investment.
Look over the advice of professionals and see what they propose as to the best cryptocurrency to invest in.
Check out the objectives of the coins you want to deal in
Now, let's discuss,
Top low market cap crypto of 2023!
The following are some:
#1. Scotty Beam
The platform is an NFT platform that addresses the deficiency in NFT cross-chain validation. This platform, which features a P2P trade and an NFT gallery, is the first cross-chain NFT teleport platform.
As a result, Scotty Beam makes it possible for oracles to do cross-chain swaps and auctions in an enjoyable and straightforward manner while integrating NFT marketplaces.
#2. RobotEra
A shared universe offered by RobotEra connects to other worlds, opening theme parks, concerts, museums, and other establishments. Another enjoyable, functional utility-based play-to-earn metaverse game is RobotEra, where you can profit from different cryptocurrencies just by having fun.
#3. Thetan Arena
Users are urged to gather friends and establish teams on the platform, which is a free-to-play and play-to-earn esports game. The user can then choose from two game modes and compete with other four-person teams in one of them. NFTs can be paid for with BUSD, USDT, and WBNB (Wrapped BNB). Additionally, you can purchase to complete your team based on talents, NFT rarity, skin rarity, and fighting type.
Conclusion
Low-cap cryptocurrencies may be hazardous and volatile, but they offer one of the quickest ways for investors to reach their financial objectives, especially if they can distinguish the real ones from the fake ones.
Finding and buying newly launched tokens with low market capitalization is the easiest way to invest in cryptocurrencies and make money rapidly. If you want to begin your cryptocurrency trading career, you may also play crypto trading games like CoinFantasy.