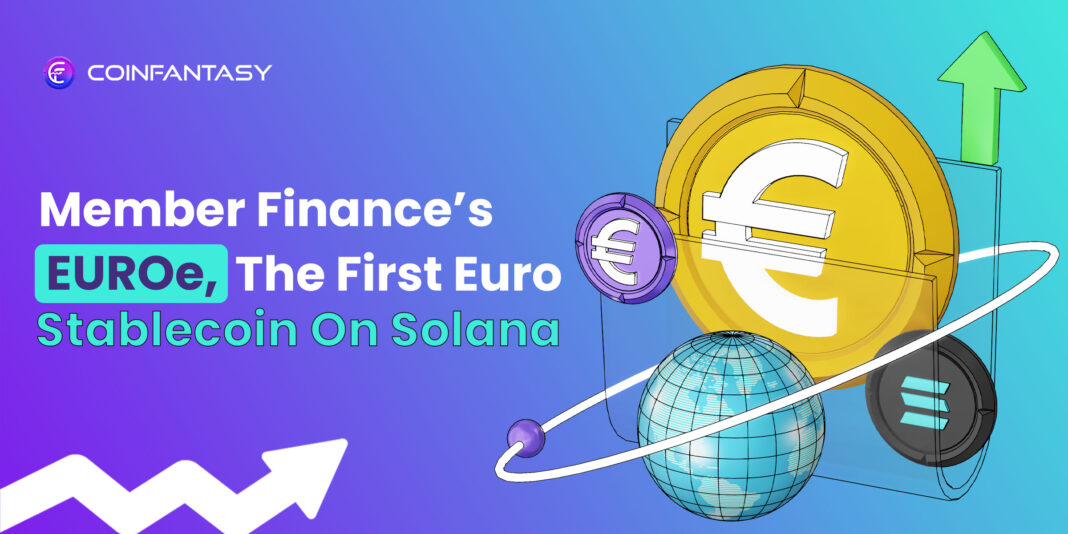 According to an August 23 release, the European digital finance ecosystem has taken another step ahead with Membrane Finance's recent introduction of the EUROe, Solana's first euro stablecoin. This initiative opens ahead for more transactional flexibility throughout the continent, allowing consumers to more easily navigate the digital and traditional banking spheres.
It allows novel applications such as foreign exchange, euro-denominated debit card transactions, and blockchain-native storage of value for Europeans, while additionally guaranteeing adherence in advance of the Markets in Crypto Assets regulations, which take action from 2024.
Membrane Finance brings the first euro stablecoin to Solana – along with card payments!

Today @solana goes multi-currency as fully-backed & compliant euros land on the high performance & low fee blockchain.https://t.co/k8u8X4Mxtb

— EUROe (@EUROemoney) August 23, 2023
Everything You Need to Know About The First Euro Stablecoin
EUROe is a MiCA-compliant euro stablecoin that converts fiat euros into blockchain-enabled digital currency. Anyone having an EUROe Account can establish and exchange the token in a 1:1 ratio with no costs. The Euro stablecoin is secured by 100% liquid cash and 2% CET1 capital invested in European financial firms or banks.
Membrane Finance, a renowned fintech business located in Finland, has stated that the token is completely compatible with the upcoming Markets in Crypto Assets laws, which are slated to go into effect in 2024.
The EUROe Account API is a significant component of this deployment, making sophisticated financial moves easier for developers. One of its key advantages is the ability to automatically transfer euros between compatible blockchains and the traditional banking system.
This guarantees that firms may seamlessly migrate from digital to conventional finance without the need for personal assistance. Corporate treasuries, for example, may use the API to automatically balance their funds, assuring both on-chain and off-chain liquidity:
"The EUROe Account API sustains automatic corporate treasury handling to ensure sufficient cash both on and off-chain."
This initiative has received rapid backing from Wirex, a digital finance firm with over 6 million users. The Euro stablecoin transactions are now possible across a network of over 40 million merchants in over 200 countries thanks to this agreement. Furthermore, the Wirex platform supports rapid translations between the digital token and over 100 additional worldwide currencies.
"With the EUROe available within the Wirex app, it lets consumers have a variety of options to handle their funds. Wirex lowers difficulties while also reshaping the future of financial transactions by implementing EUROe support on Solana." said Pavel Matveev, CEO and Co-Founder of Wirex.
Juha Viitala, CEO and co-founder of Membrane Finance gave his thoughts on the value of the first Euro-based stablecoin in the face of shifting regulations:
"MiCA provides an entirely novel level of responsibility and safety for customers to the crypto asset sector, and we think that due to the EUROe cooperation, Solana has now become a highly strong competitor for a growing number of blockchain-based apps."
Closing Thoughts
While EUROe has been present on other blockchains such as Ethereum and Avalanche, its association with Solana creates a basic link between numerous blockchain platforms and traditional financial infrastructure. Transferring euros between Solana and the SEPA network is as simple as a single API request to the first Euro stablecoin.