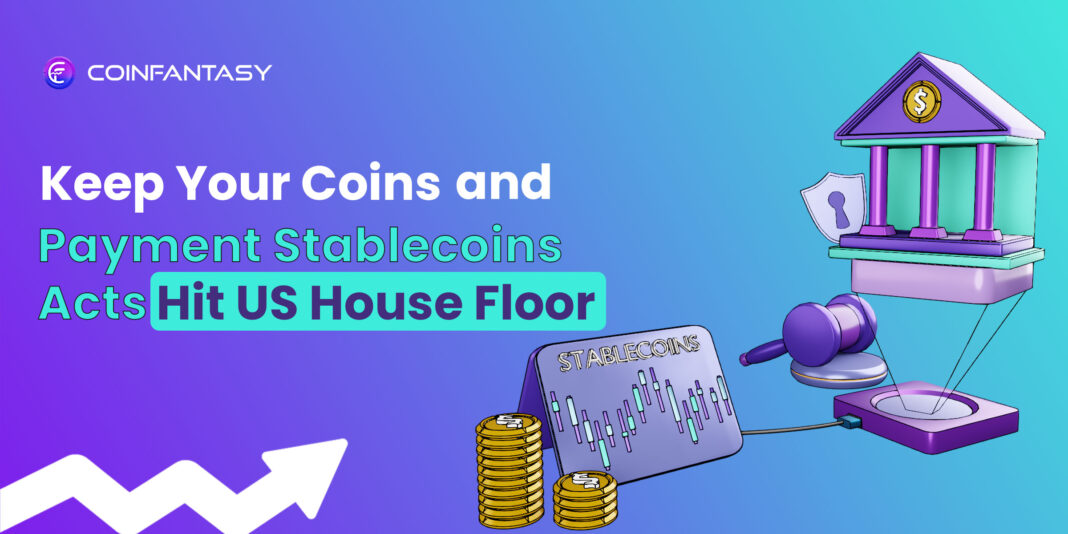 The House Financial Services Committee approved seven bills of law that determine a legal structure for payment stablecoins, safeguard self-custody for digital assets, change the CFPB's devastating loans to small businesses information gathering rules, and counter the effect of environmental, social, and governance (ESG) efforts in the financial sector.
Clarity on Payment Stablecoins Act, put forth by Chairman Patrick McHenry (NC-10), acknowledges multiple legislative ways for authorizing and regulating stablecoin developers while guaranteeing robust consumer protections through essential federal guardrails and was approved by a bipartisan vote.
When did the Keep Your Coins and Payment Stablecoins Acts get Passed?
On July 28, the committee announced that the Clarity for Payment Stablecoin Act and the Keep Your Coins Act, together with five other finance-related laws, had been passed.
The House Financial Services Committee has moved forward with two landmark earlier under discussion crypto measures, one aimed at better-regulating stablecoin issuers and the other considered as favorable for crypto self-custody in the United States.
Both proposals seek to enact legislation for the issue of payment stablecoins and guarantee that crypto users can keep their money in self-custodial wallets.
Coinbase Chief Policy Officer's Opinion
In response to the measures' passage, Coinbase Chief Policy Officer Faryar Shirzad stated that it is a "historic week" for crypto regulation. Negotiations on the Clarity for Payment Stablecoins Act have already stagnated. Committee head Patrick McHenry accused the White House of halting debate after it and the Committee differed on legislative details.
#BREAKING: Chairman @PatrickMcHenry's Clarity for Payment Stablecoins Act passes the Financial Services Committee with BIPARTISAN support.

After fifteen months of bipartisan collaboration, this landmark legislation is one step closer to becoming law. pic.twitter.com/vCiyqjyAAf

— Financial Services GOP (@FinancialCmte) July 28, 2023
The Financial Innovation and Technology for the Twenty-First Century Act and the Blockchain Regulatory Certainty Act were passed by the committee on July 26.
The proposals outline when cryptocurrency enterprises must register with regulators and provide criteria for initiatives such as miners and decentralized finance (DeFi) systems.
The Financial Innovation and Technology for the Twenty-First Century Act was also approved by the House Agriculture Committee on July 27.
McHenry About the Payment Stablecoins Act
"Today, I was expecting to declare an agreement with the member in charge on stablecoins legislation," McHenry stated about the committee's senior Democrat, Maxine Waters (D-Calif.). "This will not happen… The refusal of the White House to make concessions has once again forced the negotiations to a standstill."
McHenry stated that he was "disappointed," but did not elaborate on the nature of his conflict with the executive branch.
Any stablecoin measure in the United States would also need to be supported by the Democrat-led Senate, thus a bill backed primarily by House Republicans rather than an effort supported by both parties may have less clout in that body.
McHenry's decision to move the measure ahead over the strong concerns of committee Democrats may satisfy other Republicans, but it may also undermine the bill's possibilities of becoming law.
Waters's Opinion On the Stablecoin Act
Waters called the plan "deeply problematic and bad for America," saying it "encourages a race to the bottom by creating 58 different licenses," enabling issuers to possibly include a wide variety of assets in their deposit and enabling major firms like Meta or Walmart to distribute money.
Democrats expressed worries about the bill's reserve measures, as well as the parties' differing views on the role of federal regulators over stablecoin issuers, according to Waters.
"I push Republicans to withdraw this extremist section of legislation from the markup and engage in culture wars," Waters continued, noting the Federal Reserve's lack of monitoring and its absence of diversity and inclusion standards.
The Republican stablecoin bill's markup on Thursday was particularly heated, with Republicans pressing ahead and Democrats holding their feet on every administrative issue. The committee's effort to publicly discuss the bill's specifics highlights the persistent deadlock for US stablecoin supervision.
A request for comment from the White House was not returned right away. According to Waters, neither the Fed nor the US Treasury Department supports the plan as it now exists.
During the discussion, Stephen Lynch (D-Mass.) urged that voting be moved to September since Democrats hadn't had enough time to promote their proposals.
"We have not had an important chance to make changes to this bill… that's an embarrassment," Lynch added. "We need to be observed, and we desire to influence this."
McHenry presented the Clarity for Payment Stablecoins Act last week, which aims to provide a regulatory structure for crypto that is related to the worth of fiat money. Stablecoins are an important component of the crypto markets, giving investors stable tokens with which to trade in and out of more volatile assets.
Rep. Bill Foster said that Republicans have been protecting the capacity to make anonymous payments, claiming that encouraging the use of self-hosted wallets will benefit dangerous nations.
"I am confident that future victims of North Korean nuclear terror will appreciate the thoughtfulness of my Republican colleagues," Foster added, alluding to fentanyl makers that take cryptocurrency payments.
McHenry has already cautioned that competing jurisdictions are "in advance of the game" when it comes to regulating cryptocurrency, with the European Union's markets in Crypto Assets legislation (MiCA) slated to go into force in 2024.
Closing Thoughts
Hoping that the payment stablecoins act brings positive changes in the US and the crypto industry too. Many people welcome this regulation because stablecoins give standard benefits and it can be used for the purchase of other cryptocurrencies too. That's why stablecoins are in demand among people and believed for potential growth in the crypto market.