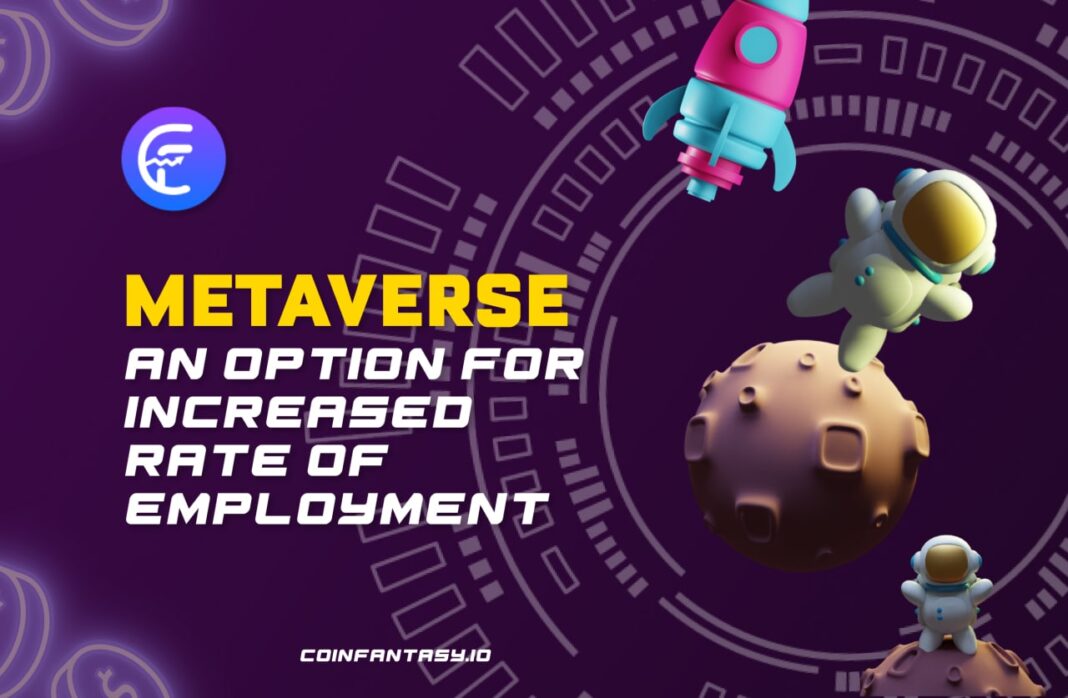 Imagine a world where you could be on vacation in a country of your choice with friends or colleagues and attend meetings, and take notes while floating around a space station, all without stepping outside your front door. Under pressure from having too much on your plate? Why not use an AI-enabled digital twin to help you with your workload? This example is a glimpse into what the future metaverse employment promises.
Ever since Facebook CEO, Mark Zuckerberg announced news of Metaverse, grand promises are being made for the future virtual world.
Meta is aiming at building a digital experience, where multiple users can interact in a 3D environment. According to CNBC, the metaverse is not only for Greeks and gamers but is the next evolution of the internet.
Also, Hbr has stated that the metaverse draws on various technologies, including 3-D graphics, digital currencies, virtual reality platforms, and VR-enabled headsets.
You might think that Metaverse is just a buzzword. But, the truth is that brands and businesses often want to be involved in the next best thing that promotes innovation. The most significant promise that holds is to provide gainful Metaverse employment opportunities for people.
Metaverse Employment: How It'll Create Jobs for People?
You might be thinking that the best of the Metaverse will happen inside the Metaverse. But, unarguably not all work about Metaverse will occur within it. Because much of it will involve screwing the nuts and bolts to keep it in good shape. Coders, designers, developers, testers, public relations officers, and engineers will do this. Therefore, the metaverse will bring a lot of job opportunities along with it.
Some of these jobs are:
Metaverse Cyber Security
With new development in Metaverse, there will be a need to protect the company as well as users. Novoresume stressed that to protect virtual reality from cyberattacks, and other similar attacks, Metaverse will need next-level security. Thus, there will be a need for cybersecurity experts to work in real-time. These experts protect the network by developing a sound system or protocol to detect, access, and prevent cyber security activities.
One should be strong in cyber security skills with a background in programming to become a cyber security expert.
Ecosystem Developer
Further development and improvement on Metaverse would have to result in a working ecosystem built around it. Cult describes this ecosystem to be made by sensors, edge computing, laws, KYC processes, data lakes, green electricity production, and others. This would, in turn, provide jobs for many people who are specialized in project management or ecosystem development.
As an ecosystem developer, you will need to have good knowledge about coordinating with partners, investors, and the government without leaving out interoperability which will give customers or users the ability to use their gadget items seamlessly.
This will not be easy, and the adoption process will have to overcome initial barriers. After all, what is the point of getting a cool skin for a virtual game if you can't wear it at a mall?
Creative Designers and Storytellers
In research by Gobankingrates, today's top opportunities are opened to UI (user interface experts) and animation designers to developers, UX designers, writers, and data analysts.
As Metaverse begins to materialize and its promises become a reality, the company will need the skills of creative designers and storytellers. Also, metaverse prides itself in using Artificial reality and Virtual reality, which is just the beginning.
Therefore, the concept of gamification continues to gather steam and impact the experience economy; users will want to laugh, relax, and relate to things in the digital world, even if they are new users. This is where the storyteller comes into play. If you are good at designing challenging quests for users to explore Metaverse or psychological sessions, you might be preparing for the future.
Research and Data Analyst
Metaverse is expected to become the next big thing on the internet, and research and data analysis are skills to have in the company. There is always a need to collect, clean, and interpret data sets to answer a question. Targeting the right business with gleaning insight from data could help inform Metaverse.
Research and Data analysis could inform market research, operations research, intelligence analysis, and so on. So, if you have knowledge about SQL, Microsoft Excel, SAS, R or Python, and the like, you might be solving a problem for Metaverse and be gainfully employed.
Metaverse also offers opportunities for Artists to make money via NFT. Gamers can make money via play-to-earn games, and architects can also make money selling digital lands.
Conclusion: Metaverse Employment
Companies always look out for the best in many with the right combination of skills. Thus it will be best to upskill to make yourself hirable.
The prospects of gainful Metaverse employment could potentially result in a positive effect on the world economy.
The Metaverse will require countless new technologies, protocols, partners, skills, and discoveries to work. By extension, it will need many people to work remotely and on-site to get this idea to the limelight. It is imperative to note that interns will not be left out of this equation.
The Metaverse will be an intersection of Law, Art, and Software Engineering. A lot of opportunities await the newbies in the ecosystem, and many new job titles will be up.