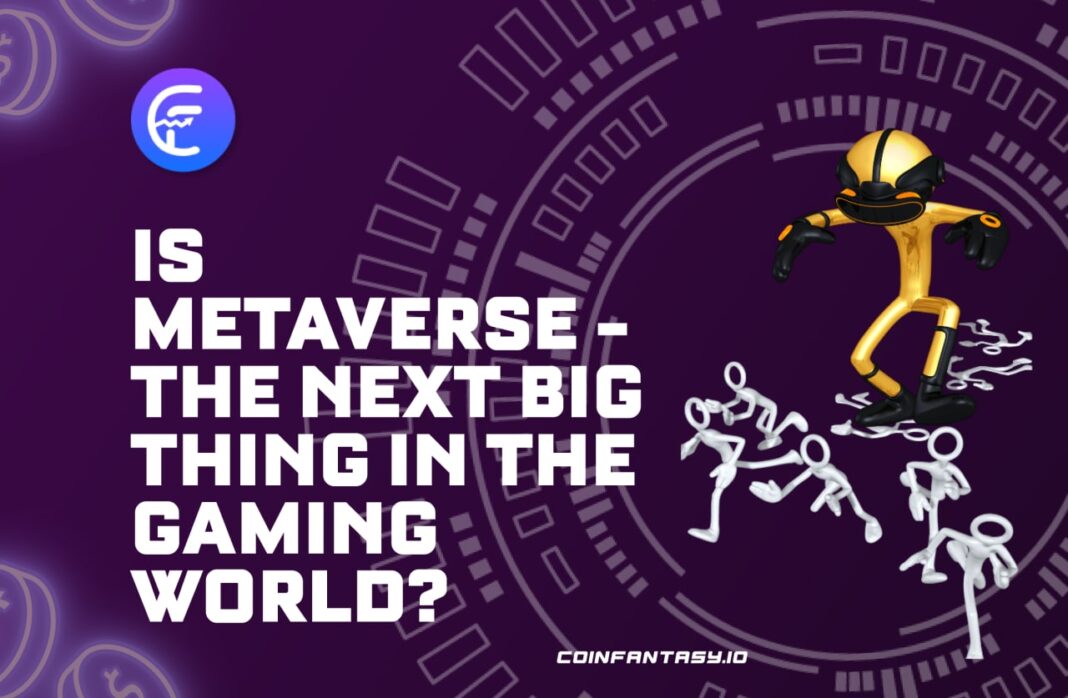 Imagine being transported to an advanced reality, where you have the freedom to live how you choose. Just one click, and you'll be living inside your online experience, at your dream location, doing what you wish, meeting friends, shopping, or going to an event. You can even be present everywhere at the same time.
No, this is not a scene from a sci-fi movie but the reality of the metaverse. Metaverse works in all industries, but the gaming industry seems to be its quickest adopter. As the metaverse becomes more developed, more gamers are shifting to the metaverse for the incredible experiences it offers. This article discusses the metaverse and how it is the next big thing in the gaming world.
What is the Metaverse?
Metaverse is all about an immersive virtual experience. By linking interconnected networks, 2D spaces will become 3D spaces. Users can interact, socialize, and immerse in the visual and auditory experience, which is the metaverse. Instead of browsing the internet, you can walk, talk, play, and shop together in the virtual realm.
The metaverse is very similar to a game but with real-world benefits. Developers can build inhabitable worlds within the metaverse. They use advanced technologies like VR, 3D reconstruction, IoT, blockchain, AI, and AR to build the metaverse.
Users will head to the most easy-to-use metaverse platform, depending on the experience and content. Also, the metaverse will attract shoppers, events, and virtual shows. In one way or the other, the metaverse is a shared gaming experience.
Metaverse adoption across the world
Many big media players are already building their metaverses. For example, Facebook announced plans to hire 10,000 employees in Europe to build a metaverse. According to McKinsey & Co Report, businesses and consumers' total spending on metaverse will reach $5 Trillion by 2030. The report predicts that five activities will flourish the most in the metaverse:
Gaming

Fitness

Social interactions

Remote learning

Commerce
As the metaverse takes shape, its similarities to a virtual game are endless.
Metaverse Gaming
Metaverse games emerged as a part of the evolving gaming industry. Gaming companies prefer decentralized projects as it is expected to be the future of technology. Recently, more players are plunging into the metaverse for a whole new gaming experience. Some of the key characteristics of metaverse games include the following:
Players can create avatars in the virtual world, representing their true identities.

Metaverse games work on the play-to-earn model. Gamers can win virtual rewards like in-game items or in-game NFTs. These in-game assets are valuable beyond the game and can be traded or sold to earn real-life money.

Gamers can share the experience with their friends via social media and interact with fellow players within the metaverse. They can also collaborate and play together in games.

By using AR and VR, the metaverse will create a unique experience that is lifelike. Also, it will be better than any gaming technology of the past.

Finally, metaverse gaming platforms will be interconnected and interoperable. Players can move their in-game items from one gaming platform to another. These transferred in-game items also have the functions carried over.
Examples
Decentraland is a popular metaverse game. It is a perfect demonstration of metaverse integrated into gaming. In Decentraland, gamers can own properties, trade digital real estate, rent out digital properties, conduct events in their places, and so on.
CoinFantasy is another metaverse gaming platform with rich features like finance market, coin launch, NFT trading, social trading, etc.
The technology behind the metaverse is responsible for its lively features. Afterward, do take a look at the most important technologies used to create these metaverse games.
Technologies behind Metaverse Games
Metaverse games are highly popular, and gaming companies acknowledge this by bringing more immersive experiences. Developers use the latest technologies such as artificial intelligence and blockchain to achieve this. So, here are the most prominent technologies used to develop a Metaverse:
Augmented Reality (AR) and Virtual Reality (VR)
AR and VR enable a lively and immersive experience for the user. These are the foundations of the metaverse. Augmented Reality (AR) replicates real-world objects to build the virtual world using elements and characters. Besides that, it also supports smartphones and other devices, making the experience more real.
Virtual Reality (VR) technology brings a completely simulated environment. This environment makes the user feel immersed in their surroundings that appear real. VR allows you to have sensory experiences just like in physical reality. It requires equipments like a head-mounted display or a multimodal projection screen.
Blockchain and Cryptocurrency
Blockchain technology is behind most metaverse projects. As it brings multiple benefits like digital collectibility, transfer of value, interoperability, and proof of ownership. In the metaverse, cryptocurrency is the natural mode of payment. Also, people will be able to buy NFTs and more in the metaverse gaming environments using cryptos.
Internet of Things (IoT)
The metaverse acquires and uses data from the real world using the internet of things. It connects the virtual world elements and real-world devices. IoT allows metaverse to replicate real-world scenarios better, enriching the user experience.
3D Reconstruction
3D reconstruction helps complement other technologies that constitute the metaverse. It allows developers to build the virtual version of real-world objects that are difficult to build. Besides, it makes experiential rides and entertainment possible.
NFTs
NFTs are an integral part of metaverse gaming because it brings value to virtual objects in the real world. For instance, NFTs can make buying and selling in-game items easier for gamers since they have value in the real world. Besides, these also allow game developers to generate revenue. Coinfantasy is a perfect example of NFT games. It follows a simple rule where players can predict the outcome of their trusted cryptocurrencies to earn big rewards. Another famous example is Axie Infinity. It is among the most popular NFT games and allows gamers to use NFT to enhance their gameplay. In order to know more about NFTs in gaming, check this blog.
Final Words
The metaverse is set to become the next big thing in the gaming world. It might still be in the development phase. Futuristic projects like CoinFantasy, Sandbox, and Decentraland are building platforms in this direction. Further, Microsoft and Facebook are making their own versions of the metaverse. To conclude, one thing is sure – the next generation of gaming will certainly take place in the metaverse.