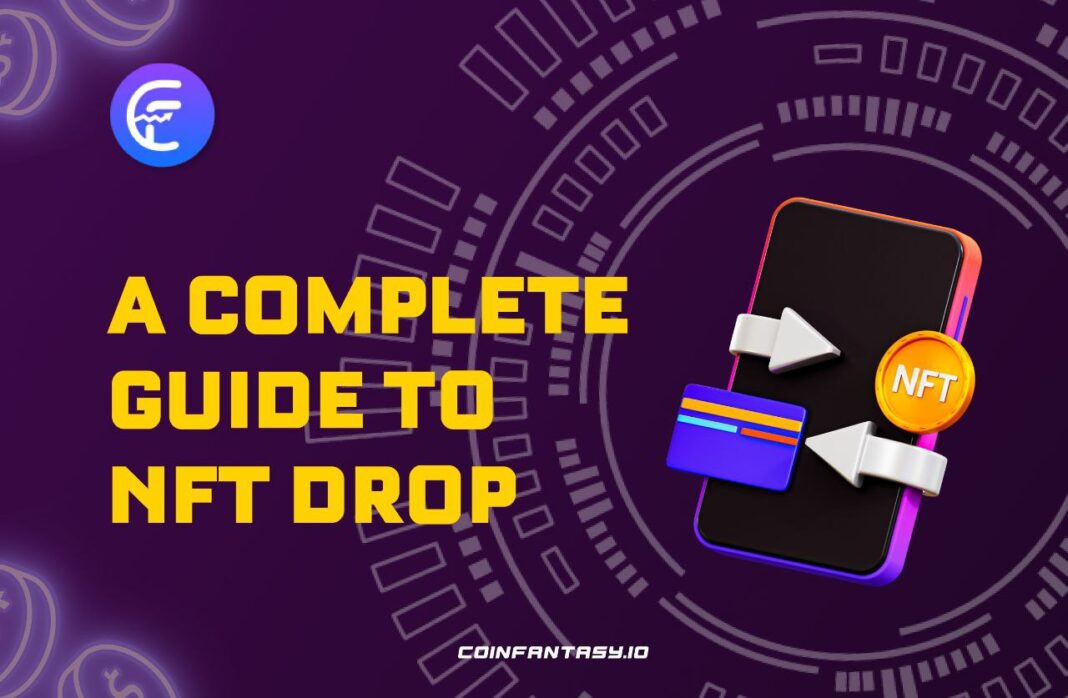 Without NFTs, the word NFT Drop won't be common. As one can't do without the other.
Stories like Jack Dorsey, the former CEO of Twitter, selling his first tweet on the micro-blogging platform for $48m, the Indonesian guy selling his selfie collection for $1 million on OpenSea.
These stories might make a newbie wonder, What are these NFTs about? What makes a piece of art valuable?
NFTs stand for Non-fungible Tokens. Non-Fungible means it's unique; only one person can claim ownership. On the other hand, something fungible provides an opportunity to replace it or find a replica elsewhere.
What is NFT Drop?
Terminologies in cryptocurrency might seem familiar, for example, NFT Drop, AirDrop, and NFT Airdrop. There may be a similarity between these three terminologies; however, they are all entirely different terminology.
AirDrops are mostly free distribution of tokens to users' wallets to promote a project or token. Winners of these Airdrops are asked to perform certain tasks, like shilling, referrals, and designated social media activities.
NFT Airdrops are the distribution of free NFTs to users. These NFTs are won as a result of participating in defined promotional activities.
NFT drop is the term used to explain the process of token distribution by which a blockchain project distributes its tokens to the public. NFT drop is mostly popular in the gaming industry, wherein a game developer distributes its gaming tokens to the public.
For example, gaming platforms like CoinFantasy might want to increase their reach and distribute CFAN, the native token of the gaming platform, to the public; this native token serves as a reward mechanism on the platform.
Where to find a good NFT drop?
NFTs generally thrive on community. Finding an NFT drop is not a herculean task; however, the importance of a community in getting a good NFT drop cannot be overemphasized. Getting a good NFT depends on the team behind the project and your ability to DYOR (Do Your Own Research).
Social Media: Social media is important where various NFT projects shill their work and announce NFT drops. It is very important to follow degens and influencers in the NFT space, especially on Twitter, since crypto influencers are crucial in getting the right NFT drop.
Media Outlet: One of the aims of projects rolling out NFT drops is to create awareness and market. It is important to keep an eye on leading crypto outlets like CoinTelegraph, BeinCrypto, DailyCoin et.al.
NFT Drop Sites: There are dedicated websites where NFT drops are advertised. These NFT drop sites do due diligence and also drop a background of the artist or team behind the projects to be released. An example of an NFT drop calendar site is NFTcalender.io.
How to participate in NFT Drop?
Participating in an NFT drop depends on the project; however, there are standard things needed to participate in an NFT drop. Keep reading to know what they are:
NFT Marketplace
Registering on various NFT marketplace like OpenSea, Rarible, Foundation, and Crypto.com is important.
Have a crypto wallet
A crypto wallet is needed to HODL, buy and sell NFTs. There are a lot of wallets you can open to participate in NFT drops. E.g., Metamask.
Register for events
Participating in NFT-related events, whether online or offline, will help to keep you up-to-date on NFT drops happening in the NFT community.
You should have a cryptocurrency to be an eligible participant in NFT drops; the cryptocurrency you'll use to purchase the NFT drops depends on the chain, e.g., Tezos, Ethereum, and Solana.
NFT drops vs. Airdrops
As explained in the introduction, the major difference between NFTdrops and Airdrops is the free giveaways airdrops come with, while NFT drops are paid for when the creator releases a collection of artwork.
AirDrops are usually given out before the release of the NFT drops as a means of publicity and building anticipation towards a project.
Tips to Avoid Scams
One thing that is common with anything that involves making money is Scams. Scammers prowl online like a lion; however, the tips in this section are your weapon to combat scammers. Your responsibility is to arm yourself with the right amour to combat scammers.
Get a cold storage wallet
A cold storage wallet should be the top of your priority if you are in the NFT space; this will help safeguard your NFTs from scammers.
A cold wallet, a hardware wallet, or cold storage is a physical device that keeps your cryptocurrency completely offline. Many look like USB drives. Example of Cold wallet is AirGap, Trezor, and Ledger.
Avoid Clicking on Malicious Links
It is important to be cautious when you see links you don't trust online. Most of these malicious links are programmed to steal some of your details, which, when gotten illegally, can give scammers access to hack your account.
Create a decoy wallet
A decoy wallet is necessary when participating in NFTdrop or AirDrops. Having a decoy wallet will reduce your chances of being hacked or scammed. Never use your major wallet where you have your digital assets to participate in NFTdrop or Airdrops.
DYOR (Do your own research)
Due diligence is needed before participating in the NFT drop. Ensure you are sure of the track record of the project's creator, and most importantly, don't ignore red flags. Don't add your wallet details or password on any form filled out online.
How to check if an NFT drop is worth it?
The worth of an NFT is sometimes dicey. The best thing is to look at the projects, use cases, and the strength of the community. The First Jack Dorsey NFT sold for $2.9 million, and when it was to be sold, it was priced at $290.
The best financial advice on participating in an NFT drop is not to spend more than you can afford to lose, which is valid for participation in cryptocurrency.
Conclusion
NFT drop is one of the exciting times in the NFT ecosystem. It is worth noting that this guide has been able to explain NFT, NFT Drops, and Airdrops. Participating in NFT drops is not coven-like stuff; everyone can join.
Frequently Asked Questions
1. Where is the best place to get NFT drops?
Getting the best NFT drop depends on your research and knowledge about the NFT ecosystem. The advent of social media also makes it easy to follow social media influencers who are knowledgeable about NFTs and beef up your knowledge. NFT drops are available on NFT Marketplaces like Binance, OpenSea, Foundation, and Rarible.
2. Are NFT drops profitable?
NFT drops profitability depending on the utility, use-case, and on-chain the NFT is released. For example, the NFT Jack Dorsey sold plummeted in value from a whopping $2.9 million to a drastic $290. This shows that NFTs are volatile; you can one day be on the profit side and the other day on the loss side.