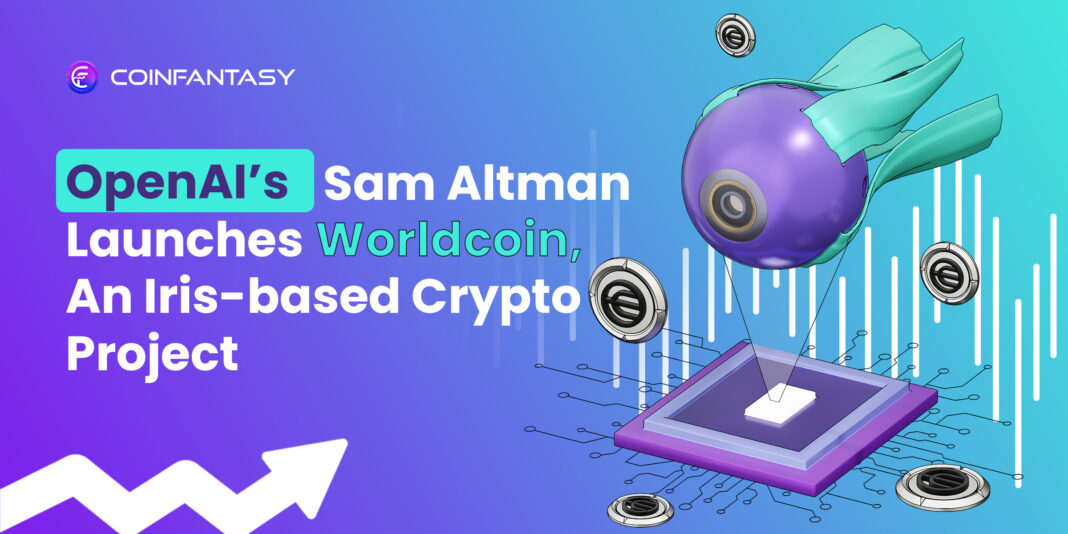 Sam Altman, the CEO of OpenAI and the inventor of Worldcoin, formally unveiled the unique cryptocurrency initiative on Monday. The World ID, a new notion labeled a "digital passport" meant to demonstrate the validity of its user as an actual human, rather than an AI bot, is at the center of this pioneering endeavor.
Individuals have to take an in-person iris scan utilizing the 'orb', a silver ball about the size of a bowling ball, to get a World ID. The orb performs an iris scan to provide a unique World ID.
What Exactly Is Worldcoin?
Worldcoin is a digital identity platform that promises to provide a straightforward way for any individual on the planet to prove that they are a genuine human and not a bot or an AI program.
Altman, best known for founding ChatGPT, co-founded the business that is developing Resources for Humanity. Interestingly, Altman was a driving force behind the current AI golden rush, which has exacerbated the exact issue that seeks to address.
It created its digital passport system utilizing cryptography and blockchain methods that are common in the cryptocurrency field. It also includes a method of payment system and the WLD cryptocurrency.
The Value of Worldcoin
Since its beta stage, the initiative has gained 2 million users, and with Monday's debut, it is expanding its "orbiting" activities to 35 locations in 20 nations. People will get WLD tokens from selected countries.
The price of WLD increased in early trade on Monday. According to Binance's website, it reached a high of $5.29 on the world's largest exchange and was trading at $2.49 at 1000 GMT from a low of $0.15, with $25.1 million in trade volume.
According to co-founder Alex Blania, blockchains may record World IDs in a way that respects anonymity and cannot be manipulated or off by any single authority.
The initiative works towards the motto that World IDs will be required in the age of generative AI chatbots such as ChatGPT, which create amazingly human-like language. World IDs might be used to distinguish between genuine humans and AI bots on the internet.
Sam Altman's Opinion on Worldcoin
According to Altman, crypto can also address how the economy will be changed with AI. "Individuals will be empowered by AI, which will result in enormous financial implications," he said.
Altman favors the concept of universal basic income, or UBI, which is a social welfare program often managed by governments in which every individual receives benefits. He proposes that because AI "is going to perform an increasing amount of the tasks that people presently accomplish," UBI can assist to reduce inequality in earnings. World IDs can be used by real individuals to minimize fraud while introducing UBI.
The American entrepreneurs stated that a world with UBI would be "very distant in the future" and that he did not know what organization could give out funds, but that it sets the basis for it to grow into an actuality. "We believe we need to begin trying with ideas to determine what we want to do," he added.
How Does Worldcoin Function?
Consider it to be a three-legged stool: It only works if three mutually beneficial elements are adopted and used.
World Identity
The system's core is World ID, which the business promises would allow users to "verify their humanness" online while keeping their information private. This so-called "proof of personhood" is generated by the Orb, an iris-scanning gadget.
Every person's iris arrangement is unique, much like their fingerprints. The Orb scans the person's iris and utilizes its structure to generate a one-of-a-kind identifying code known as an IrisCode. The code is not linked to a user's private data; it exists merely to avoid people from obtaining several World IDs.
The Orb generates your World ID after scanning your iris and saving an anonymous IrisCode. Each World ID is uploaded to the blockchain, and customers authenticate themselves via a cryptographically safe program.
World App

Your World ID is stored in the World App. According to Worldcoin, the app protects the confidentiality of users while simultaneously enabling exposure to an increasing list of decentralized banking applications.
The software is a cryptocurrency wallet, but its primary role is to save login information so that users may authenticate themselves on any third-party application.
WLD Token
Users have access to the WLD cryptocurrency token after creating a World ID and downloading the World App.
WLD was sent to beta testers for the program. As part of the platform's official debut on Monday, a substantial amount of WLD was airdropped to users. WLD has been listed for trade on cryptocurrency exchanges such as KuCoin and Binance, which are the biggest exchanges by volume.
According to the white paper, 10 billion WLD will be issued in 15 years. As of the official introduction, 143 million WLDs are in circulation. This money was divided into 43 million for authorized World App users and 100 million for traders to encourage trade.
Closing Thoughts
Worldcoin has been welcomed as well as criticism by people. Sam Altman clearly stated its privacy but still many people think that there is a way to lose their data by iris scan. At present, it is going viral but later only we will know what it brings to the economy.