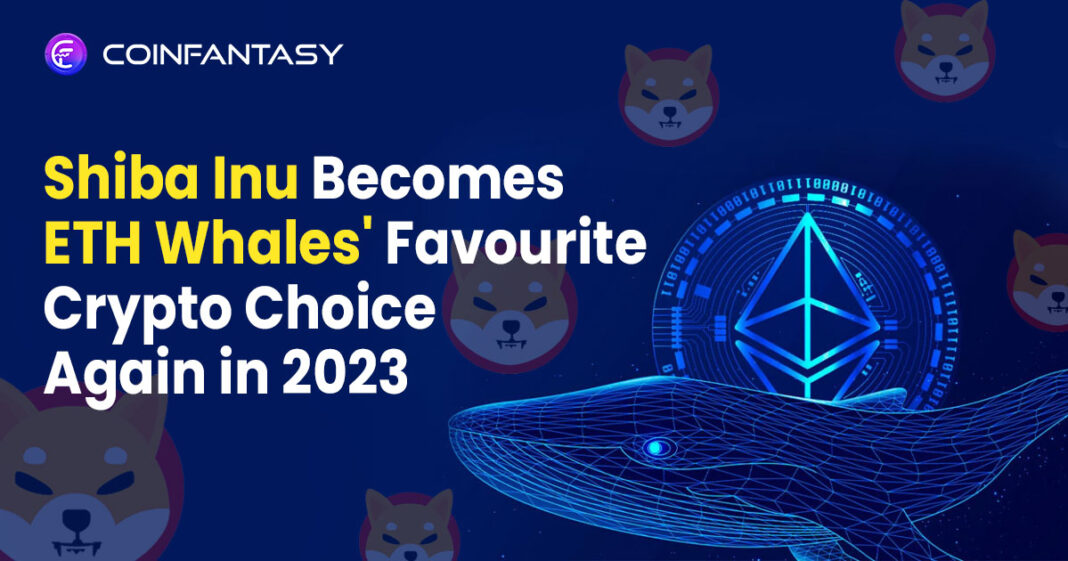 Shiba Inu has increased by 42% since 2023 started. The meme coin emerges as the best investment choice for top 100 Ethereum whales.
On January 27, 2023, Shiba Inu was trading for $0.000001180 (five "zeroes"), however this month, the price has rapidly increased. After hitting a monthly high of $0.00001289 and then momentarily retracing in price, SHIB removed a "zero." Since the beginning of 2023, the asset has increased by 43%, and over the past 30 trading days, it has increased by 46.1%.
The meme coin has seen returns increase roughly 40% over the past month. Given that DOGE, the original meme coin, has only generated 13% earnings over the last 30 days, it is well behind SHIB in this time frame.
But why has Shiba Inu recently fared so well? There are many causes for this such as updates around the impending Shibarium upgrade. Whale activity is another potential component that could be present.
The Reason Behind the Surge
Shiba Inu investors have specifically shown that they do not intend to sell in large quantities, since the average period that Coinbase customers keep the meme-inspired cryptocurrency until selling it or transferring it to an outside address has reached the 200-day mark.
Shiba Inu's remarkable performance can also be attributed to the news that the token has been listed on a reputable exchange. The biggest cryptocurrency exchange in South Korea, Upbit, announced on January 18 that it would list Shiba Inu against the Korean Won. Following this event, the meme coin increased by 20%.
Over the past week or so, Shiba Inu has attracted much attention from the top 100 ETH whale addresses. The Curve DAO token (CRV) was surpassed by SHIB to become the most prominent traded token among the total 100 ETH wallet addresses on January 18, according to Whalestats, a website that analyses ETH whale accounts. As a result of this occurrence, SHIB experienced a 22 percent increase, rising from $0.00001057 early on January 18 to $0.00001287 later that day.
Shiba Inu: Quick Overview
The native coin of the Shiba Inu ecosystem, which is supported by the Ethereum blockchain, is called SHIB. Unlike its rival, Dogecoin, which uses Bitcoin-like technology. Since the tokens are ERC-20s, transactions are made simpler.
Initially created for amusement, this meme coin is extending its wings toward utility through "n" projects. Include, among others, its DEX dexshibaswap, Shiberse, and Shiboshis NFTs. Additionally, the fraternity is now anticipating a Shiberse announcement, which could stimulate SHIB's price movement.
The network then added LEASH as the next token after SHIB. The network first began as a Rebase token, but it swiftly changed into a fungible form similar to the original token. The keys were burned when the token was released, and there is currently a fixed amount of 100k tokens available. According to the network, those that maintain the currency's liquidity will be given additional benefits!
The network, a developing product on the market, is very safe because Ethereum runs it. We can anticipate that Shiba Inu will benefit from Ethereum's planned move from the PoW to the PoS consensus algorithm! The alternative currency is available on several reputable exchanges, including Coinbase Pro, Binance, KuCoin, WazirxIndia, and Uniswap.
Shiba Inu Price Prediction for Coming Years
Shiba Inu's minimum price in 2023 is predicted to be somewhere around $0.0000145 based on past price history. The SHIB price could go as high as $0.000073. The trading price might be approximately $0.0000150 on average. This would represent an ROI of over 40% at current prices.
In 2025, Changelly has a positive prognosis for Shiba Inus. In 2025, it is expected that the minimum SHIB price will be $0.0000288 and the maximum price will be $0.0000347. It will trade for roughly $0.0000297. This would represent an ROI of almost 150% at current prices.
Final Note
Shiba Inus have a promising future. Shiba Inu has become ETH whales' favorite crypto choice, and also the prices are on the rise once more, with Bitcoin expected to hit another record high this year. Recent price increases in Shiba Inu appear to signify things to come. If you're thinking of investing in cryptocurrencies, now is the right time to invest in Shiba Inu.