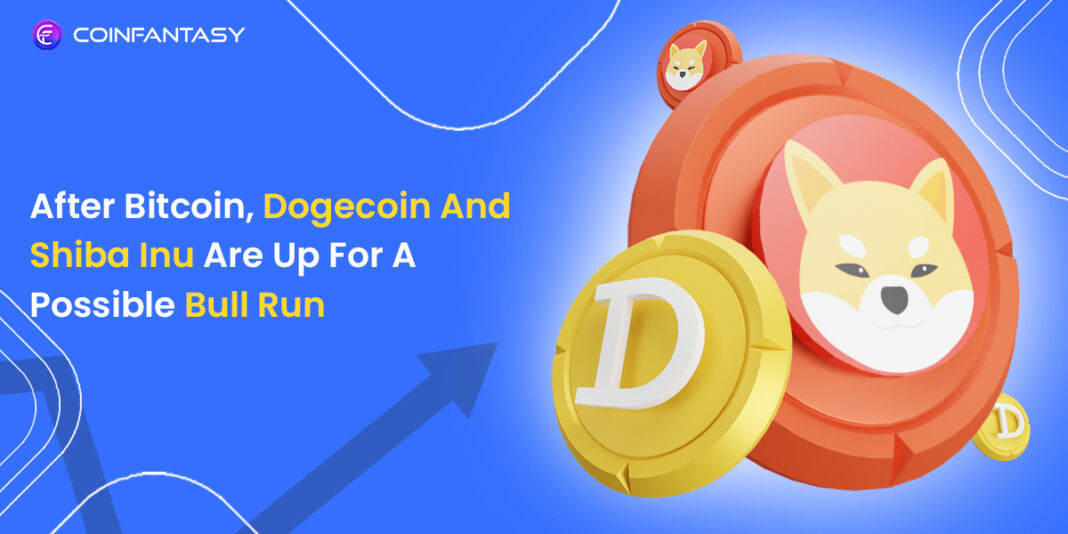 Investors and traders are looking to Dogecoin and Shiba Inu gaining momentum with the rise of Bitcoin price. Over the past year, DOGE, which began as a digital currency influenced by memes, has steadily increased in value and appeal.
Elon Musk, the CEO of Tesla, implied in a tweet earlier last year that it might be used for payments, which helped garner a lot of attention.
Shiba Inu, another token inspired by a meme, has also experienced a rise in popularity and value. Since its inception in August 2020, it has grown significantly in popularity, especially in Asia.
Both cryptocurrencies have experienced considerable growth in recent weeks, with Shiba Inu rising by more than 300% over the last month alone and Dogecoin increasing by more than 80%.
Yes, should be proportionate to affordability & in local currency

— Elon Musk (@elonmusk) April 10, 2022
Dogecoin and Shiba Inu Price Analysis for 2023 and Beyond
A significant transfer of Dogecoin between two unidentified wallets was reported by the prominent cryptocurrency tracking service Whale Alert, which may be an indication of a buy order. A massive transfer of 350 million DOGE was carried out eight hours ago when the price of the most popular meme token dropped by slightly under 2%. DOGE was worth $26.6 million at the time of the transfer.
Dogecoin's price is currently at $0.074, down more than 1% from the previous day, at the time of writing. Despite the significant gain, selling pressure is still there near the $0.076 resistance level for DOGE.
Shibarium encountered clone allegations, which caused the price of Shiba Inu to stabilize. If the SHIB price cannot pique the interest of bulls, there is still cause for concern. Since more than 100,000 wallet addresses have already been added to the Shibarium beta protocol, the price of SHIB could experience new spikes this week.
The resistance level of $0.000011 is a barrier for Shiba Inu, which is presently trading at $0.0000106. Investors need more confidence in buying the drop as the SHIB price falls below EMA-20. SHIB might start a clean rise to $0.0000122 if it can break above the EMA-100 trend line.
Factors behind the Possible Bull Run of DOGE and SHIB
Several factors are contributing to the possible Bull Run of Dogecoin and Shiba Inu.
Firstly, the overall increase in popularity and acceptance of cryptocurrencies is driving demand for alternative digital currencies beyond Bitcoin.
Secondly, the support of high-profile figures like Elon Musk has helped to increase awareness and adoption of these tokens.
Lastly, the recent surge in the value of Bitcoin has led to increased interest and investment in the cryptocurrency market as a whole.
While the possibility of a bull run is exciting for investors and traders, it is vital to exercise caution and must be aware of the risks involved in cryptocurrency trading.
Potential Risks Involved in Memecoin Price Rise
Before investing in any digital currency, careful investigation and analysis are required. Furthermore, because of how quickly values can change in the cryptocurrency market, it is difficult to predict market trends.
Shiba Inu and Dogecoin have become well-known in the cryptocurrency space, in part due to their meme-based branding and expanding fan base. It's still up for dispute whether it's a wise investment, but there's no doubt that it's a fascinating and vibrant enterprise.
Before opting to invest in Doge, Shib, or any other cryptocurrency, do your homework and consider the risks and rewards. Although these meme coins have experienced their fair share of ups and downs, their popularity and expanding adoption indicate that they may be a cryptocurrency worth watching in the months and years to come.
Future Outlook for DOGE and SHIB
Both Dogecoin and Shiba Inu have a bright future in the cryptocurrency market, despite any potential concerns. Positive signs of Dogecoin's long-term growth include its rising acceptance as a means of payment and popularity, as well as the strength of its community. Similar to this, Shiba Inu's distinctive branding and expanding popularity in Asia are encouraging signals of its potential future success.