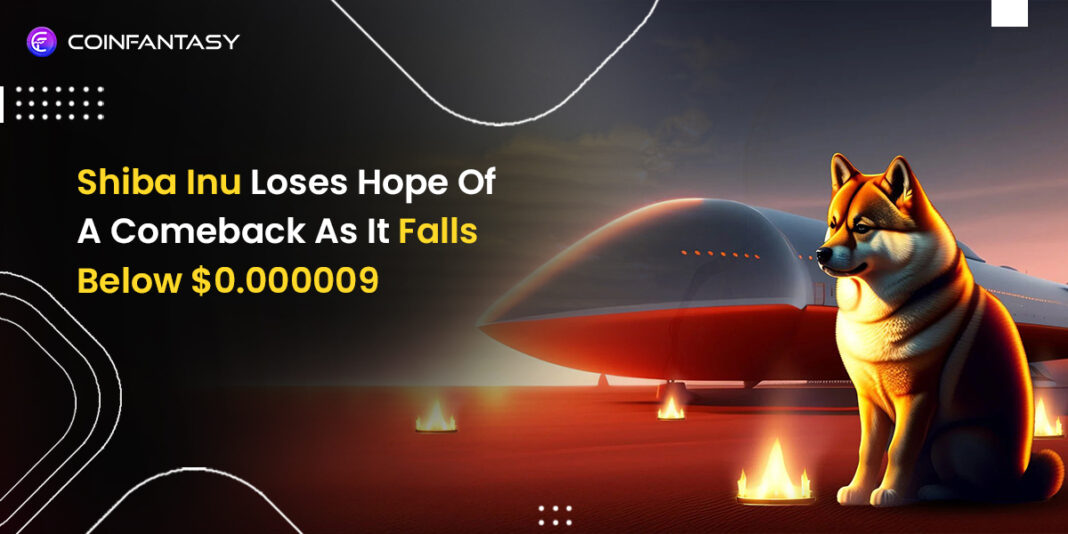 The popular dog meme-based cryptocurrency SHIB has been unable to obtain popularity despite the recent massive spike in newer competitor meme cryptocurrencies like Pepecoin. Shiba Inu loses hope as it stays far below the $0.000009 mark.
Furthermore, as the hype around newer meme tokens such as Pepe and SpongeBob has subsided, Shiba Inu is now beneath tremendous selling demand.
SHIB/USD last traded below $0.000009 per token, down more than 5.0% on the day after breaking important support in the $0.0000098 range over the weekend, which was in place for more than two months.
Shiba Inu's monthly declines are currently at 12%, while year-to-date profits are just around 10%, with the cryptocurrency rising to 95% at its February peaks at the $0.000016 level.
Despite Shiba Inu's Downtrends, Is it Loaded For Bull Run in 2023?
The Shiba Inu team members have been developing their ecosystem and it keeps going, and the newest in its extended line items is its SHIB-themed cold wallets. These wallets have been under development at this moment, and the official SHIB revealed on Twitter that the wallet will come to use on May 29 and presale will begin from that date. 
#SHIBARMY! @Tangem is about to unleash SHIB-themed cold wallets! 🎉 These card-shaped vaults are set to become your new best friend for safeguarding our ecosystem's tokens. Get ready to fetch your own when pre-orders kick off on 29th May: https://t.co/6jXEBjOCP5 pic.twitter.com/7kAfLZYHPG

— Shib (@Shibtoken) May 18, 2023
The wallets, which have been created in collaboration with the Swiss business Tangem, will enable users to store more than 6,000 coins. These advancements are beneficial to meme tokens. Furthermore, SHIB's price is around 90% of its all-time high, which has traditionally been an excellent place to acquire cryptocurrencies at this point.
The team has proved its dedication, advancement, and sustainability with the introduction of ShibaSwap, the project's decentralized exchange, and the general availability of SHIB's Layer 2 solution. The expanding network of followers and traders for SHIB has contributed to its reputation as a more reliable and reputable asset.
SHIB's acceptance by major trading platforms like Binance and Coinbase has further legitimized the token from the perspective of the broader crypto market. As a consequence, the market perceives SHIB as a more established digital asset rather than a risky meme currency.
A Look into the Factors Supporting Shiba Inu's Price
Shiba Inu debuted in 2020 and is merely another meme coin, mostly attracting investors who are searching for low-cost tokens. It is represented by the ticker SHIB and has been called a "Dogecoin killer" by its anonymous inventor. With an annual growth rate of 49,000,000%, SHIB beat Dogecoin's 3100% price gain in 2021.
SHIB is an ERC-20 token that was created on the Ethereum network. Shibaswap, a DeFi platform that allows users to make passive revenue by offering liquidity, staking, and token exchanging, is already exploiting these sophisticated DeFi features. Shibaswap also provides accessibility to new NFTs and crypto market features such as portfolio trackers.
Should You Invest In Shiba Inu Now?
Shiba Inu maintains the second-largest meme coin, its value has kept on dropping, causing the token to decline below crucial resistance. It is currently trading at $0.000008. However, Shiba Inu loses hope as it fails to make a mark above its crucial support level.
Shiba Inu has found outstanding backing in the $0.000009 price range for the last year, despite the ups and downs of the digital asset market. As a result, it became the most significant hurdle for bears to overcome if they were going to seize authority over the digital asset.
However, SHIB has gone below $0.000009 in the recent week, which might indicate a potential purchasing chance for the digital asset.
An instance that purchasing SHIB might be a solid move right now is because the team's improvements have yet to be reflected in the coin's results. Also, with the upcoming debut of four additional hubs in Shib; The Metaverse, the meme token may experience current attention, which might contribute to a price surge.
The crypto market has also been stabilizing for some time, with cryptocurrencies such as Bitcoin and Ethereum moving evenly over the previous week. Once this steady phase is across, the chances of these huge assets rising higher stay strong. And, as is customary, a surge in the most valuable cryptocurrencies would lift the majority of the market alongside it.
If Bitcoin rises beyond $30,000 again, SHIB might reach $0.00001, representing a greater than 10% profit for traders in the short term. Long-term returns might be more, provided the market has not yet entirely dropped its bull run.
Closing Thoughts
Despite the fact that Shiba Inu loses hope of an immediate comeback, it remains much to be needed. Its value has dropped to $92 million, signaling a dip in meme token movement. It does, however, provide a possibility for a quick surge, and an increase in movement may assist the cryptocurrency gain by 10% from here. Do your research before investing in a Shiba Inu meme coin, whatever the result is accept it.