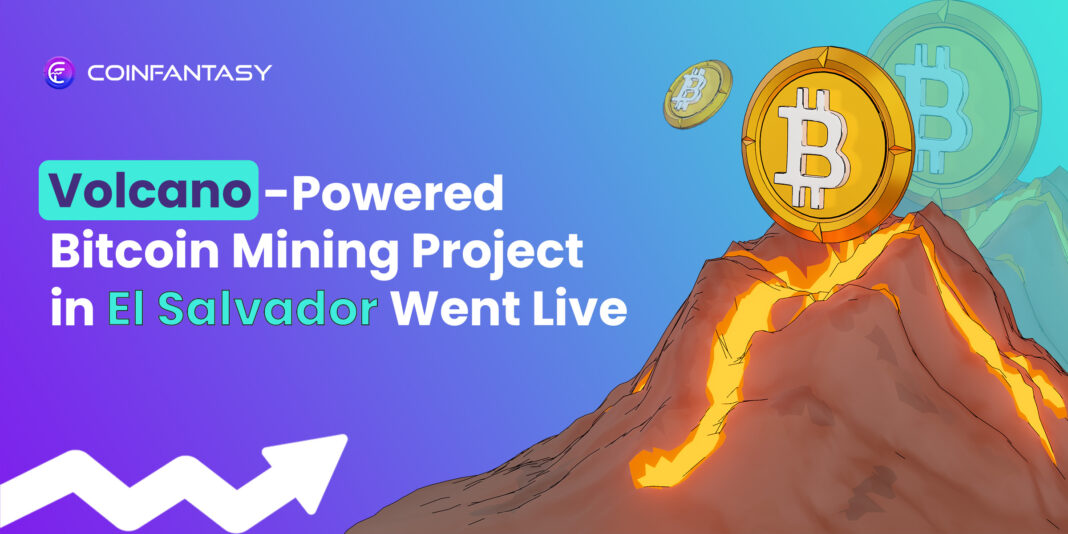 Today marks the official opening of Lava Pool, El Salvador's first Bitcoin mining pool powered by natural geothermal energy. The enterprise, a cooperation between Volcano Energy and Luxor Technology, is the country's first attempt to capitalize on the availability of sustainable geothermal energy for crypto mining.
According to the press release, Volcano Energy, a public-private partnership that has agreed to donate 23% of its net profits to the Salvadoran government, will manage the Lava Pool. The pool is going to profit from Luxor's Hashrate Forward Marketplace, which provides hedging options to safeguard against market fluctuation, a mechanism previously used by top Bitcoin mining companies.
Volcano Energy has Established the First Salvadoran Bitcoin Mining Pool
Volcano Energy and Luxor Technologies have announced a strategic cooperation to develop Lava Pool, the first Salvadoran Bitcoin mining pool. The firm, which focuses on harnessing renewable energy for Bitcoin mining activities in the nation, has declared that it would exclusively mine Bitcoin through this new pool.
Volcano Energy, which emerged from stealth mode in June to announce a $1 billion Tether-backed investment, is constructing a 241-megawatt (MW) renewable energy mining plant in Metapan that will use photovoltaic (solar) and eolic (wind) energy. According to Volcano Energy CSO Gerson Martinez, Lava Pool is another step toward becoming a fully consolidated Bitcoin corporation.
According to Martinez:
"Our objective is to build a highly integrated energy and bitcoin mining firm that adds benefit to investors and Salvadorans alike."
Lava Pool, according to Martinez, was an "example of El Salvador's early leadership position as a country in the Bitcoin environment."
🇸🇻Excited to announce the launch of Lava Pool in collaboration with @LuxorTechTeam. By launching the first #Bitcoin mining pool from El Salvador, we aim to further decentralize bitcoin's hashrate, and to strengthen the country's energy infrastructure. 🌋⛏️ https://t.co/Ef9okyBI5y

— Volcano Energy 🇸🇻🌋🔌 (@Volcano_Energy) October 4, 2023
He also stated that another benefit of the country for setting up a Bitcoin mining pool is the presence of clear rules and regulations, citing El Salvador as
"the only country with transparent regulations and a business environment that offers stability and predictability for Bitcoin businesses."
Furthermore, the first processing capacity of the Bitcoin mining field is expected to reach 1.3 EH/s, placing Volcano Energy among the top 20 mining pools by hash rate. With a hash rate comparable to NiceHash and KuCoin, the development represents an important step toward El Salvador's economic independence, energy productivity, and self-reliance, which the country hopes to accomplish by incorporating Bitcoin and renewable energy resources.
Luxor's Role and Prospects
El Salvador has maintained its position as a global pioneer in Bitcoin adoption by launching the first volcano-powered Bitcoin mining pool. Lava Pool exemplifies the country's dedication to pioneering Bitcoin and renewable energy integration. It also highlights El Salvador's paradigm for the rest of the globe in combining Bitcoin mining with renewable energy infrastructure.
El Salvador's adoption of Bitcoin encourages financial freedom in a country whose economy is primarily reliant on remittances. Lava Pool and other mining initiatives send money to the Salvadoran government and people, circumventing typical remittance facilitators.
Luxor COO Ethan Vera stated:
"The ethos of Bitcoin mining focuses on geographical decentralization, according to Luxor COO Ethan Vera, and the establishment of mining pool technology in El Salvador will help to achieve this aim. We're thrilled to be working with Volcano Energy to establish Lava Pool and further their goal in El Salvador and Latin America."
In short, El Salvador's convergence of renewable energy and cryptocurrency mining provides a look into the potential future of a sustainable digital economy. While many countries debate their position on cryptocurrencies, El Salvador's proactive approach with the Lava Pool project offers a viable roadmap for merging contemporary technology with natural resources.
As worldwide debates over the environmental effect of digital currencies continue, the Lava Pool serves as an example of how innovation may coexist with ecological responsibility.
President Nayib Bukele Statement
President Nayib Bukele, who has staked his political career on a statewide bitcoin experiment, announced the country's first foray into volcano-powered bitcoin mining on Twitter. El Salvador has mined 0.00599179 bitcoin, or around $269, using volcanic power.
October 1, 2021
On Twitter, President Nayib Bukele posted an image of a mined bitcoin, claiming it was "officially the first bitcoin mining the volcanode."
 The statement follows the Salvadoran president's earlier this week revelation that the country was taking "first steps" toward harnessing volcanic energy for bitcoin mining.
Following the introduction of Bitcoin as legal cash by El Salvador's congress in June, Bukele stated that he had authorized state-owned geothermal energy utility LaGeo to offer Bitcoin miners access to the country's volcanic resources.
According to VolcanoDiscovery.com, El Salvador has 20 "potentially active" volcanoes that account for over 22% of the nation's electricity supply. Harnessing geothermal energy might give a solution to the search for an affordable renewable power source to fuel Bitcoin mining.
Closing Thoughts
El Salvador's first Bitcoin mining pool has gone online, establishing the country's position on the global Bitcoin stage and demonstrating to the rest of the world the possibilities of Bitcoin mining and renewable energy integration. However, it continues to be examined how this advancement will affect the worldwide acceptability and integration of Bitcoin mining.