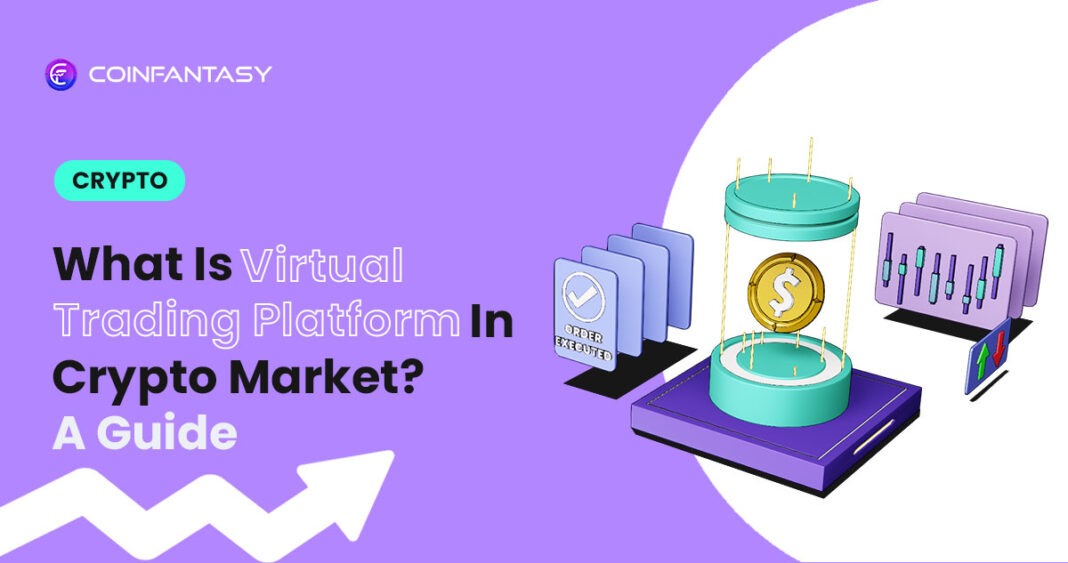 There are already hundreds of cryptocurrencies available, making it difficult to decide which one to invest in. An exploration into crypto virtual trading platforms will aid you in your trade. There are methods to get started with cryptocurrency trading without spending any money. This is why crypto investors may seek the aid of technology to identify trends and increase their profits. With so many various paths available, an investor may feel confused as to which one to follow. Here are some suggestions for stock market investing.
You cannot invest in crypto if you are unfamiliar with the market. Crypto investing market might be difficult but trading simulators will help you learn how to invest in cryptocurrencies. Let's go through everything in depth and see how you may save money without losing it. 
What is a Trading Simulator Platform?
Virtual trading platforms are tools meant to operate in the current market, offering present values and rates and permitting the placement of orders and transactions on a variety of cryptocurrencies; this is managed by any particular cryptocurrency exchange for your practice. Furthermore, each transaction is saved as data, allowing consumers to access their investment details at any time. It is beneficial to review their investment decisions as well as the results for training reasons.
However, these trading platform are just virtual environments where investors get to test their skills and learn new strategies.
This method has the important advantage of offering instructions on how to trade on cryptocurrency exchanges. It enables novice investors to learn about trading without risking real money. It does not enable you to utilize actual money, but it will help you avoid wasting your savings. Even experienced traders use this strategy as a practice run to prevent losing money before dealing with a real market.
If you are interested in learning crypto trading for free and without risk, join a virtual platform, which are outstanding applications that offer you up-to-date market information as well as excellent tools for analysis for free. If you feel that training produces good results, which is typically the case when it comes to learning how to trade, particularly crypto. Everything you need to know about stock market investing in cryptocurrency is right here.
How Does Virtual Trading Platforms Work?
The virtual platforms start with the creation of a profile on a website that allows you to utilize a simulated version of a cryptocurrency exchange. The trading tool could look like a fully working version of the true trading platform or a trial account with only a few buy and sell buttons, depending on the service you select.
The trading site will provide you with a certain sum of digital money. Once you have these assets in your account, you may begin determining how to invest them. Your investments will take the shape of copied cryptocurrency that is now being bought and sold. Some sites just allow you to buy and sell cryptocurrencies, but others provide a variety of trading possibilities.
In all cases, the platform will keep track of your investing market activities. The virtual representations of your cryptocurrency will rise and fall in value in response to market conditions, based on how the real coin performs. As a result, if you buy an imitated $10,000 in BTC and the real BTC price declines, it will show up in your wallet that you have lost replicated money in BTC.
Trading platforms typically impose financial and time constraints on themselves. For example, they may start with $500 and a month to trade. Following this period, they will evaluate the effectiveness of their investments. If they have experienced losses, they may use this review phase to go over their actions and figure out what went wrong. This is beneficial for training and comprehension.
Why Should You Use a Virtual Trading Platform for Crypto Investment?
Learning is a process, and learning how to invest in cryptocurrencies is the same. It is common and unavoidable to make mistakes and be pushed to take risks to attempt new ideas, approaches, and tactics while trading in the stock market investing.
However, when there are risks involved and real money is at stake, individuals tend to be more cautious and less ready to investigate. The trading platforms come into play here as a development saver, allowing traders to improve their skills without fear of losing any real money. These suggestions for investing will be quite beneficial in resolving many financial issues and enabling people to invest intelligently.
Crypto trading platforms help traders enhance their ability to recognize trading charts concerning indicators and trends, helping them to make better and more lucrative trade decisions. And, because most trading platforms can be downloaded online and quickly filled with replicated cash, you may start simulating trading operations right away.
Where to Find Virtual Trading Platforms?
If you are looking for a virtual crypto trading platform, you have numerous options. Because the virtual investment tools provided by online brokerages are identical to genuine crypto trading, they are likely among the greatest producers of digital-trading training conditions.
Most trading platforms provide their services for free; all you have to do is open a trading account before you can use them.
Most Effective Trading Platforms Have the Following Features
There is a strong resemblance to the real market. You will not have an authentic crypto trading session until virtual trading emerges and makes you feel like you are in the real thing. As a result, it is critical to understand that they provide real-time buying and selling of cryptocurrencies, as well as exposure to more sophisticated abilities.
Provide significantly more than simply cryptocurrencies. Practicing your trading tactics needs exposure to a diverse set of securities, which allows you to buy and hold ETFs and mutual funds.
Knowing how to trade necessitates the capacity to conduct research and access charting tools. It is necessary for trading with real or virtual money. Good simulators provide you with total access to all available information, such as economic data and forecasts.
Advantages of Virtual Trading Platforms
Learn Without Using Real Money
The main advantage of a virtual crypto trading platform is that it lets you learn how to invest without putting your actual money at risk. You can learn how to work without investing any of your hard-earned money.
Trading platforms, in addition to keeping you from risking real money, permit you to make use of duplicate currency. If you don't have enough money to invest, you may train your trading skills using crypto trading simulators. This makes it a good choice for first-time investors seeking more cash before joining the crypto market.
Recognize the Most Common Crypto Trading Mistakes
When we are new to anything, we all make mistakes. These mistakes, on the other hand, present a fantastic potential for development. Virtual crypto trading platforms expose novices to potential issues they were previously unaware of. Stock market investing replicates the actual market, allowing traders to learn how their current trading strategy may lead to blunders.
It demonstrates how a lack of research, ignorance of trend markets, or poor risk management may lead to trading risk. After making a mistake with your practice account, you are less likely to repeat the same error with real money.
Take Benefits of Practical Experience
Revenue in the Cryptocurrencies market is projected to reach US$37.87bn in 2023. If you've already spent a large amount of time researching cryptocurrency trading, you might be tempted to skip utilizing a virtual trading simulator. However, the value of experience cannot be overstated. No matter how many times you hear statements like "diversify your portfolio," seeing your account sink as a result of one mistake move is an entirely different story.
This personal experience may be beneficial and unequaled in terms of improving your skills before engaging in legitimate trading. It provides small details that assist new traders to understand the trading advice they have already obtained.
Types Of Crypto Trading Platforms Available
Gaming Crypto Simulators: These games place a lower importance on investing and trading skills, but are essentially an enjoyable method to play with friends or strangers to develop a strong cryptocurrency portfolio by picking the best-performing coins. During the game, the winner can buy and hold the top assets.
Virtual Trading Simulators: Users may learn about the current market and exchange copied cryptos for simulated earnings in this simulator. The main goal is to train real-world trading abilities using a simulated trading strategy. You may utilize the duplicated assets to practice trading actions regularly so that you understand how it works and how to monitor your trade. It provides real-world trading experience.
Closing Thoughts
Virtual trading platforms are a wonderful way to learn about stock market investing in cryptocurrency without putting the money you've invested at risk. It is one of the best platforms for new traders to learn trading techniques, but it is also an amazing way for experienced traders to enhance their trading strategies. Trying this service may be quite valuable to you and performs well for market analysis.