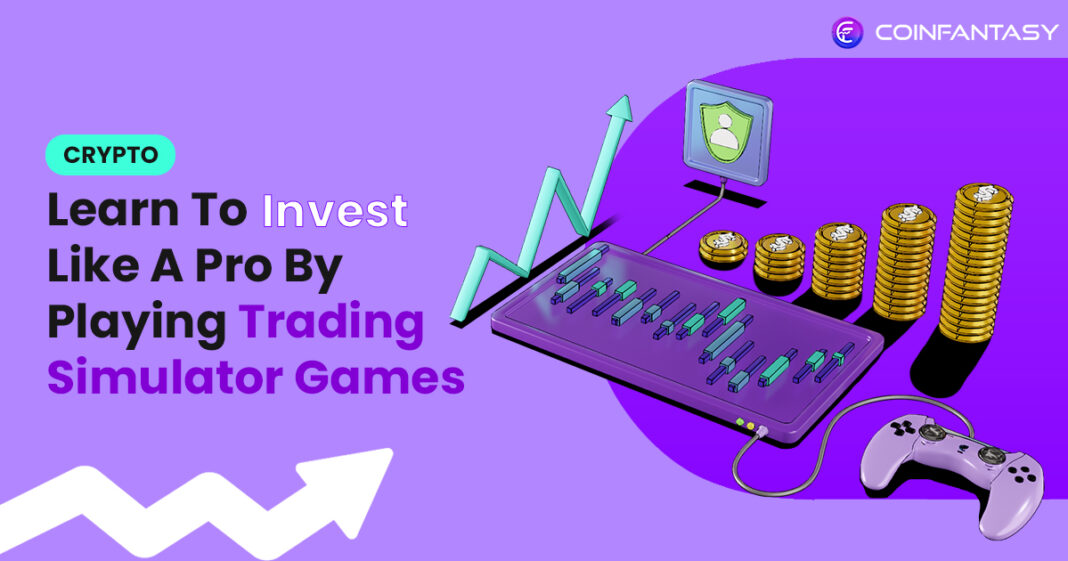 Want to understand the stock market investing without risking your money? Trading simulator games are an excellent method to learn investing. These games provide the opportunity to acquire knowledge by doing, which is also referred to as interactive learning and instructional methods.
Investing is one of the most effective strategies to create and build money for the future. Using the stock market game might help you learn faster and make fewer unpleasant mistakes. Investing may be the path to financial stability as well as a lifetime ability.
Investing may be intimidating even for seasoned investors, let alone those who are just getting started. On the other hand, crypto virtual trading platforms that can help you get started are free, enjoyable, easily accessible, and user-friendly. They provide participants with a shorter learning curve for developing investing abilities and improved financial habits. Let's have a look at it.
A Change in Investment Perspective for Future Generations
During the pandemic in 2020, stock quantities increased significantly, with year-to-year volumes going up by over 100% in early 2021. Retail trade accounted for the majority of the increased volume.
As a consequence of their growing interest, a record number of young people have opened investment accounts in trading simulator games. Furthermore, many applications include the greatest stock market investing tools that give a virtual trading platform for people who intend to go through stock market training but aren't sure whether they want to spend real money.
This tendency may provide a generational possibility for young individual investors seeking to develop wealth through market participation. These new investors could boost their future income by learning how to manage risks and market volatility, as well as how to diversify their portfolios and understand financial principles. Participating in financial market games may help you gain trust, skills, and information.
Why is it Important to Invest Early?
For the following reasons, you should begin investing as early in life as possible:
Compound interest obtained on the initial investment you made can be maximized for big returns in retirement savings and savings accounts.
When you are a beginner and ready to handle the blows and scars of market economic downturns, take on more severe risks.
Encourage yourself to invest more and consume less to accumulate riches.
Investing is a feasible way to accumulate wealth and enjoy financial security. The sooner you start saving money for investment, the better.
Trading Simulator Games Work for All
Young people may get started in investing by using simulator games with loved ones, financial clubs, or on their own. Stock market investing games are a great method for learning and getting expertise before committing your actual money. The games make studying the virtual trading platform and investing methods enjoyable in a simulated gaming setting without putting any money at risk. 
Investing And Trading
It is preferable to make investments rather than trade. For more advanced players, most games enable margin trading, short selling, and options trading; through this, you may understand how investing and trading operate.
People utilize simulator games to learn about markets and the economy, but they also investigate all publicly accessible information. To become a pro-investor, you need to practice stock market investing, which you may do by using a virtual trading platform.
Playing virtual investment games is a simple way to learn about cryptocurrency investment without spending real money. Earned tokens may be transferred to real money or traded with other players.
Why Should You Invest Using Trading Simulator Games?
Actively gaining knowledge of Investing Fundamentals
Playing trading games is a fun and instructive approach to learning how to invest and a crucial way to build money. By purchasing and selling equities, players may swiftly fill and adjust their portfolios. When learning a technique through stock market investing, there is greater involvement and drive.
Many people lack the courage to invest on their own and are afraid of losing money. These are legitimate worries. It is easier to experiment with trading and investing techniques.
Many virtual trading platforms can assist you in understanding variations in risk/reward trade-offs and determining your willingness to make more hazardous transactions. Gains and losses are genuine enough to allow you to swing in a new direction.
Varying Portfolios Minimize Risk And Growth
When developing a virtual portfolio of equities, players should vary their portfolios across industries. When creating a portfolio, you may want a combination of growth, worth, and income companies in various industries with superior dividend returns. Always diversifying your profile will save you from huge losses and it won't affect your savings too.
Investors Should Be Aware Of These Macro Factors
New investors must be aware of outside or macroeconomic issues that may influence the market. Players should study essential financial news to understand crucial occurrences that might greatly influence the market. Discover what makes the market move. How does stock market investing respond to economic developments, inflation activities, and overseas events? Knowing what is important to your stocks is a major lesson in itself.
How to Handle Market Volatility
The relative safety of trading simulator games allows players to better appreciate that market volatility occurs daily. Even the most seasoned investors are frequently shocked by rapid movements, which are generally prompted by media risk or economic concerns.
By using a virtual trading platform, you may become more conscious of market rhythms and plan for a volatile market. As a result, you may experiment with turbulence-coping tactics without risking actual money. Is it preferable to trade aggressively in a down market or to stick to a buy-and-hold strategy? Games enable you to play with money without worrying about losing it.
Competing With Your Peers is Given
Never pass up an opportunity to take on with your colleagues! Most games rank participants daily, allowing you to compare stock purchases, performance, and order. Within the game framework, you may establish teams to simulate portfolio managers consulting with one another. Within their group, young people may work, be friendly, and solve problems. These are great abilities to develop for your job that companies value.
Increasing Self-worth And Confident
The truth of choosing stocks and understanding some financial concepts is an enormous confidence enhancer. People participating in trading simulator games say:
It was exciting to discover how to invest.
They intend to create an investing account.
They are more confident in their talents thanks to the virtual investment platform.
Investors appreciate savings for investing objectives. If this is the case, and it motivates you to save further, it is a worthy achievement.
Trendy Virtual Trading Games to Play in 2023
With the world being computerized these days, the stock market is not far behind. You may trade online using a stock market investing app, and as appealing as it is to begin trading, it is also perilous. So, how can you defeat the market's sophisticated structure to profit?
After all, you don't want to risk losing the money you've invested by investing in stocks. What is the answer? Before you join the actual world of trading, you must get some practice and knowledge. Here are a few examples of trading simulator games.
Virtual Trading Games
There are stock market investing games to practice trading on virtual trading platforms before entering crypto investing. You can engage in trading with virtual cash in these games. You may also add a variety of replicated types of assets, including goods, stocks, and mutual funds, to create a portfolio for training on how to manage them in real life.
CoinFantasy: CoinFantasy is the world's first decentralized invest-gaming platform, that gamifies the investment sphere through multiple categories of games. It acts as a gateway for people moving from web2 to web3 with a gaming twist. They have recently introduced a pro zone arena where highly-rewarding games are hosted.
Trading Games Online
It is easy to find out how to make trades online if you perform before joining the trading arena. Virtual games not only provide practice but also develop comfort. The total revenue of simulation games is expected to reach $24.14 billion by 2027. Here are a few online games to help you improve your trading skills:
Investopedia Simulator: A stock market investing program can teach you how to invest in various asset classes and build up trading tasks to put your capacity for analysis to the test. It also allows you to make investments digitally in options, something other game platforms do not, and compare with other players to see who has executed the best trades.
Wall Street Survivor Game: An animated representation of the greatest trading instructor, Mark Brookshire, assists you in making trading choices with a virtual investment of $1,00,000.
The Chart Mantra Game: Created by the Economic Times, this game teaches you about technical evaluation as it applies to financial markets. This game compares you against other players and is one of the few trading games that graphs the efficacy of your buy and sell selections.
NSE Paathshala Game: The National Stock Exchange of India (NSE) created this game. The style of the game shows you how to utilize different resources on the NSE system.
Play and Learn
While you may be eager to begin trading, it is essential to first learn basic expertise. Games may be beneficial. However, you may benefit from the invaluable expertise of a reputable trading simulator game that provides instructional videos to help you along your trading journey.
StockPe: It is one of the most fascinating virtual trading platforms, where users can establish virtual portfolios and battle against one another in tournaments every day. Users may not only win cash rewards by topping leaderboards, but they can also study the principles of stock markets with customized video lessons and remain up to speed on market news.
Closing Thoughts
Trading simulator games are an excellent method to acquire expertise in stock market investing without risking your own money if you are new to investing in crypto. These free games are enjoyable on sites with a wealth of materials for learning at your speed without relying on others.