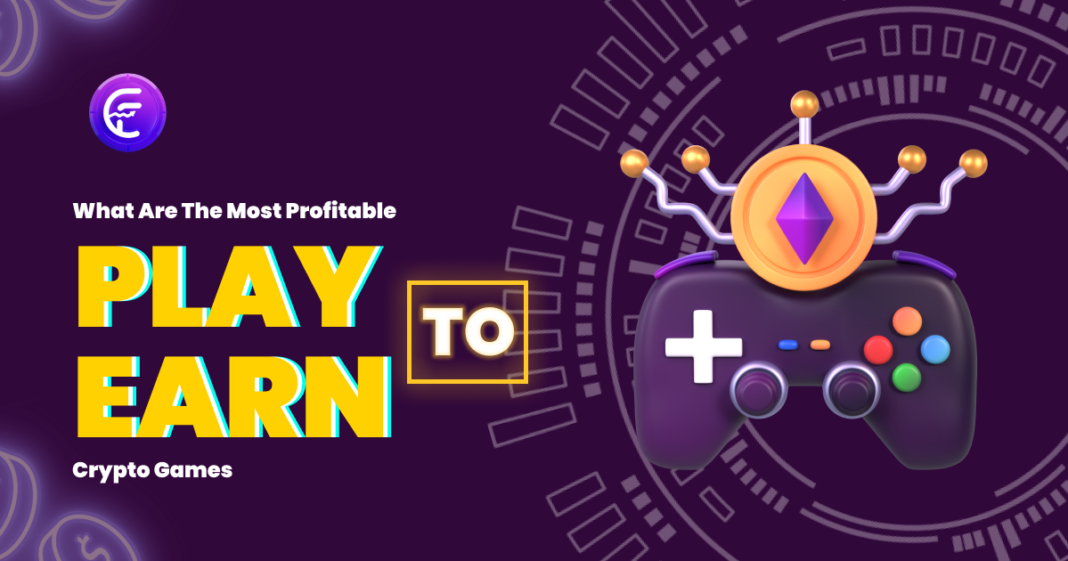 Are you aware that people make a living by playing games? As wild as it sounds, this is the reality made possible by play-to-earn games. So what are these play-to-earn games? As the name suggests, play-to-earn games allow gamers to earn from games. Follow along to learn in detail about these games.
What is a Play-to-earn crypto game?
Play-to-earn crypto games or simply play-to-earn games allow players to own in-game assets. The developers mint these assets as NFTs on the host blockchain. Owning in-game items as NFTs and the ability to use in-game currency as cryptocurrency opens many opportunities for players to use it.
In-game assets include weapons, skins, armor, cosmetics, in-game currency, or virtual land. Players can trade any of these for a profit, just like with NFTs. Sometimes these items may even fetch a good amount of money in the secondary market.
Crypto games on the rise
While hundreds of play-to-earn games are released each year, here are 4 of the standout games among them:
Battle of Guardians
Battle of Guardians is one of the latest NFT games and is a person vs. person multiplayer game hosted on the Solana blockchain. As the name suggests, players must combat opponents to progress and gain rewards. You must own in-game currency such as Fighting Points ($FP) and Battle of Guardians Share ($BGS). The game falls under the sci-fi genre and has stunning graphics. Also, players can earn through the game.
Rainmaker
Rainmaker is a stock fantasy game looking to converge the crypto market and stock market enthusiasts worldwide into a single platform. While playing the game, you can learn to trade in crypto and stock markets, use new strategies, and improve money management skills.
The game uses data from live events, fluctuations, and stock market analyses. Through stock market emulation, it lets you win real money.
RaceFi
RaceFi is a racing game where players can race and own parts of the game. All assets available for gamers exist as NFTs on the platform. Besides, players can earn money within the RaceFi metaverse by playing different games or owning in-game assets. A maximum of 8 players can participate in each game, and there are no time restrictions or finish line. Players can continue to battle until one car remains.
Polygonum
Polygonum is a multiplayer game where gamers can carry out various activities such as trading in-game assets, building unique communities, creating new places, and mining coins. Players can compete in combat with other players and bid to win territories. The game's native currency is Binance Smart Chain.
List of Profitable play-to-earn crypto games
Out of thousands of play-to-earn crypto games, here are some of the most profitable ones:
Axie Infinity
Axie infinity is one of the most popular play-to-earn games and one with the most active users on the Ethereum blockchain. Besides, it generated more than a billion dollars in revenue by September 2022. Inspired by the classic pokemon series, its main focus is on creatures named Axies. These are NFTs in the game, and you can mix and match to breed new creatures, building better teams to combat other players for crypto rewards.
The game has two native tokens: Axie Infinity Shard (AXS) and Small Love Potion (SLP). Axie infinity has become a significant source of income for gamers from countries like Vietnam, Venezuela, the Philippines, and Brazil.
Sandbox
Sandbox is a play-to-earn game that lets gamers create, build, and survive its native metaverse. The in-game currency is SAND, and players can use it to develop houses and castles and earn more tokens. Like other play-to-earn games, it combines strategy, creativity, and survival. Gamers can trade the in-game NFTs and make a profit.
Gods Unchained
Built on the Ethereum blockchain, Gods Unchained is a popular play-to-earn game that lets players combat others using decks of cards, genesis cards, and core cards. In other words, it is a variation of classic card games. The in-game currency is GODS, trading at a reasonable price now.
Decentraland
Decentraland is as much a virtual platform as it is a play-to-earn crypto game. However, it is still one of the most profitable play-to-earn games. Gamers can purchase land and build whatever they want, including buildings, cities, and stores. Besides, they can even rent out land to organize virtual events.
Players need an Ethereum wallet to trade the native currency, MANA.
Conclusion
Play-to-earn games are getting popular daily as more people enter the world of NFTs and web3. As the gaming industry matures, we can see more games emerge, making the industry more profitable.
Frequently Asked Questions
1. Which is the best play-to-earn game?
Axie Infinity is one of the best play-to-earn games in existence. It involves breeding creatures called Axies and combating other players. Axies are also NFTs that you can trade for profit.
3. Is Axie Infinity profitable?
Axie Infinity is a profitable play-to-earn crypto game that has skyrocketed in popularity in the last few years. Many gamers, especially from the Philippines, depending on the income from Axie Infinity to make a living. Hence, there's no doubt that Axie Infinity is profitable.