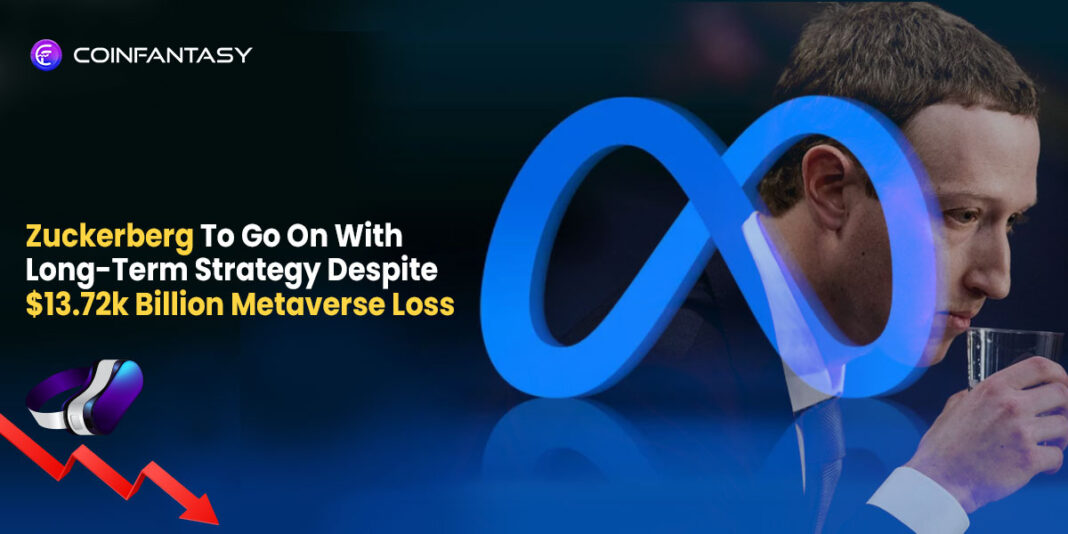 Despite a $13.72k billion setback, Meta CEO Mark Zuckerberg is determined to go on with his metaverse plans.
Within a few months, the CEO of Meta went from promoting the Metaverse as the company's future to treating it like any other long-term project.
Being a "long-term investment," Reality Labs will "continue" to lose money through 2023, according to Meta's new CFO, Susan Lee. Despite this, Zuckerberg stated that Reality Labs would face the same efficiency demands as the rest of the corporation.
In Q4, revenue decreased for the third consecutive quarter, down 4% to $32.2 billion from the same quarter in 2021. The company's earnings dropped by 22% yearly due to costs and expenses, which increased to $25.8 billion.
Meta's $4.65 billion in Q4 net income marks a 55% decrease from the same period last year. According to Meta, its Q4 restructuring expenditures totaled to $4.2 billion and included costs for staff severance, early office lease terminations, and data center restructuring. In the quarter, the corporation let go of almost 11,000 people.
The New Plan
Later this year, Meta intends to release its newest consumer VR headset.
According to Zuckerberg, it will "establish this technology as the standard for all headsets moving forward and eventually, of course, for AR [augmented reality] glasses as well."
Zuckerberg listed over 200 virtual reality applications in Meta's ecosystem that have generated more than $1 million in revenue and more than 100 million WhatsApp users made animated avatars; that's because the feature was introduced in the last quarter as indicators of progress. The majority of people will first encounter the Metaverse on their phones, Zuckerberg noted, and then start constructing their digital identities across our apps as VR technology advances.
During the business's earnings call on February 1, Zuckerberg informed investors that he was focused on "continuing to streamline the company" and that 2023 is "the year of efficiency." Zuckerberg remarked that this was the beginning of their focus on efficiency, not the conclusion, adding that "we finished last year with some unpleasant layoffs and restructuring several teams."
Zuckerberg stated that creating the Metaverse is part of his company's strategy for ensuring that its platform won't be negatively impacted by moves made by competitors like Apple in the future. According to Zuckerberg, the main reason he is creating the Metaverse is so that technology firms may be more creative when they create both the software and hardware that support a computing platform.
When you have more control over the stack, you can create more creative and novel things.
The Reasons Behind the Drop
Weak demand for advertising
With growth slowing in its two major verticals, eCommerce and CPG, but still dropping faster, Meta reported that it continued to see "poor advertising demand" in Q4. The financial services and technology industries, which are smaller verticals for Meta, were stated to have had the sharpest losses in ad spending. Travel and healthcare marketers had the most significant gains in Q4 in growth. 
A New Beginning
Increasing revenue: Resharing of Reels has increased more than twofold in the past six months, according to Meta, while viewership of its short-form video Reels has "more than doubled" across their platform over the past year.
According to Zuckerberg, Meta was more concerned about making Reels profitable than scaling it up. "At the moment, improving monetization efficiency is the proper course of action. We are indeed aware that there is a need for additional Reels, and as our monetization efficiency grows, we will inevitably be able to show more Reels, he added.
In light of the fact that Meta's daily active users increased to 2 billion in the fourth quarter versus an anticipated 1.8 billion, the venture social media giant will indeed be able to capitalize on a sizable captive audience if it can successfully convert even just a fraction of its audience over to its digital realm platform.
The expense of hardware will also increasingly restrict widespread usage.
Last but not least, he suggested that Meta scale back its annual investments in the Metaverse from $10 billion to $5 billion.
He claimed that while investing in artificial intelligence is crucial, Meta must be able to control costs as it develops new technology. The share price would rise as a result, and investors' confidence would return.
In addition, Meta's stock increased 19% after hours of the release of the data, indicating that many investors are ignoring losses in a division that only accounts for slightly more than 2% of the business's revenue.