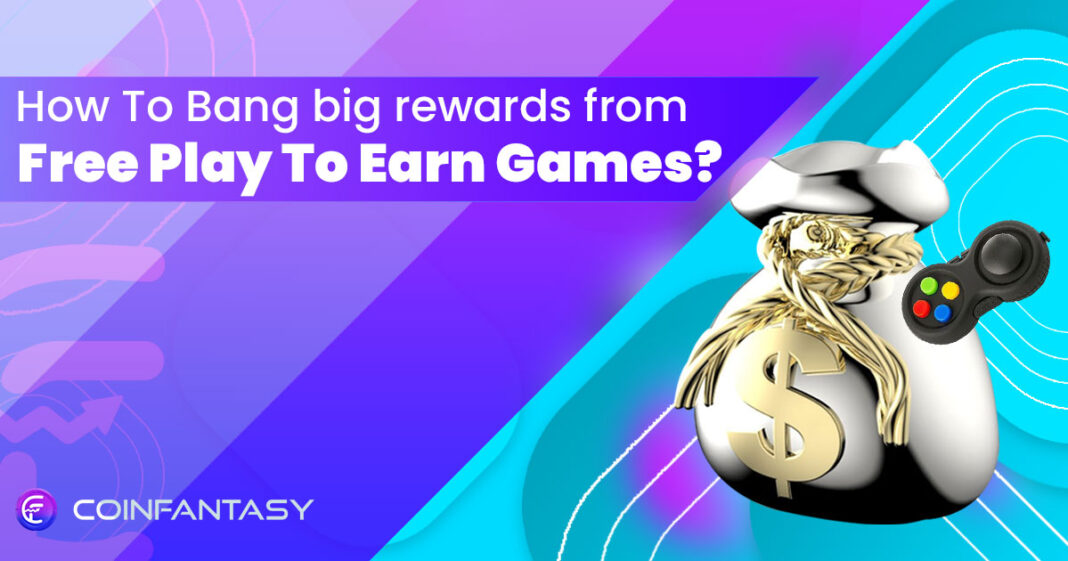 Hey there crypto enthusiasts!
Free play-to-earn games have exploded in popularity in recent years, offering players the chance to earn real-world rewards through their in-game activities. From earning tokens to trading in-game assets, the possibilities are endless. But with so many options available, it can be difficult to know where to start.
Have you ever wanted to earn big rewards from playing free games?
Well, you're in luck! With the rise of blockchain technology and cryptocurrency, there are now plenty of ways to earn crypto while playing games. In this blog, we'll explore some of the best ways to bang big rewards from free play to earn games.
Understanding the Basics of Crypto Gaming
Before we dive into the ways to earn big rewards, let's first understand the basics of crypto gaming. With the popularity of cryptocurrencies, game developers have started incorporating blockchain technology into their games. This allows players to earn, trade, and even cash out their in-game assets as cryptocurrencies. These assets are stored on a blockchain, which makes them secure, transparent, and easily transferable.
Crypto gaming is a new genre of online gaming that utilizes cryptocurrencies, typically in the form of tokens, as in-game currency or rewards. Players can earn tokens by participating in the game, which can then be redeemed for other cryptocurrencies, such as Bitcoin or Ethereum, or used to purchase in-game items.
In a play-to-earn model, players can earn tokens by participating in various aspects of the game, such as completing quests, winning matches, or contributing to the game's development. These tokens can then be traded on decentralized exchanges, where their value is determined by supply and demand.
The use of blockchain technology allows for secure and transparent transactions, as well as player ownership of in-game items and assets. It also enables players to earn real-world value from their in-game activities, making crypto gaming a unique and exciting way to earn and play.
Top Ways to Earn Big Rewards from Free Play to Earn Games
Play Crypto Games: There are several games that offer the opportunity to earn cryptocurrency. Some popular examples include Axie Infinity, Splinterlands, and Crypto Kitties. These games are free to play and offer players the chance to earn rewards in the form of cryptocurrency.
Participate in Tournaments: Many games offer tournaments where players can compete against each other for big rewards. These tournaments usually have an entry fee, but the rewards can be substantial.
Referral Programs: Some games offer referral programs where players can earn rewards for referring their friends to the game. This is a great way to earn passive income while enjoying your favorite games.
Faucets: Faucets are websites that give away small amounts of cryptocurrency for free. They are a great way to get started in the world of crypto gaming and can lead to big rewards in the long run.
Top Crypto Trading games to pay special attention to in 2023!
Booming blockchain gaming projects to watch out for.
CoinFantasy is the world's first decentralized invest-gaming platform ever developed, and it was built utilizing the play-to-earn strategy used in crypto trading. Participants in our cutting-edge no-loss gaming only win by participating.
To win prizes, participants can assemble a lineup of stocks or cryptocurrencies in the company's fantasy portfolio management games.
As more users participate in CoinFantasy's play-to-earn method, the incentives increase. As a result, the awards get more valuable as more individuals enter.
#2. Spider Tanks
Spider tanks is a basic multiplayer fight game in which each client gets a virtual NFT tank that they can use to participate in full-scale fights with different clients. Clients can play in gatherings or solo, and winning will give you crypto rewards.
#3. ICE Poker
ICE Poker is played in the decentraland's metaverse. The game offers competitions with cryptographic money compensations for the best players. Clients can risk and acquire genuine digital money by taking part in the game.
#4. Axie Infinity
Axie Infinity turned into the main Ethereum-based NFT game to procure $1 billion in income on August 8, 2021. The game is being played effectively by in excess of 1,000,000 individuals. This non-fungible token (NFT) game was made by the Vietnamese organization Sky Mavis and is presently the most famous.
#5. Gods Unchained
Gods Unchained was made by the very group that made Changeless X, an Ethereum layer-2 scaling arrangement. Players utilize a deck, center cards, and beginning cards to battle each other in the exchanging game Gods Unchained.
#6. Illuvium
Illuvium is a 3D open-world auto-fight RPG that sudden spikes in demand for the Ethereum Blockchain. The game's essential goals are for players to participate in battle, complete missions, and advance in rank. They will receive computerized cash called ILV Coin consequently.
#7. Thetan Arena
Members of the game Thetan Arena can win digital currencies without spending any cash. To go on in the game and bring in the local cash, Thetan Coin, you are allowed three free symbols (THC).
#8. Star Atlas
Players can trade NFTs of planetary frameworks, stars, and different articles while investigating the system in the cosmological diversion game Star Atlas. Every planet or star has novel characteristics that recognize them from each other all through the game.
#9. Alien Worlds
The straightforward reason for Alien Worlds, a cyberpunk science fiction experience game, is that by playing, mining, and overhauling, you might make a pleasant gaming experience.
#10. My Defi Pet
In the game My DeFi Pet, players can raise virtual pets. They can purchase, sell, and exchange these pets on the blockchain-based business framework in the game.
How to Cash Out Your Rewards?
Once you've earned your rewards, it's time to cash out. The easiest way to do this is to transfer your rewards to a cryptocurrency exchange, where you can sell them for a fiat currency such as USD or EUR. You can also hold on to your rewards and wait for the market to appreciate, which can lead to even bigger profits.
The process for cashing out rewards in crypto games can vary depending on the specific game and platform. Here are some common steps to follow:
Verify your account: Ensure that your account is verified with the platform to allow for withdrawals.
Check for minimum withdrawal amounts: Some games may have a minimum amount required for withdrawals.
Connect a wallet: Connect your crypto wallet to the platform to receive your rewards.
Request a withdrawal: Go to the game's cashier or withdrawal section, select the amount you want to withdraw, and request a withdrawal.
Wait for confirmation: Wait for the platform to confirm the transaction and transfer the funds to your wallet.
It's important to note that some platforms may have fees associated with withdrawals and the time it takes to receive the funds can vary depending on network conditions. Always check the platform's terms and conditions for details.
Conclusion
In conclusion, there are plenty of ways to earn big rewards from playing free games in the world of crypto gaming. By understanding the basics of crypto gaming, participating in tournaments, referring your friends, and using faucets, you can start earning rewards today.
So what are you waiting for?
Get started and bang those big rewards!