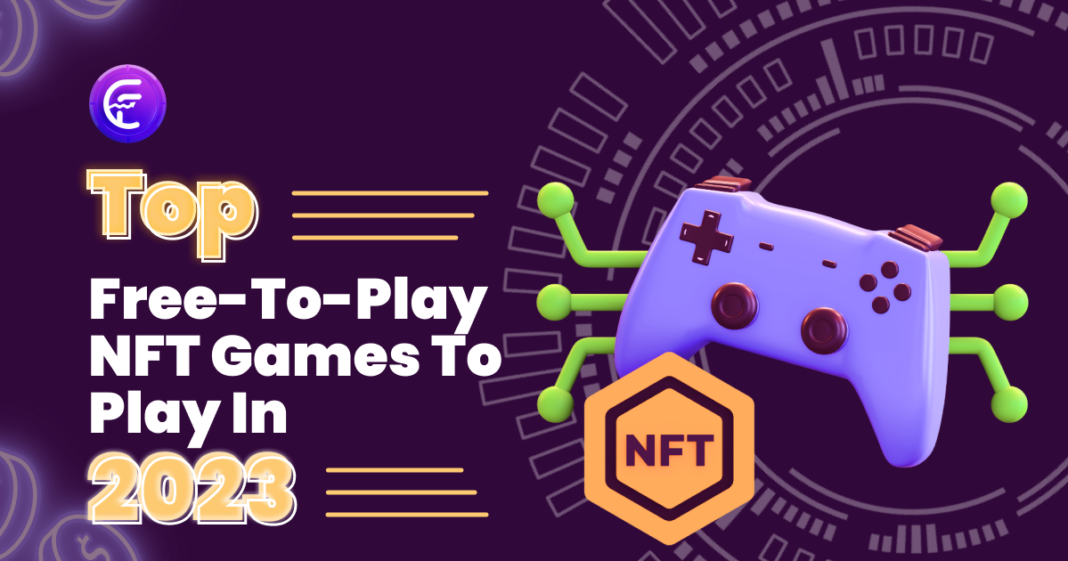 We are all aware of how quickly the esports industry has changed over the past ten years, but play-to-earn crypto games give casual gamers who don't have access to competitive gaming a new perspective.
The gaming industry is experimenting with innovations and technology due to the recent proliferation of crypto games and the introduction of play-to-earn fantasy games into the gaming industry.
The industry for crypto gaming has grown to be worth billions of dollars as blockchain technology has gradually advanced. In fact, a few digital economies pay consumers to play games.
Today, in this blog, we'll discuss the top P2E crypto games to look out for in 2023
But first, let's define play-to-games in more detail before looking at some profitable and popular play-to-earn crypto games.
Play-to-earn crypto games: what & why?
A play-to-earn game is one in which the player can acquire rewards or virtual items by participating in the game.
These can include premium currency, extra levels, specialized gear, entire characters, and even entire game modes.
In other words, a play-to-earn game, also known as a P2E Crypto Fantasy Game, is a blockchain-based game in which players receive in-game incentives immediately following their actions rather than after clearing a level or winning the game. In-game items, digital assets, time-limited benefits, or other non-cash incentives are also acceptable as non-cash prizes, so they are not restricted to crypto tokens.
The game's digital economy allows users to generate value for themselves, other players, and makers. They might receive different digital goods in exchange. Additional in-game objects, new characters with varying scarcity, or a particular form of cryptocurrency token could all be among them.
The primary concept of play-to-earn crypto games is that players can receive rewards for the time and effort they invest in the game.
Moving ahead, let's discuss the following:
Top popular crypto games of 2023!
Play-to-earn cryptocurrency games provide players with some monetary reward. It may be possible to gain money while playing the game by buying products that come from NFTs.
Here are some of the top 2023 crypto fantasy games. Take a look!
#1. CoinFantasy
The world's first decentralized fantasy gaming platform, CoinFantasy, is based on cryptocurrency trading marketplaces. Users of the decentralized game site CoinFantasy can earn rewards by correctly guessing the results of several cryptocurrency portfolios. Anyone can take part and utilize their crypto expertise to win CF Tokens thanks to the game pools and rewards based on well-known tokens in the market. The pool money is held by the non-custodial platform CoinFantasy via smart contracts before being promptly transferred to the winner after the game. 
#2. Gods Unchained
One of the most well-known blockchain games with a cryptocurrency component is Gods Unchained. A player-versus-player tragedy game is being played. It utilizes Immutable-X and the Ethereum blockchain network to function.
In Gods Unchained, players compete using decks of cards, genesis cards, and core cards, mainly as a trading card game.
By merely participating in the game, players can acquire free core cards. Players can also buy card packs if they'd rather forego the grinding. However, these packs are no longer offered because they were sold before the game's release. This implies that if you wish to acquire these cards, you must do it through a separate vendor. The Immutable X market allows trading for all the cards available in the game.
#3. Formula E: High voltage
Running on the Ethereum blockchain network, High Voltage is a competitive racing and management game. It is currently under construction and can be purchased online. Due to their existence as Non-Fungible Tokens, the game's primary assets in Formula E: High Voltage can be entirely held by players (NFTs). The game uses the REVV token and is a Play-to-Earn crypto games component of the REVV Motorsport ecosystem. Users can subscribe to their newsletter and get game updates by submitting their email addresses.
#4. Tamadoge
With the help of the newest doge ecosystem, the Tamaverse, users can take care of, breed, and engage in combat with their very own virtual animals.
The future of P2E crypto fantasy games is Tamadoge. To compete for dogepoints and the top spot on the Tamadoge leaderboard, players can use their NFT pets in battle. Then, these points can be redeemed for dogepool profits.
The project seeks to release a Tamadoge augmented reality app that will let you play with other dogs in the metaverse. This will completely change how players interact with NFTs and the metaverse. For doge fans who want to play with their collected doges, the Tamadoge NFT game is perfect. Every pet purchased in-game will be a fully mintable NFT. 
#5. Gala Games
Gala Games is a game that uses blockchain technology and has several different types of crypto games. The GALA coin is offered as a reward and a utility token for in-game player transactions within the ecosystems.
Gala Games intentionally leverages blockchain to provide players sole ownership of game objects like NFTs and ERC-20 Tokens on the Ethereum blockchain, even though these items are collected within the games.
#6. Pirate X Pirate
Pirate X Pirate, as its title indicates, is a brand-new play-and-win game that emphasizes pirate culture. Participants must assemble crews, which require both ships and characters. One of the most recent NFT play-to-earn crypto fantasy games on the market, this NFT game was released in March 2022.
The main goal is navigating the virtual sea with your crew and defeating the other players. When you accomplish this, you will receive PXP, in-game money. Additionally, Pirate X Pirate gives players a chance to mint unique NFTs, including enhanced ships.
#7. Splinterlands
Splinterlands is the best P2E crypto trading game that uses NFT technologies and is based on card games.
Players may be rewarded for engaging in monster combat. When the game starts, a certain amount of cards are made available. More cards are available as you earn more money and play more games. By pairing two or more identical cards, you can advance levels.
Tokens for Dark Energy Crystals (DEC) can be obtained by winning matches, selling cards, and participating in other activities. DEC tokens can be obtained by winning games, selling cards, and seizing a portion of the cards during each match.
#8. The Sandbox
For 3D virtual reality games with a similar gameplay premise, The Sandbox is also a growing star.
To exchange virtual lands and conduct other business, players can utilize the utility token "SAND."
Speaking of the visuals and user interface, The Sandbox emulates the classic Minecraft experience with block-based landscapes and goods, allowing gamers to customize how they monetize their content. Trading lands and items and completing in-game chores are the finest ways to play and earn in The Sandbox.
#9. STEPN
Games and SocialFi components are already implemented into the Web3 lifestyle app STEPN
The earn concept has only recently been introduced in this game. Using GMT tokens, the primary governance token, users purchase and outfit themselves with NFTs in the form of Sneakers. Users can earn a GST game token, which would be the limited-supply subtoken, by jogging, running, and walking outside.
In addition to relying on its SocialFi platform, STEPN hopes that millions of its customers will use GameFi to lead healthier lives, fight climate change, and access Web 3.
#10. Zed Run
Zed Run is a play-to-earn horse racing game that lets people curate various horses as NFTs that can buy, sell, and trade with other players on the network. Additionally, users can breed new horses or strengthen their current ones. Users race their horses in this game to obtain rewards. Players can upgrade their horses to make it simpler to win races. Each horse has strengths and weaknesses. To make money, they can also wager on other players.
On the Ethereum and polygon blockchains, Zed Run just recently issued its zed token. The token will serve as the game's primary resource and in-game currency.
Conclusion
Prior to recently, selling an account was the only method to make money off of video games.
Today's latest play-to-earn crypto fantasy games are a component of the expanding metaverse, a word used to refer to all facets of a developing virtual reality universe.
Play-to-earn crypto games are in high demand right now in the industry. Additionally, since non-fungible tokens (NFTs) implementations are in place, users now have much more control over in-game assets than they did in the past.
The list above makes it abundantly evident that the top Crypto trading games use well-liked gaming genres. The best play-to-earn crypto fantasy games are less difficult and more enjoyable. Additionally, because they provide entertainment and a respectable source of money for many, the most popular NFT games are profitable in inventive ways. Furthermore, their combined blockchain components rank first for establishing diversity.