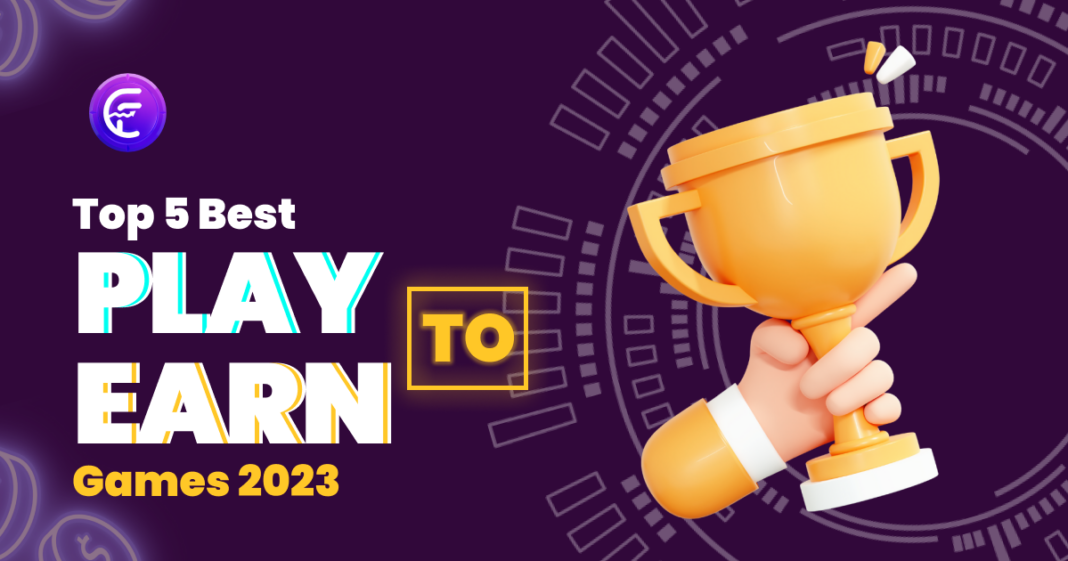 Blockchain innovation has benefited many people, including gaming enthusiasts interested in cryptocurrency
Play-to-earn gaming is one of the ways crypto enthusiasts earn in the blockchain industry; with new game models coming out daily, some are solid projects, and some fizzle out after a while.
Whether a newbie to play-to-earn or an expert, this article will help you understand the best-paying play-to-earn games in 2022. 
These play-to-earn games are based on different sports ranging from Horse racing, Car racing, Football, basketball et.al.
What are play-to-earn games?
Except if you belong to the top 1% of gamers in the world, the probability of making money playing video games as a gamer is low. The advent of NFTs has made earning through playing games very easy.
NFT play-to-earn games, also referred to as "Crypto games," allow gamers to take ownership of their in-game assets. 
Users can farm crypto and NFTs and sell them on the market through play-to-earn games. Players can earn more items and tokens by playing the game regularly.
Several players have even supplemented or replaced their salaries by playing blockchain games. Such activities are risky since you usually need to invest money to purchase characters and items.
Why are play-to-earn games popular?
The popularity of play-to-earn games has definitely soared significantly since 2021. According to a report by a research firm, the play-to-earn industry market size has improved from USD 776.9 million in 2021 to 1000.6 million in 2022 and is expected to eclipse about USD 2845.1 million by 2028.
This begs the question of what led to the popularity of play-to-earn games globally.
Access
One of the key things that have aided cryptocurrency adoption is accessibility. People of all backgrounds, regardless of financial status, having access to Play-to-earn games has soared the popularity of crypto gaming.
Financial Inducement
The ability to make money from the play-to-earn game via various gaming platforms is enough to increase the adoption of play-to-earn games. Platforms like CoinFantasy, offering zero-loss gameplay, make crypto games more fashionable.
Innovation
A lot of innovation in the play-to-earn ecosystem has made it easy for people to explore the crypto gaming industry. The gaming industry has moved from just NFTs to real-life games like football, Basketball, and real cryptos to be won.
How do play-to-earn games work?
Traditional and play-to-earn games differ in many ways; however, one distinctive difference stands out: play-to-earn games are decentralized.
In contrast to traditional games, where game creators determine how a game should be played, players of P2E games have a say in the development and modification of games.
Many dedicated players form a decentralized autonomous organization (DAO) to foster further community-building within the P2E game community.
Various P2e games have different ways of onboarding gamers. Some require going to NFT marketplaces like OpeanSea to buy characters that will participate in the games. Others require tokens to participate.
So What is the typical cost involved in playing P2E games? Depending on the game, it will vary. P2E games like Splinterlands and the Sandbox, for instance, are completely free to play. Meanwhile, games like Axie Infinity require you to purchase Axies in advance before playing.
How to choose the right play to earn games?
Treading gently to enter a project is very important, especially with many rug-pulled projects springing up daily in the Blockchain ecosystem. The following tips will guide you in choosing the right play-to-earn games to join.
The Whitepaper
A Whitepaper in Blockchain is a document that entails all the projects, use cases, and project timelines. An incredible illustration is a manual of a new device you have just bought; before you start operating the device, the sensible thing to do is to have a go-through of the manual to learn the function of each device. The same is important before choosing a play-to-earn game. Never involve in a project without a whitepaper.
The team behind the project
It is important to do a background check on the team behind the project before deciding whether to play the game or not. The internet is a blessing, making it easy to check for digital footprints. It is not advisable to invest your time and money with a team that is not reliable.
Interest and Skills
Your gaming interests and skills play a role in the type of gaming projects you choose. If you are skilled in and have a great interest in horse racing or Football, then it is advisable to go for such a game. Once your skills and interest align, you'll get value for your time and money.
Income Level
Your income level should be factored in when choosing a game. P2e gaming platforms like CoinFantasy have a zero loss, and the entry fee is zero, while platforms like Axie Infinity have an entry fee of $5, and the price rises depending on the character you want to purchase.
Know the top 5 best Play to Earn Games
Looking to venture into play-to-earn games after learning how to choose the right projects? Well, the following games have proven to be the best blockchain-based games in the GameFi ecosystem that are worth checking out.
Axie Infinity
Coinfantasy
Pegaxy
Defikingdom
Decentraland
lesser profit for you as a gamer.
1. CoinFantasy
CoinFantasy is the world's first decentralized fantasy gaming platform based on the crypto markets launched in 2021 and has grown beyond leaps and bounds.
CoinFantasy is a bit away from NFT crypto gaming and makes use of cryptocurrency for playing games and as rewards. 
Using the top 100 coins ranked by market capitalization, each player must create a draft or team of 7 coins. Each player also receives a budget of 100 credits which they can use to select the coins they wish to include in their draft. In the crypto market, coins with a stronger performance history will usually cost more credits.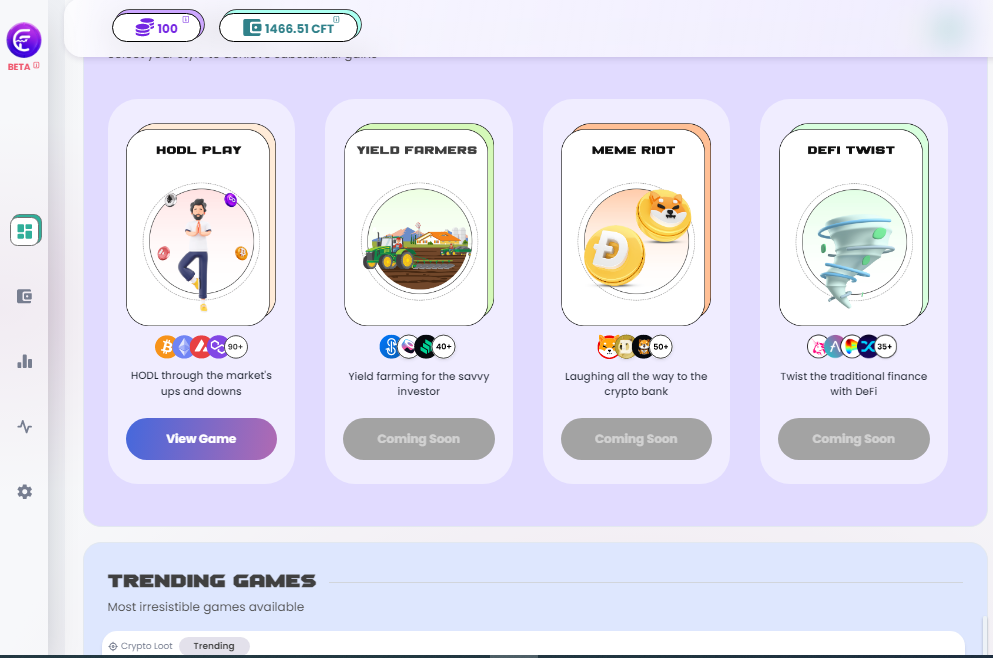 Pros
Cost
CoinFantasy is the most pocket-friendly blockchain-based crypto gaming platform. As a participant, you don't need a scholarship to perform, and there is no need to worry about losing your hard-earned coin as it is a zero-loss platform.
User Friendly
Very user-friendly crypto gaming platform that helps to improve your critical thinking and strategy creation and is also open to everyone regardless of your knowledge level in the crypto industry/world.
Cons
The major issue with Coinfantasy is that it is still in its early stage, and many crypto enthusiasts are a bit skeptical about the no-loss of funds on the platform.
2. Axie Infinity
Axie Infinity was launched in March 2018 by the Sky Mavis studio.
Axie Infinity is one of the NFT-based play-to-earn games developed by the prestigious Sky Mavis in Vietnam, known for its in-game economy. Ethereum-based cryptocurrencies power Axie Infinity.
Players of Axie Infinity collect and mint NFTs that represent axolotl-inspired digital pets known as Axies. Within the game, these creatures can be bred and battled against each other. On Sky Mavis' marketplace, players pay 4.25% for trading Axies.
Axie Infinity players from the Philippines dominated the game in September 2021. Basically, they were low-wage workers for "bosses" who rented them Axies to grind in-game for them. "Digital colonialism" is the term used to describe this arrangement.
Pros
Amazing community
Axie Infinity has one of the best community support in the GameFi industry. One of the fastest ways to grow in the cryptocurrency industry, sharing knowledge strategies and practices that can benefit players when it comes to earning in the crypto gaming industry, is finding great community support.
Fun to play
What is a game without fun? There is no boredom with Axie Infinity, especially when battling axies of different strengths. Nothing feels cooler than mapping out the right strategy to come out victorious.
Scholarships
With scholarships, you have nothing to lose. Most gamers on axie infinity are on scholarships.
A scholar is someone who invests nothing but time and effort into a game while still earning income.
The only thing you'll lose is the time you invested in the game (if you didn't cash out your SLP).
Cons
Scammers
Scammers are everywhere, so you must be very careful of the projects you interact with. And most importantly, it is cool to have a decoy wallet that doesn't have all your funds for interacting with games.
SLP is volatile
The price of every cryptocurrency is volatile. SLP, which is the native token of Axie, is explosive. If the price of SLP is low, it will lead to
3. Pegaxy
Pegaxy (Pegasus Galaxy) is a futuristic racing game inspired by mythology. The horses (Pega) are descendants of the mighty Pegasus. VIS (Vigorus) is the platform's native utility token, and players will compete in PvP races to win rewards.
Pegaxy's unique ecosystem allows players to enter any race for free. With this economic model, the gameplay is very competitive; however, the rewards are still lucrative. Players compete against 14 other racers in an attempt to earn a top 3 placement.
All players in the top 3 list earn VIS tokens, the platform's utility token. Knowledge, strategy, and skill are all required to place in the top 3. Be prepared to race, dedicate time, and be one with your Pega; the rewards will make it all worthwhile.
Pegaxy was founded by Mirai Labs in the year 2021.
Pros
Specific Niche
Pegaxy is basically for lovers of Horse Racing. This will help people who are not horse racing enthusiasts to learn about how the game is played without being burdened by other games.
Great Community
Pegaxy has great community support. Experienced horse racing experts come together and discuss strategies on how to win.
Cons
Limited games
Pegaxy does not offer a variety of gaming options like most play-to-earn games. Gamers who love the game model might be put-off by participating, or other game developers replicate the model and add multiple games.
4. DeFikingdom
The P2e game was launched on August 22, 2021.
If you are a fan of Defi (Decentralized financed), then Defikingdom will interest you.
While other titles focus on buying and selling NFTs, DeFi Kingdom uses games to make investing in crypto fun through the game's growing economy. Imagine a cross between Robinhood and Final Fantasy.
DeFi Kingdoms, built on the Harmony blockchain, has gained much traction in the crypto gaming industry. Its native currency, Jewel, sits at a $1.1B market cap.
Pros
Simplicity
One of the headaches for newbies in crypto is Defi. However, Defikingdom has been able to make it look simple by adding new layers to it: simplicity, fun, making money, and also a good user interface and experience. This has made a lot of people adopt Defikingdom.
Cons
Volatility
Cryptocurrencies are known to be volatile. The native token of Defikingdom $Jewel, which is what gamers on Defikingdom will be rewarded, is subjected to market conditions and a dip in price on Coinmarketcap might affect gamers.
5. Decentraland
Decentraland is one of the pioneers of online gaming in the blockchain space and was launched on February 20, 2020.
Decentraland is a decentralized virtual reality (VR) platform powered by the Ethereum blockchain. Users can create, experience, and monetize experiences, applications, and content within it.
The Native Token and network of Decentraland are $MANA, $LAND, and Ethereum.
The fact that a centralized organization does not control Decentraland makes it different from other popular blockchain-based games. To determine how the Decentraland world will operate, there is a Decentralized Autonomous Organization (DAO).
Pros
Easy to build
It is one of the pioneers in creating a blockchain-based game in which users have legitimate and verifiable ownership over their in-game items. Hence, the developers have done a great job, and the game looks very promising in the future.
Cons
Poor Graphics
The game is currently a very simple browser-based experience that wouldn't really impress anyone if you're used to a triple-a gaming experience, Unreal graphics, and gameplay.
Conclusion
With most play-to-earn games moving to a mobile app, it shows that interesting times are ahead for gamers in the blockchain gaming industry, as this will improve accessibility.
The more innovations we see in blockchain gaming, the more the adoption of play-to-earn games.
If you want to enter the GameFi space, these solid projects are what you should look into to avoid being rug-pulled.