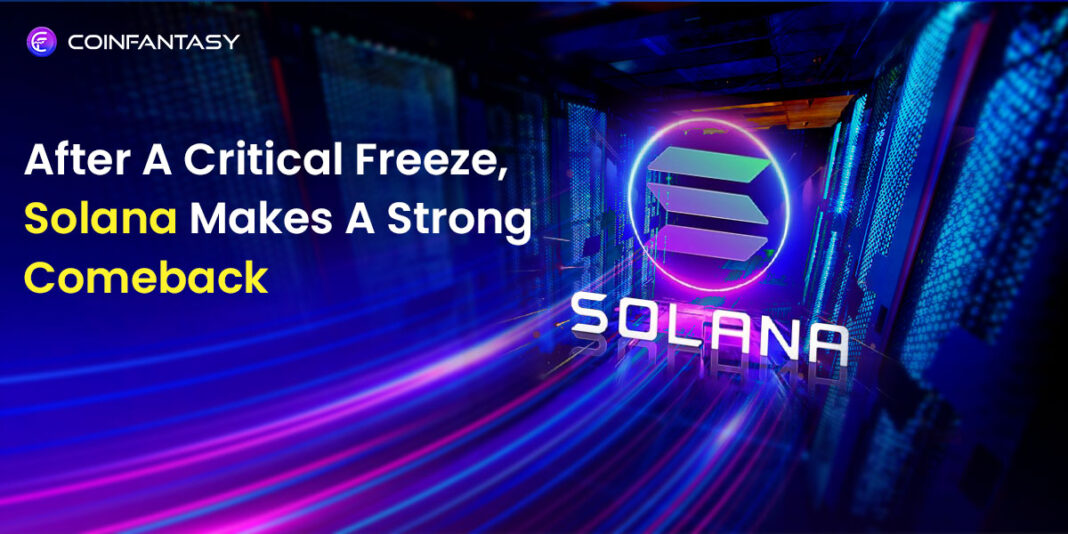 Due to its close ties with Sam Bankman-Fried of FTX, crypto experts had predicted that Solana's days were numbered. However, cryptocurrency has made an unexpected comeback since the beginning of the year.
According to CoinMarketCap, the cryptocurrency's price on Tuesday was $24.28. This represents an increase of about 140% from the beginning of 2023 when it was trading in the $10–20 range. 
The same-named underpinning blockchain of Solana has generated a lot of investor interest in recent years. It has been dubbed an "Ethereum killer" since it is positioned to compete with the well-liked Layer 1 blockchain. Based in part on this enthusiasm, its token increased to a high of $260 in November 2021, but since then, it has had several difficulties.
However, recent weeks have seen increased activity on the underlying blockchain, which has helped the cryptocurrency. One example is the recent success of the BONK NFT collection, which is based on a Solana blockchain-based meme coin and sold out in a single day earlier this month. Earlier this month, the Solana blockchain experienced a growth in developers that was 83% more than that of all other significant blockchains.
Study of Solana Prices and Market Value
The cryptocurrency market started to experience a fall in 2022 after a strong performance the previous year. From less than $178 in January to less than $80 in mid-March, the cost of SOL has drastically decreased. Early in April, it surpassed the $135 range before further falling.
Solana's market value was a little over $70 million as of the final day of 2020. The cryptocurrency's market valuation peaked on November 6 at $77.99 billion, making 2021 a breakthrough year. Prior to declining to $25.49 billion on March 13, it had a market valuation of $55.19 billion at the start of 2022.
With approximately 100 billion transactions performed to date, Solana has one of the greatest growth rates of any cryptocurrency. The average transaction cost on the network is $0.00025, making it one of the least expensive coins in the cryptocurrency market. It also offers to join a blockchain network with 1,850 highly safe validator nodes. A number of 489 million SOL tokens will be distributed, according to the Solana Foundation. Less than 300 million coins have already been used as of this moment.
It is now the 9th largest cryptocurrency accessible, with a market valuation of over $11.7 billion. The Solana blockchain has eight characteristics, some of which include POH, Cloudbreak, and Sealevel.
Price Forecast for SOL in 2025
We should be mindful of the vast range of expert estimations. To predict the market and different currency indicators, each analyst employs a unique set of concepts. These analysts conduct research on possible changes as well as historical market trends in order to formulate their predictions. So, there are glaring discrepancies in market estimations. Nonetheless, unforeseen advancements in technology and the economy continue to dramatically disrupt the market and have an impact on currency measurements.
In 2025, the price of Solana will range from $174.43 to a maximum of $213.55. According to the statement, it will normally trade for SOL in 2025 at a price of roughly $179.57, with a possible ROI of 441%.
Also, the experts made some forecasts. The panel predicts that SOL will cross the $166 mark by 2025. Remember that these forecasts were only created one month in advance. In contrast, the panel estimates that SOL would increase to $486 in 2025 in January 2022.
Future Scope
Like no other company, Solana (SOL) is creating Web3 applications and use-case scenarios. The Solana Pay Network and the Solana Mobile Initiative are two notable projects scheduled to launch in 2022. Solana might take the lead in Web3 payments and e-commerce when these two technologies are further developed.