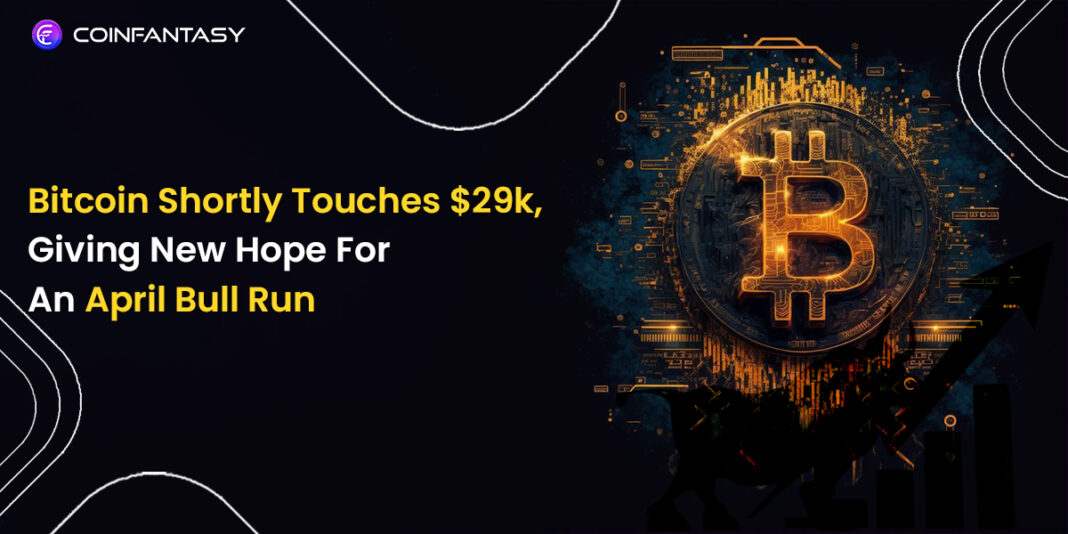 As Bitcoin has touched $29K on 28th March, the cryptocurrency market went on a happy ride. In recent days, the price of BTC has risen even more, giving investors fresh hope for a more robust Bull Run in April 2023.
The Price of the foremost coin has increased recently. On the morning of the 28th March morning, the price of BTC was roughly $26 thousand, but after a few hours, it began to rise quickly and even reached $29 thousand. Several people were surprised by this spike because the price has been declining lately.
Yet, the trade volume has also increased along with the price of the foremost coin, suggesting that investor interest in cryptocurrencies is growing.
What is Driving Bitcoin to $29K, Indicating a Bull Run?
The increase occurs despite a series of government crackdowns over the past several days, such as the US Commodities Futures Trading Commission's lawsuit against Binance and its CEO Changpeng "CZ" Zhao on March 27.
After such a shocking revelation, several business experts were unprepared for BTC's price increase. Some people think this is a result of the supposition that the lawsuit would result in only minimal fines for the cryptocurrency market, which leads in terms of transaction volume.
After 1.5k BTC shorts were "blown out," Bitcoin's value increased to almost $28,000. The Crypto Concern and Greed Index have climbed steadily over the past month despite changes in the global banking industry. It aims to statistically represent current "feelings and emotions" towards all major cryptocurrencies.
Trends in the BTC Industry This Month
The cryptocurrency market is currently displaying a favorable trend in several other digital currencies, including Ethereum, Binance Coin, and Cardano, in addition to the price of BTC. Investors have reason to believe that the future Bull Run will be more remarkable because of the rise in the price of this digital currency.
However, along with the positive trend that has occurred in the cryptocurrency market, there are still some risks that investors must pay attention to, such as very high price fluctuations and regulatory uncertainty in several countries. Bitcoin has touched $29k and this could indicate a positive move in the future.
Bitcoin Bull Run in April and Beyond
Despite its recent volatility, BTC continues to be among the most well-known and frequently used cryptocurrencies in the world. It's decentralized structure and robust encryption make it a preferred option for corporations and investors who value its security and privacy.
The foremost crypto's price and market value will probably increase as it becomes more widely accepted and used. Even if there may be ups and downs, many experts think the foremost crypto has a bright future and will remain a valued and significant asset in finance and investments.
The recent rise in the price has raised expectations for a potential bull run in April 2023. Although it is hard to foresee the cryptocurrency's value with absolute precision, some investors are upbeat about it.
Conclusion
The recent surge gave investors fresh hope for a more robust Bull Run in April 2023. Investors must, however, exercise caution and be aware of the dangers involved in making crypto investments.
Because the cryptocurrency market is unpredictable, investors must constantly monitor market changes and carry out extensive due diligence before making investment decisions. Even so, despite the fact that Bitcoin has touched $29k, the future of the cryptocurrency market still seems to be quite profitable.