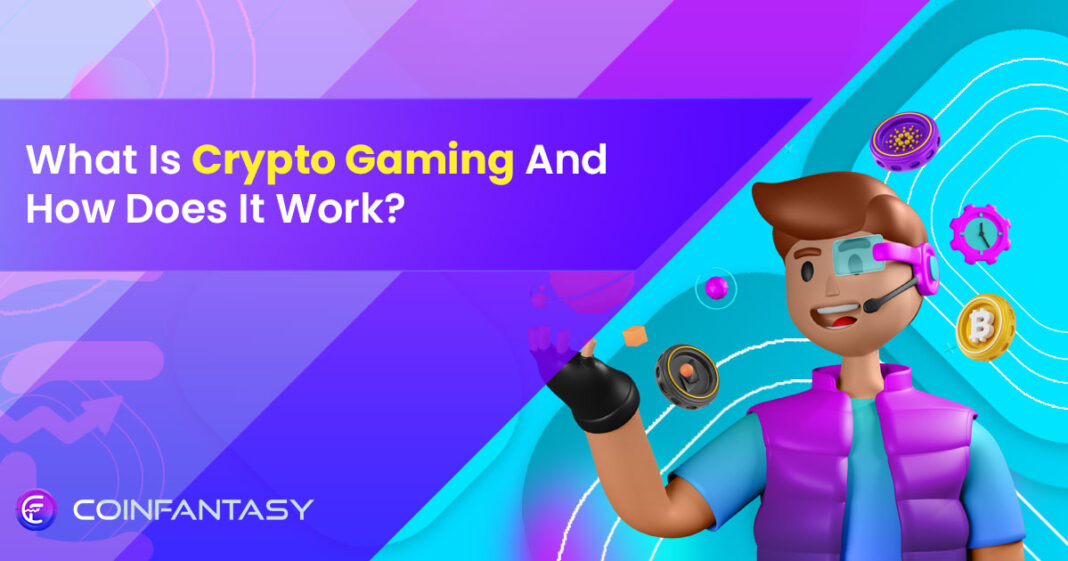 Globally, getting a good job isn't easy. However, people now quit lucrative careers for the crypto game economy. Others that haven't quit full-time jobs spend every second of their free time playing smartphone games.
To the uninformed, this reality is outrightly ridiculous. But the whole crypto gaming concept becomes worth investigating thanks to non-stop social media buzz.
Furthermore, experts believe that games will help people better understand blockchain. And while there remains much to do regarding mass crypto knowledge, crypto game rewards keep rolling. In 2020, the crypto gaming industry generated a revenue of $321 million.
So, to make money online, understanding and playing crypto games can be a good starting point. Hence, the need for an exposition into how crypto games work.
What Are Crypto Games All About?
The combination of gaming and cryptocurrency has proven to be profitable. For example, a decentralized pioneer application (dApp) in the industry, Axie Infinity, currently has revenue north of $1.2 billion. The application has been a real example of crypto gaming, a sign of the industry's possibilities.
Essentially, crypto games are infrastructures developed on the blockchain. Current games like PlayStation, Nintendo, etc., are built on servers owned by their respective companies, Sony and Nintendo. However, crypto games are community-owned decentralized organizations.
Players have ownership stakes and decision-making power by buying crypto game tokens. Also, crypto games facilitate players to earn rewards in-game. The rewards can then be exchanged with cryptocurrencies, subsequently sold for fiat cash – e.g., the dollar. This model is called 'play-to-earn.'
Also, crypto games enjoy seamless interoperability – the ability of different applications to connect and exchange information. So, players can use rewards and collectibles on various platforms. Imagine taking your Mario character from its parent game to use in Grand Theft Auto.
These incredible incentives and robust experiences compensate for players' time in games. In addition, players don't need to be professional gamers. Anyone can participate in crypto games that pay.
How Do Crypto Games Work?
Here is a breakdown of how crypto games work:
Play to Earn Model
Cryptocurrencies have been available since 2009 popularly. You can trade crypto on supporting exchanges and make a fortune—the same financial probability transfers to gaming.
The entire crypto gaming industry primarily runs on a play-to-earn model. The crypto game play-to-earn model is similar to many traditional games.
For example, in games like monopoly and CandyCrush, players earn coins.
However, the coins accumulated in traditional games have no real-life monetary value. However, crypto games solve that.
Essentially, imagine being able to convert all the coins you have in CandyCrush into crypto. Subsequently, you sell the crypto on exchanges and get real cash in your bank account.
The trading of in-game collectibles for cryptocurrencies is because the games are built on the blockchain, unlike traditional games hosted on regular servers, which are susceptible to tampering. Furthermore, blockchain game transactions are trustless and permissionless.
Players can get coins, outfits, extra lives, accessories, custom characters, etc. All these utilities are NFTs, which players trade for crypto.
Ownership
Beyond the crypto game rewards, players also buy the platform's token to gain ownership. The concept of digital ownership sets crypto games apart from traditional games.
In traditional games, the company can have issues with its servers or decide to turn them off. When these happen, players are affected – gameplay progress, collectibles, etc. All these can disappear in a second. This reality reflects a lack of control by players.
However, in crypto games, players with stakes have equity. The equity-like ownership here comes with decision-making power.
Furthermore, owing to the decentralized distribution of blockchain operations, utilities owned by players can be moved from one game to the other. Players can use these collectibles for several other things.
Examples of Crypto Games
Axie Infinity
The Vietnam-developed game is the most successful of all crypto games.
The popularity of the game developed by Sky Mavis hit the roof at the advent of the Coronavirus pandemic. Built on Ethereum, Axie Infinity enjoyed a seed-funding crypto game investment of up to $152 million. The funding round places the parent company at a valuation up to $3 billion.
What stands out with Axie Infinity's success is that it's technically on the other side of the realism we expect from future games. A couple of years before writing this piece, the future of games was dubbed to be premised on virtual and augmented reality, cloud gaming, etc. However, Axie Infinity uses pokemon-like characters, which players need to buy before they can start playing.
The gameplay is simple; players buy characters called Axis. The Axis characters are NFTs, which users can also sell for money on crypto exchanges – a way to make money on Axis Infinity. Upon getting the required Axis, players collect Smooth Love Potions (SLP) to breed them effectively. SLPs are extremely volatile cryptocurrencies, which trade on exchanges.
Furthermore, players can earn in-app crypto game tokens called AXS. Having these tokens can grant the holders access to ownership.
Alien Worlds
The AlienWorlds game also runs on the same model as Axie Infinity. However, some believe AlienWorlds is more popular than Axie Infinity. Furthermore, AlienWorld is a metaverse game built on Ethereum.
In the game, players seek NFTs, fostering connection and gameplay with others. Players can also earn Trillium. As a player, you can decide to stake your Trillium to planets. Staking Trillium allows players to be a part of the voting process. Staking also has a positive impact on the reward pool.
AlienWorld has a planet DAO (Decentralized Autonomous organization). Players with a stake can participate in elections for council candidates or contests to be a part of the council. Most importantly, players with a stake are focused on determining the best way to distribute planetary treasure in the metaverse.
Another way players can earn in AlienWorlds is by trading game cards on either Binance Smart Chain or WAX. Players use the game cards for mining, fighting, and mission. Hence, you can earn good money selling to those in need of them.
A significant advantage of the AlienWorlds crypto game earning money is that players can teleport. Thanks to the cross-chain bridge, players can connect to metamask, facilitating transfers between the BSC, WAX, and Ethereum blockchains.
CoinFantasy
Fantasy sports crypto games have been around for a while and are becoming a big deal quickly. But stakeholders are now just disrupting the sub-industry with blockchain. CoinFantasy is the world's first play-to-earn game for the crypto stock market.
The gameplay allows users to earn rare crypto token NFTs, which they can either use in-game or sell on exchanges. In addition, users don't have to pay to get started with the game, unlike others like Axie Infinity.
Conclusion
Cryptogame rules are simple; play to earn and get ownership by staking. The perks of crypto gaming position it undoubtedly as the future of gaming. As of now, the crypto game projects the world has seen are only the tip of the iceberg. The potential future realities of the crypto game, how it works, and how to earn, remain exciting as the world continues to wait.
Frequently Asked Questions (FAQ)
1. Can you make money on crypto games?
Yes, you can make money on crypto games. Crypto games are built on the blockchain and are designed to reward players with materials they can convert to real money on an exchange platform. Though, the amount of money you make depends on the game you're playing. 
2. What Crypto Game pays the most?
The amount of money you can make from a crypto game depends on the value of the game. Some games are very popular and have millions of people playing them. You're more likely to earn money with such crypto game rewards. Examples are; CoinFantasy, Axie Infinity, Splinterlands, etc. 
3. Are Play to Earn Games Legit?
Yes, play-to-earn games are legitimate sources of income. In countries where blockchain and its infrastructures like bitcoin are supported, you'll have no trouble playing crypto games. As the State of Crypto is legal and has a Worldwide adoption. Play-to-earn games will always be a legal source of income.
4. What games can earn real money? 
Most traditional games won't earn money, except if you're a professional. However, with crypto games, you can earn money. These crypto games feature tokens, NFTs, etc. You can then trade these on exchange platforms like Binance, pancakeswap, etc. Blockchain is decentralizing gaming.
5. How do crypto games make money?
Crypto games make money thanks to the NFT infrastructures included in them. The characters, utilities, places, etc. are all NFTs, which players can collect and sell for fiat currencies on a compatible exchange platform. The popularity of NFT birthed the crypto gaming industry.