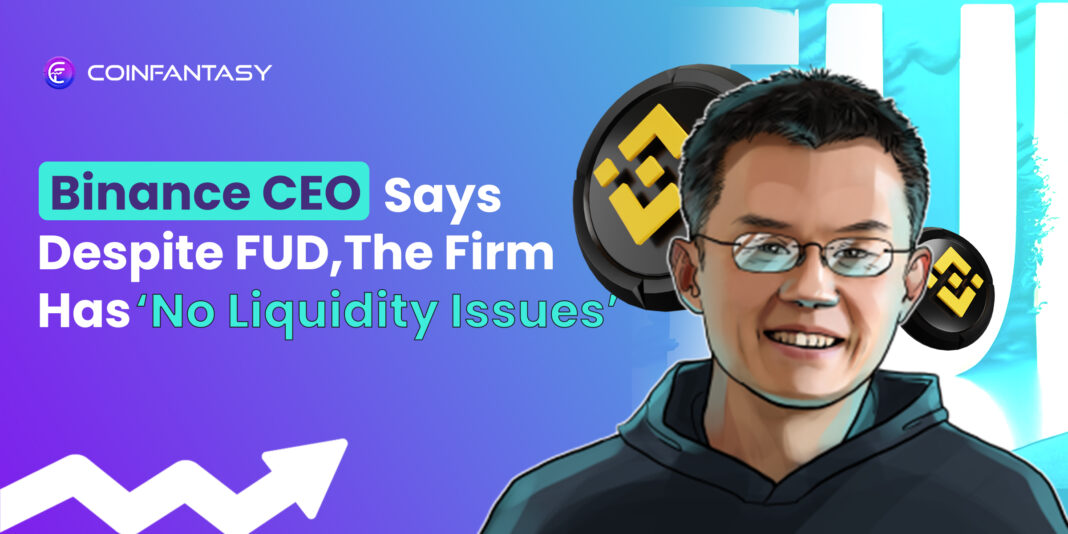 Binance CEO Changpeng Zhao, often known as CZ, is dealing with cryptocurrency exchange issues. Despite ongoing legal challenges, the closure of fiat routes, and the departure of senior executives, CZ argues that Binance retains its liquidity and personnel engagement strengths, even in current adverse market circumstances.
Given that Binance's rumored issues have sent the community into a frenzy, CZ's statements may be rather soothing. He says,
"Allow me to summarize. There have been a lot of bad news/rumors, bank runs, litigation, fiat channel closures, product wind-downs, personnel attrition, exit markets, and so on. What do you think we don't have?
There are no liquidity difficulties. All withdrawals (and deposits) are processed correctly. All client money is #SAFU and is completely reserved."
Saw some debates in the community. When you do the right thing, and there is FUD, you don't have to do anything. The community defends you.

Let me summarize. There have been a lot of negative news/rumors, bank runs, lawsuits, closing of fiat channels, product wind downs,…

— CZ 🔶 Binance (@cz_binance) September 7, 2023
Changpeng Zhao Reassures that the Firm Faces No Liquidity Issues?
CZ came to Twitter on September 8 to underline that Binance has no liquidity issues. He informed the community that all assets were safely safeguarded and that deposits and withdrawals were going smoothly.
Saw some debates in the community. When you do the right thing, and there is FUD, you don't have to do anything. The community defends you.

Let me summarize. There have been a lot of negative news/rumors, bank runs, lawsuits, closing of fiat channels, product wind downs,…

— CZ 🔶 Binance (@cz_binance) September 7, 2023
Binance CEO also reassured users that their assets are safe and that the exchange maintains a 100% reserve even in the face of bad news, misinformation, and other problems. Despite multiple legal issues, consumers have experienced no liquidity difficulties.
What is Causing the Top Binance Line to Leave?
Binance has been at the heart of various FUD rumors as it is mired in a series of legal issues, particularly after the SEC case. However, the Binance community and users have never noticed any concerns with the exchange's liquidity. Mrvik.eth, whose tweet was retweeted by CZ, wrote:
"I've witnessed several Binance opponents publish misleading data in order to attract supporters. I wanted to know if you have come across an individual who has been or is now unable to redeem? More than 20 billion dollars in #BUSD have been redeemed, whereas #FTX failed while paying 8 billion dollars, even though both are referred to as the same."
I have seen many #Binance    haters creating FUD in order to gain followers. Just want to ask, have you come across anyone who was or currently not able to redeem #BUSD ? More than 20b$ #BUSD have been redeemed whereas #FTX failed while paying 8b$, still calling both the same

— Mrvik.eth (@0xmrvik) September 7, 2023
Because of the departure of senior leaders, the crypto community has raised doubt. In Particular, more than 10 high-ranking executives left the organization between July and September.
Patrick Hillmann, the former Chief Strategy Officer, Mayur Kamat, the former Product Lead, Leon Foong, the former Head of Asia-Pacific, General Counsel Han Ng, Steven Christie, the former Senior Vice President for Compliance, and Matthew Price, the exchange's Global Head of Intelligence and Investigations, were among those who left.
Four executives left Binance in early July, with some blaming their departure on Binance's response to a United States Department of Justice (DOJ) inquiry. CZ, the CEO of Binance, however, refuted these reports and characterized them as FUD (Fear, Uncertainty, Doubt).
4. More FUD about some departures. Yes, there is turnover (at every company). But the reasons dreamed up by the "news" are completely wrong.

As an organization that has grown from 30 to 8000 people in 6 years, from 0 to the world's largest crypto exchange in less than 5 months…

— CZ 🔶 Binance (@cz_binance) July 6, 2023
According to recent sources, four more executives have announced their resignations. CZ has recognized the passage of numerous previous members into more prominent roles both inside and beyond the exchange. But despite these exits, Binance CEO reassures that everything is alright in the organization.
Rest Assured, Everything is OK: Changpeng Zhao
In reaction to the recent departures, CZ noted that Binance is proud to have the lowest "founding team turnover among tech startups of similar scale and age worldwide." He boldly reaffirmed Binance's tenacity and steadfast commitment to growth.
*Binance General Counsel, Chief Strategy Officer, and SVP of compliance all resign in the same week*

CZ: pic.twitter.com/6RQ5PBb1uH

— Milk Road (@MilkRoadDaily) July 6, 2023
About Binance
Binance is a multinational firm that operates the largest cryptocurrency exchange in terms of daily cryptocurrency trading volume. Changpeng Zhao, a technologist who previously invented high-frequency trading software, started Binance in 2017.
The company was founded in China before relocating to Singapore soon before the Chinese government put limits on cryptocurrency trading. Binance then left Singapore in late 2021 and had no recognized business headquarters after that.
Binance has released two cryptocurrencies that it created: Binance Coin (BNB) and BinanceUSD (BUSD). BNB debuted in July 2017 as an Ethereum token before transitioning to Binance Smart Chain (BSC) in September 2020. BNB Chain has "Proof of Staked Authority," a combination of proof of stake and proof of authority.
Binance USD, or BUSD, is a US Dollar-pegged stablecoin launched by Binance. According to Binance, it is backed 1:1 by a reserve of US dollars and was established in collaboration with Paxos, the token's issuer. Paxos issues BUSD natively on the Ethereum blockchain.
BUSD is a popular stablecoin, ranking third in terms of market capitalization after Tether (USDT) and USD Coin (USDC) as of 2022.
Closing Thought
Binance CEO stated in his latest attempt to dispel the rumors surrounding these departures that Binance has the lowest "founding team turnover of any tech startup of our size and age in the world." He also mentioned new product releases, fiat channels, recruiting, and Binance's expansion into new industries, as well as notable crypto victories, particularly Greyscale and Ripple's triumph over the feared SEC.