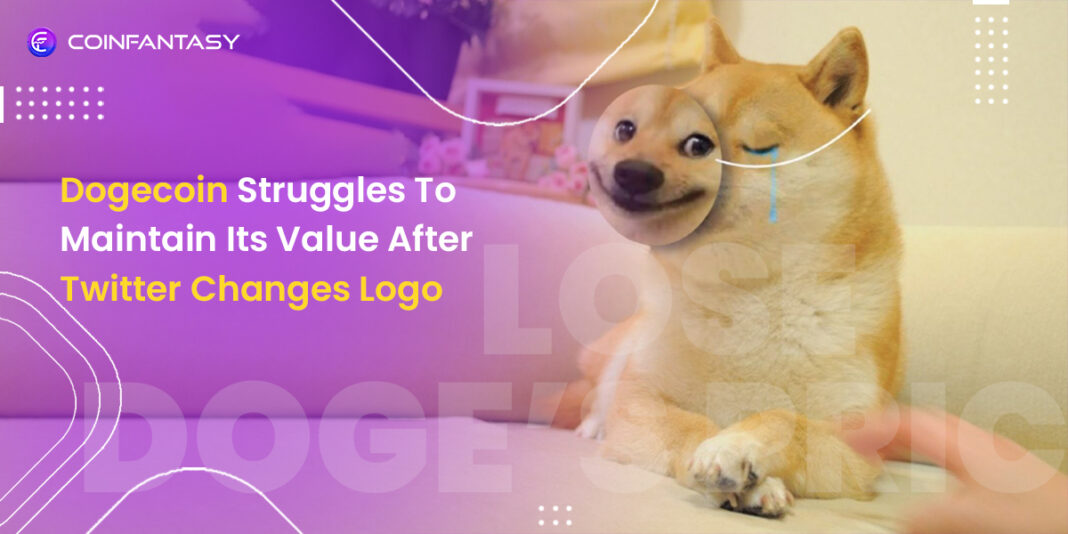 One of the most well-known cryptocurrencies, DOGE, has recently experienced some value fluctuations. The Twitter logo has impacted DOGE's value drastically, first sending it to the moon and then pulling it by the leg. At the moment, Dogecoin struggles to maintain its value despite Elon's support.
The DOGE Uprising After Elon's Profile Picture Update
Elon Musk's 150+ million-follower Twitter account updated its profile picture to the Dogecoin mascot on April 3, 2023. As a result, DOGE's value increased significantly, rising from 8 cents to almost 10 cents in just a few hours. The millionaire businessman, who has been a strong backer of DOGE and has referred to himself as the "Dogefather," was perceived as giving the action a significant endorsement.
Twitter Logo Changes and Its Uncertain Impact on Dogecoin
The Twitter web version has updated its logo from bluebird to Shiba Inu dog face. Following this statement, DOGE's price has grown drastically, only to fall 7% backward. This demonstrates how significant social media is in the cryptocurrency economy. The foremost memecoin and other cryptocurrencies depend highly on market sentiment and news about the business and technology that underpins them. Dogecoin struggles to maintain its price amidst unexpected happenings. 
Although the alteration of the Twitter logo is the cause of the drop in Dogecoin's value, a lot of other things can also have an impact. One is Elon Musk's tweet regarding the memecoin, which frequently impacts the ups and downs of the cryptocurrency's value.
Social Media's Role in the Crypto Market
The cryptocurrency market is greatly influenced by social media news, events, and trends. Since the value of cryptocurrencies like Dogecoin is so reliant on market sentiment, comments and postings made on social media platforms can have an immediate impact.
In addition, social media can significantly impact the acceptance and understanding of cryptocurrencies. Several cryptocurrencies have recently used social media to advertise their technology and attract a larger audience.
The Future of DOGE
The prospects for DOGE still need to be clarified despite the recent decline in price. Although the cryptocurrency's reliance on social media hype and celebrity endorsements is concerning, it also has a sizable following of supporters who are optimistic about its future. Furthermore, the technology that powers DOGE is built on the identical blockchain as Bitcoin, which is widely used as a store of value and a medium of exchange.
Before making investment decisions, investors and traders should conduct their due research and be aware of the hazards associated with investing in cryptocurrencies. This includes investigating the cryptocurrency's underlying technology, potential applications, market trends, and other elements that might affect its value.
Also, traders and investors need to be ready for the prospect of losing all of their money. Since cryptocurrencies are a high-risk asset class.
It's also important to remember that DOGE has historically displayed resiliency, recovering from value declines and gaining appeal among new investors and traders. However, various circumstances, such as market trends, legislative changes, and technology improvements, will ultimately determine how DOGE develops in the future.
Built on the blockchain, DOGE was launched as a meme in 2013 with the photo of Elon Musk's pet dog.
GlobalData said its price had fallen as low as $0.0000869 (approximately Rs. 0.0071) on May 6, 2015.
The Tesla CEO has also referred to Dogecoin as the "people's crypto" because he thinks it is more useful daily than Bitcoin.
Based on a conversation Musk had with a random Twitter user years ago, Musk's motivation for changing the Twitter logo to the DOGE logo on April 3 this time seems purely playful.
Conclusion
Several price changes have recently occurred for DOGE, and one of those modifications was the most recent alteration to the Twitter logo. Nonetheless, denying social media's influence on the cryptocurrency market is impossible. Investors and traders must pay attention to social media events and news about cryptocurrency technology since news and market sentiment on these platforms can swiftly change the value of cryptocurrencies. Despite the fact that Dogecoin struggles to maintain its mark, there is still a lot of activity and interest in the cryptocurrency market.