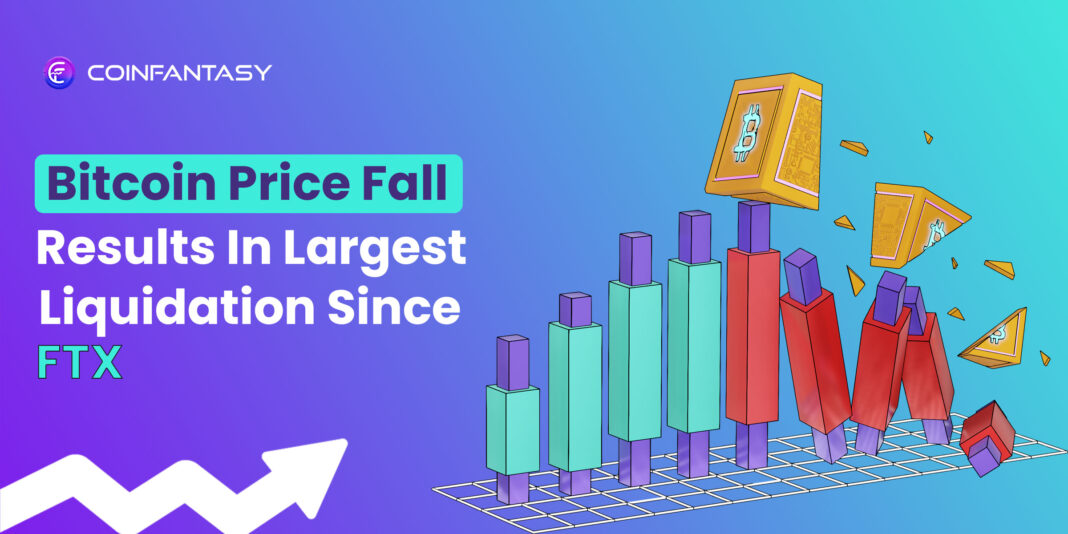 Bitcoin traders have become accustomed to lower fluctuation in recent months, but previously, the cryptocurrency has seen price changes of 10% in only two or three days. The recent Bitcoin price fall of 11.4% from $29,340 to $25,980 between August 15 and August 18 caught many people off guard and resulted in the greatest liquidation since the FTX crash in November 2022. But the issue is whether this correction was important as a matter of market structure.
Certain analysts attribute the recent surges in volatility to a lack of liquidity, but is this true?
🚀 BTC surged 70%+ in 2023, yet the "Alameda gap" – liquidity dip post FTX and Alameda Research collapse – remains, supported by low volatility.

Read full analysis here: https://t.co/kVslgLQtpL pic.twitter.com/g8Ac7udBl7

— Kaiko (@KaikoData) August 17, 2023
According to the Kaiko Data data, the 2% drop in Bitcoin order book depth has paralleled the drop in volatility. Market makers may have updated their algorithms to reflect current market circumstances.
As a result, looking into the futures market to determine the effect of the $26,000 loss appears logical. This investigation will look at whether whales and market makers are turning bearish or are seeking higher prices for safe hedge positions.
Looking At Bitcoin Price Fall in the Recent Past
The first drop occurred from March 8 to March 10, causing Bitcoin to fall 11.4% to $19,600, its lowest value in almost seven weeks at the time. The change occurred as a result of the liquidation of Silvergate Bank, a critical operational partner for several cryptocurrency enterprises.
Between April 19 and April 21, the next drop happened, ending in a 10.4% reduction in the price of Bitcoin. It returned to the $27,250 mark for the first time in more than three weeks after US Securities and Exchange Commission Chair Gary Gensler addressed the House Financial Services Committee. Gensler's words did not give any comfort that the agency's enforcement-driven regulation activities would be discontinued.
Not Every 10% Bitcoin Price Fall is Similar
When relative to spot markets, Bitcoin quarterly futures often trade at a little profit. This demonstrates the sellers' desire to get greater cash in exchange for postponing closure. In strong markets, BTC futures contracts are often traded with a yearly price that can vary from 5 to 10%. This condition, known as "contango," is not specific to the Bitcoin industry.
Before the March 8 drop, Bitcoin's futures margin was 3.5%, showing a modest level of safety. However, as Bitcoin's price fell below $20,000, there was an increase in negativity, forcing the signal to flip to a 3.5% discount. This behavior, known as "backwardation," is common under negative market situations.
In contrast, the April 19 correction had little influence on Bitcoin's key indicator, with the premium maintaining around 3.5% as the BTC price returned to $27,250. The 11.4% BTC drop between August 15 and August 18 is noticeably different from past incidents.
Take note of how quickly the financial derivatives market processed the surprise on August 18. The BTC futures premium quickly recovered to a 6% neutral-to-bullish level. This shows that the drop below $26,000 did not appreciably diminish whales' and market makers' enthusiasm for the coin.
The Options Market Confirms the Absence of Negative Momentum
Following the Bitcoin price fall, traders can also examine options markets to see if the recent slump has pushed professional traders to become increasingly cautious. In brief, if traders expect the price of Bitcoin to decline, the delta skew indicator will climb beyond 7%, whereas moments of enthusiasm have a -7% skew.
The index for call (buy) BTC options is -11% ahead of the Aug. 15 crash, indicating an overwhelming need. This trend shifted over the next five days, but the measure stayed in the neutral region and failed to break beyond the 7% threshold.
Closing Thoughts
Finally, neither Bitcoin options nor futures data show indicators of professional traders taking a pessimistic posture. While the Bitcoin price fall does not assure a quick recovery to the $29,000 support level, it does lessen the possibility of a prolonged decline.