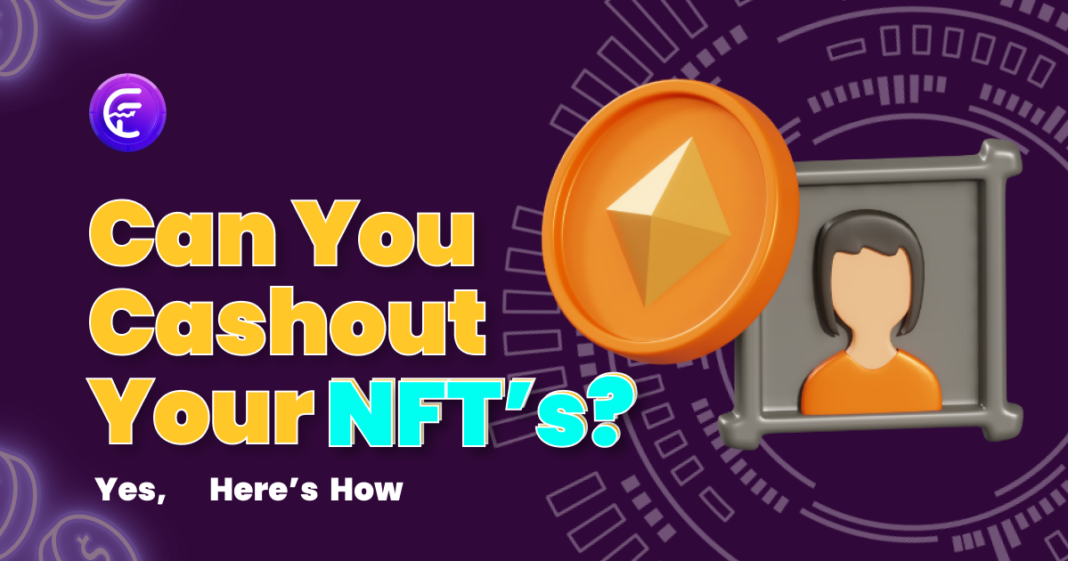 NFTs are digital assets with immense earning potential. While they have received plenty of global hype, they do offer many use cases. For one, they are unique digital non-fungible tokens that can stand as certificates representing virtual or physical assets. In this article, you will learn how to cash out NFTs. Let's get started.
What To Consider Before Cashing Out Your NFT?
Things that are one of a kind always have a high perceived value. NFTs are no different. Each NFT is unique and irreplaceable. Besides, NFTs bring real-world value to the table. For instance, you can now attach real estate properties to an NFT and transfer its ownership quickly. Further, NFT collections like VeeFriends allow owners access to conferences, making them more valuable.
You have to consider a few things before cashing out your NFT.
Purpose
Whether it's the right thing to sell your NFT depends on why you created it in the first place. If you are into trading NFTs for profit, selling will depend on the ongoing demand for the NFT.
Charges incurred
While it is great to sell your NFT for a decent profit, you should never forget that selling will incur charges. This includes transaction fees, gas fees, and royalty fees to pay the original creator. These charges will reduce your total profit amount, so always factor these in before cashing out NFTs.
How Do You Convert an NFT to Cash?
One of the most effective ways to turn your NFT into cash is to sell it through a leading NFT marketplace. Today, you have many marketplaces such as Opensea, Raribles, Foundation, and so on. Here's how you can get it done:
Step 1: Sign up for a digital wallet to do crypto transactions
To mint your NFTs, you need to make payments through cryptocurrency. So find a trusted crypto wallet to store your cryptocurrency and make the payment when the time comes. 
Once you sign up for a crypto wallet like MetaMask, you must generate a seed phrase and crypto wallet address. After you provide the requested information and note your seed phrase, your digital wallet will be ready to use. 
Next, add cryptocurrency to your wallet. Choose the cryptocurrency depending on the one accepted on your chosen NFT marketplace. Finally, link your digital wallet to the NFT platform.
Step 2: Upload the digital file and mint NFT
Log into the NFT platform, choose the file you want to upload, and turn it into an NFT. Once uploaded, you can put your NFT up for sale. For this, you must choose how to sell your NFT as a single piece or a collection.
Step 3: Set up an auction and invite bids for your NFT
In this step, you choose how to sell your NFT i.e., either through an unlimited auction, fixed price, or timed auction.
In the unlimited auction, you can let people make bids till you accept. If you choose fixed price mode, you can sell your NFT at a fixed option, just like other eCommerce sites. In the case of a timed auction, the auction will stay alive for a selected period.
Make sure you consider all the expenses incurred on the way to your NFT sale before fixing a price for your NFT.
Step 4: Input a description for the NFT
You have to give a title and description for your NFT. These are supposed to maximize your chance of making a sale. Make sure you do this after thinking it through.
Next, you can decide on the royalty fees you will receive every time your NFT is sold. The higher this amount, the more you can earn for every subsequent sale of your NFT.
Step 5: Pay the listing fee for the NFT
After uploading your NFT and filling in all essential details, you have to pay a fee for listing your NFT on your chosen platform. Plus, you have to pay an additional fee to generate the NFT. When someone buys your NFT, you have to pay a commission for the sale and a transfer fee for sending money from the buyer's wallet to yours. 
Remember, blockchains are subject to fluctuations, so all the additional fees you pay may change when you sell them.
Strategies To Cash Out Crypto Or Bitcoin
With cryptocurrencies fluctuating wildly, you may wonder how to change your crypto or bitcoin investments into fiat currencies. Well, do not worry, as there are plenty of ways to accomplish this. Here are five ways to cash out your Bitcoin or Crypto.
1. Sell your crypto or bitcoin at crypto exchanges
One of the most convenient ways to cash out your crypto or bitcoin is to sell it at crypto exchanges. Many crypto exchanges exist, such as Coinbase, Binance, and FTX, to name a few.
In these exchanges, you can exchange your cryptocurrency and get cash deposited into your personal bank account via the platform. Once that's done, you can transfer your money to your account.
2. Sell cryptocurrency through a peer-to-peer trade.
You can cash out your crypto by selling it to another person through an entity. Online peer-to-peer platforms let sellers find the best exchange offer to exchange crypto for cash. But you can also do this on your own without the need for an entity.
Binance P2P is a popular peer-to-peer platform. On this, you can find a willing buyer for your crypto and agree to trade. Binance then takes your crypto into its custody. Once the buyer releases the fiat money, Binance releases the crypto to the buyer.
3. Sell your crypto through a broker.
If your crypto is in the custody of a broker, it is easier to sell them through that broker. You can complete a trade on platforms like Robinhood and get money in exchange.
4. Trade crypto and then cash out
On some exchanges, you can convert your crypto into another crypto before exchanging it for cash. This is an indirect way to cash out your crypto or Bitcoin. For instance, some exchanges will need you to convert your crypto into a stablecoin, such as Tether, before converting it into cash. 
5. Cash out your Bitcoin at a Bitcoin ATM
Withdrawing your Bitcoin at an ATM is a direct way to cash out. You get dollars for your Bitcoin immediately without any hassles. However, these ATMs are different from traditional ones. You have to send your Bitcoin to a QR code provided by the ATM. Besides, you may have to pay a commission fee for withdrawals at a Bitcoin ATM. So consider the costs before deciding to use this pathway. 
Conclusion
As we saw, there are specific steps involved in how you can cash out NFTs. And, various fees are involved in this process. With their young history, NFTs are a volatile asset, so consider all the above factors before cashing out.
Frequently Asked Questions:
1. Can you sell your NFT for cash?
Yes, you can sell NFTs for cash. The most secure way to do so is through NFT marketplaces dedicated to NFT trading. You can set a fixed price for your NFTs or conduct an auction to find the right buyer. Once you complete the selling process, you get cash for your NFT.  
2. Is NFT money real?
Yes. NFT money is real. There are plenty of ways to earn money through NFTs. The more direct way is to sell your NFT on a marketplace. Once you sell them, you get cash in your digital wallet. You can choose to transfer this cash to your account later. 
3. What happens when you withdraw an NFT?
If you have one of your NFTs on a marketplace, you can choose to withdraw it if you no longer need to sell it. You can enter the wallet address where you want to receive your NFT. And finally, you need to pay a fee for the transfer of NFT. After this, your NFT will appear in your wallet.