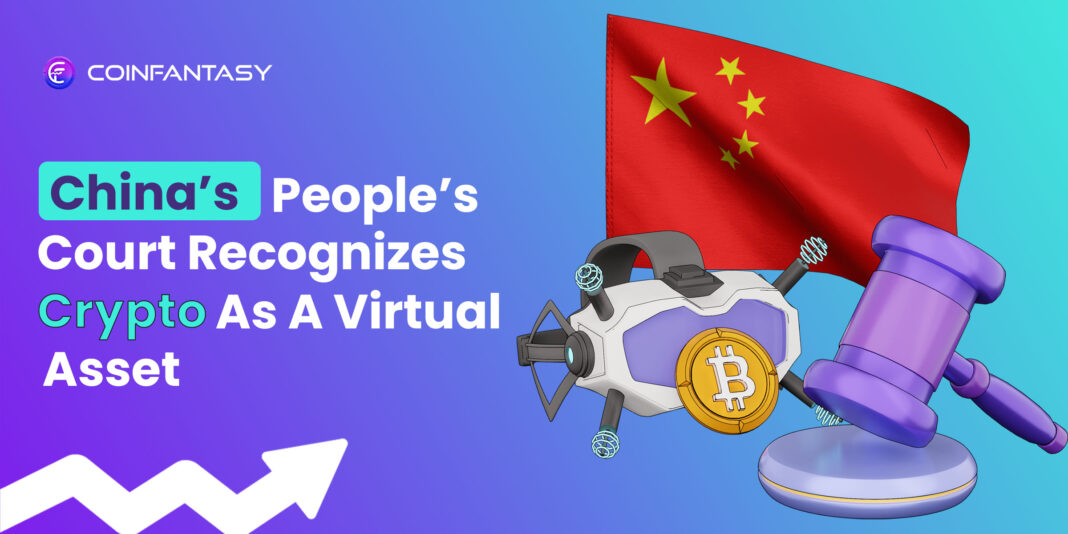 A Chinese court has acknowledged crypto as a virtual asset, based on an analysis recently released by the People's Courts of the People's Republic of China, after analyzing their qualities within the structure of Chinese criminal law.
The court declared explicitly that virtual assets are regarded as legal property under the existing legal policy framework and hence legally protected.
People's Courts of the People's Republic of China wield autonomous judicial power, free of intervention from governmental or public bodies. They are in charge of hearing civil, criminal, and administrative issues.
Property Categorization According to China's People's Court
According to Odaily News, the report, titled "Determination of the Property Features of Virtual Currency and Removal of Property Participated in the Case," specifically acknowledged the economic qualities of virtual assets, resulting in their categorization as property.
This remark is especially important in light of China's blanket prohibition on decentralized cryptocurrency. Despite this prohibition, the paper contends that people's virtual assets should be legally protected under the present legislative structure.
In addition, the study made recommendations for dealing with crimes using virtual assets. It underlined that confiscation should be based on the unification of criminal and civil law in instances involving money and property. The strategy used is to achieve a balance between protecting individual property rights and addressing greater social and public concerns.
A Controversial Method for Handling Cryptocurrency
While China has worked hard to encourage its central bank digital currency (CBDC) and the development of blockchain and metaverse-related technology within the nation, the declaration of crypto as a virtual asset seems confusing. Its position on decentralized cryptocurrencies has been problematic at best.
Its policy in this regard has been characterized by a blanket ban on crypto-related operations such as mining and trading, as well as a prohibition on international cryptocurrency exchanges servicing consumers in mainland China. Nonetheless, Chinese courts have repeatedly embraced a more nuanced approach that does not always oppose the government's position.
Various Interpretations Confuse Citizens
The gap between national policy and judicial judgments became apparent in 2019 when the Hangzhou Internet judicial determined that Bitcoin is a type of virtual property and, as such, is protected by law in terms of property rights. In May 2022, a Shanghai court ruled that Bitcoin is virtual property and, as such, is subject to property laws.
The Crypto Regulation Uncertainty is Global
Not only are Chinese courts wrestling with the issue of defining property rights about virtual assets. A case in Hong Kong concerning the defunct crypto exchange Gatecoin in April of this year led to the courts deciding that Bitcoin is property and, as such, "capable of being held in trust."
A Singaporean court ruled in July that cryptocurrency has the potential to be kept in confidence and, as such, should be considered to be property. The High Court of Justice in London acknowledged non-fungible tokens (NFTs) as property earlier this year. These cases of declaring crypto as a virtual asset have brought more confusion than good.
The Future of Cryptocurrencies in China
A Chinese court's recognition of virtual assets as legal property marks an important milestone in the cryptocurrency ecosystem. Even in the face of stringent government rules, it provides a ray of optimism for those who own virtual assets.
However, care is required since this acknowledgment may not result in an instant adjustment in government policy. The Chinese crypto business continues to confront obstacles, but this court verdict indicates a growing recognition of the economic importance of virtual assets.
The People's Court report maintains virtual assets' legal status as protected property under Chinese law. This development shows the country's persistent difference between regulatory policy and judicial interpretation of virtual assets, indicating a probable shift in the country's stance on cryptocurrencies.
Closing Thoughts
The crypto community will be watching how this legal acknowledgment influences the future regulatory framework as China grapples with the global expansion of digital currencies. While it is unclear whether considering crypto as a virtual asset will lead to more cryptocurrency adoption, it is a significant move in China's ongoing discussion over the legal status and worth of digital assets.