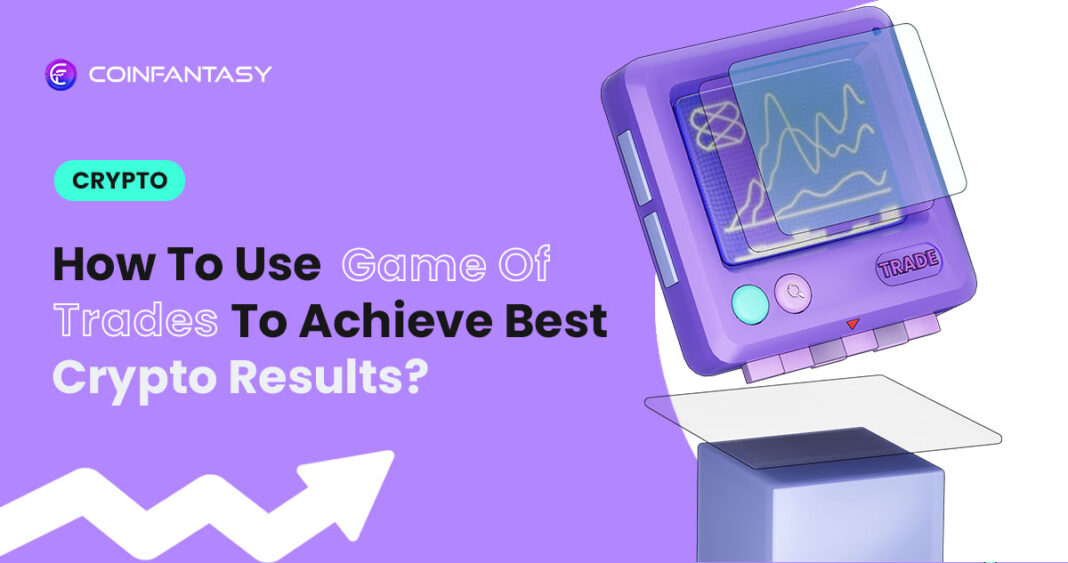 As the cryptocurrency market grows at a quick rate, the related game of trades sector is also growing at a rapid rate due to an increase in the number of new crypto traders. The crypto games not only prioritize developing newcomers' crypto trading abilities, but also provide them with a similar experience to that of trading on a real crypto exchange site.
These games will help to make you understand the risks and benefits that exist in the cryptocurrency world. Different blockchain games might help you discover the strategies of the crypto market. Choosing the best investment apps, on the other hand, can be like looking for a needle in a haystack.
If you are new to the crypto market and want to learn how to use fantasy finance to obtain the greatest crypto results, this article is for you. In this post, we will examine the benefits of playing crypto fantasy trading games as well as their applications. 
The Concept of Crypto Gaming
Game of trades is a sort of video game that integrates cryptographic blockchain technology. Within these kinds of games, blockchain features are generally employed to give cryptocurrencies or NFTs for players to purchase, sell, and trade, with the game's designer getting a share of each transaction.
In certain cases, games that use blockchain technology are referred to as "fantasy stock trading games." If you want to start investing in cryptocurrencies, blockchain fantasy finance is a great place to start.
Blockchain gaming market was valued at $4.6 Billion in 2022 and is expected to reach $65.7 Billion in 2027 with a CAGR of 70.3% in the forecast period.
The crypto games include non-fungible tokens and cryptocurrencies and have been investigated for monetization in Play or trade sports. The technology in these blockchain games allows players to trade within the game in return for their preferred cryptocurrency.
Many of these games also let players convert their winnings into cash, showing how to achieve the best crypto results by playing these games.
How Blockchain Technology Makes Fantasy Stock Trading Games Unique?
The play or trade platform will gain real-world experience in crypto trading, which is both unique and profitable.
This blockchain game has quickly garnered a large number of users. It has made learning crypto trading extremely straightforward with an uncomplicated methodology. It draws a huge number of crypto enthusiasts and provides them with the opportunity to understand all they want to know about this hobby.
To guarantee that fantasy stock traders enjoy the best possible experience, crypto gaming runs inside a decentralized architecture. It allows users to effortlessly explore so many different aspects of this website. Simultaneously, it produces superior outcomes at all phases of trading.
You won't have to worry about volatility or unpredictability since you're performing everything on a virtual platform. Furthermore, if you want extra security in this activity, the game of trades has a perfect profile.
It also operates on all potential circumstances and helps you to progress through the levels. The entire trading cycle is quite similar to the real-world cryptocurrency market. It also helps you produce amazing outcomes that back up your tactics and allow you to reassess your perspective.
You will not need to invest any money to play this blockchain game because many companies hold free contests regularly. However, you may make money by playing this game while honing your crypto trading abilities.
Reasons to Participate in Cryptocurrency Game of Trades
Provides a Simulated Environment
The crypto fantasy trading games simulate the scenario that the user would encounter when trading on a genuine crypto exchange platform. With this item, you will be instructed on the processes that you must do before joining the actual world of crypto trading.
Makes You Aware of the Existing Risks
As we all know, the crypto realm is quite volatile. There are significant concerns because of its dynamic nature. If you're new to the crypto world, you're probably unaware of the hazards involved and the extreme fluctuations in cryptocurrency prices. You will be aware of all significant concerns after playing crypto games.
Dispel the Myths About the Crypto Market
The fact that there are numerous fallacies regarding the cryptocurrency sector must be considered here. One of the most popular misconceptions is that investing in cryptocurrency can make you rich overnight.
Many people lose their hard-earned money as a consequence of such fallacies because they lack sufficient expertise. Play-to-earn games will assist in dispelling such beliefs by demonstrating that the crypto world is not a magical place where your invested funds double many times in a short period.
Why Should Traders Use Cryptocurrency Game Planning?
To maintain a disciplined and methodical approach to their trades and investments, traders should have a game of trade planning. A well-defined trading plan also helps to eliminate subjectivity from trading decisions.
Risk management measures, such as establishing stop-loss orders and selecting position sizes based on risk tolerance, are included in a trading plan. Traders may expose themselves to excessive risk or fail to execute suitable risk management measures if they do not have a strategy.
Best Crypto Game Of Trades to Achieve Great Investment Results
Are you eager to learn about the best crypto fantasy trading game after learning about so many reasons to play blockchain games? Here are the best investment apps that help you to learn about the fantasy stock market.
CoinFantasy
This decentralized invest-gaming is novel and distinctive in its own right since it gives you an immersive environment to explore the crypto market. Furthermore, by playing this game while honing your crypto trading talents, you may win massive prizes if your analysis is successful.
By utilizing the energy credits, players can start playing it for free. The player who tops the leaderboard will be considered the winner and rewarded.
The effortless integration of blockchain with regular financial procedures differentiates CoinFantasy from other P2E games. Its dedication to autonomy and an efficient, user-friendly experience have propelled it to the top of the list of the game of trades.
Trade The Games
Technoloader has launched the crypto trading game "Trade the Games" where novices may perform blockchain fantasy crypto trading to revolutionize the entire experience.
Trade the Games will provide participants with the opportunity to gain real-world experience in cryptocurrency trading, which will be both unique and profitable.
AltcoinFantasy
"Experiment with cryptocurrency trading without risk." Altcoin Fantasy is a crypto market simulator game that allows players to trade their favorite cryptocurrency while learning how to trade in a fun and easy method.
The firm is dedicated to serving as a reference center for Crypto enthusiasts all around the world. Users may learn how to trade cryptocurrency by using their free tools, which include charts, descriptions, news, videos, articles, coin trend reports, and more.
When you compete in trading competitions on Altcoin Fantasy, you gain points that can be used to purchase badges and in-game collectibles, TradingView subscriptions, and much more.
Invstr
Invstr is an investing software that assists you in making more informed decisions. The goal of the game is to instill enough trust in consumers to get them to invest.
The game aspires to be a site where individuals can go to learn about investing without feeling overwhelmed.
Vestly
Vestly is a stock trading fantasy game that allows users to discuss investment ideas in group conversations. You may play stock games and communicate with other experienced traders from across the world.
Vestly argues that we are more knowledgeable about the stock market than we realize. As a result, they've built a fascinating and engaging game in which we may learn to trade and mimic the trading tactics of other players.
To play Vestly, everyone starts with the same amount of money. You choose the three best stocks, and if they rise in value, you receive additional points. The more points you acquire, the more likely you are to win the cash reward.
How can You get the Best Crypto Outcomes from the Game of Trades?
1. Goal Establishment
To begin, if you are new to trading, you should establish your financial goals, risk tolerance, and time horizon. These elements must be properly described for your trade activity to be successful. A game of trades can be used to keep track of it.
2. Choosing a Trading Style
It is possible to identify a trading style. Day trading, short trading, and long-term investment can all be part of the strategy. The selected style should be in line with one's aims and time constraints.
3. Strategy Creation
A thorough approach must be developed. This strategy provides a market approach. A trade selection criterion must also be defined. When you play crypto games regularly, you will learn this.
4. Expectations Realistic Setting
Trading is not a sure way to make money and is fraught with danger. Realistic return expectations must be established, as well as the possibility of losses recognized. You should avoid chasing rapid profits or putting too much wealth at risk on a single crypto.
5. In-depth Market Analysis
To uncover possible trade prospects, you must undertake extensive market research. If they are part of your strategy, you should study charts, market movements, and news and economic data. This can be trained from a game of trades.
6. Development of Risk Management Rules
Risk management methods should be undertaken to protect money. Allocate a proportion of your portfolio to each trade and stay within the amount you've established that is appropriate for your account. This sum should be the same as the amount you are willing to lose per deal. Use stop-loss orders to minimize possible losses and set explicit take-profit objectives to secure profits.
7. Trade Management Method
It helps to plan how you will handle available roles. You must decide whether to alter stop-loss orders, accept partial profits (perhaps using trailing stops), or leave the trade completely.
8. Trading Discipline Upkeep
Stick to your trading strategy once you've practiced it down. Avoid scenarios when you leave your trading plan hastily because the market generates an emotional response from you, such as fear or greed. When executing and exiting transactions, teach yourself to be disciplined and consistent.
9. Trade Analysis and Monitoring
A thorough record of trading activities, including entry and exit locations, reasons for trading, and outcomes, is required. To become a competent trader, you must assess and evaluate your deals regularly. Your previous transactions will be evaluated and reviewed, allowing you to see patterns, strengths, and places for growth. It can be achieved with the help of a game of trades.
10. Ongoing Education Training.
Keep up with market movements, economic news, and new trading strategies. To improve your knowledge and abilities, play fantasy games regularly. It will improve your investing and trading knowledge.
Advantages of Crypto Games In Crypto Results
Improve Your Learning Capability: The biggest advantage of this sport is that it trains your brain. It boosts both short-term and long-term memory. You may also search through vast volumes of data.
Improved Decision-Making Capability: You will learn to make rapid judgments as well as assess strategies for future activities. It is beneficial to people of all ages.
Obtain a Realistic Sensation: This style of game is particularly realistic since it combines real-time decision-making and player cards with genuine numbers.
Assist with Ineffective Planning: You will learn to organize your actions and obtain the desired results by playing these games.
Earn Real Money & Prizes: You may win tournaments by using a referral scheme in fantasy games. It will be a fantastic sensation when you earn your first cash.
Closing Thoughts
So, what are you waiting for? It's time to explore the game of trades to enhance your cryptocurrency trading and make money just by playing. The best investment apps will educate you on how to invest and manage your portfolio. The things mentioned above will help you train yourself the best in the crypto market.