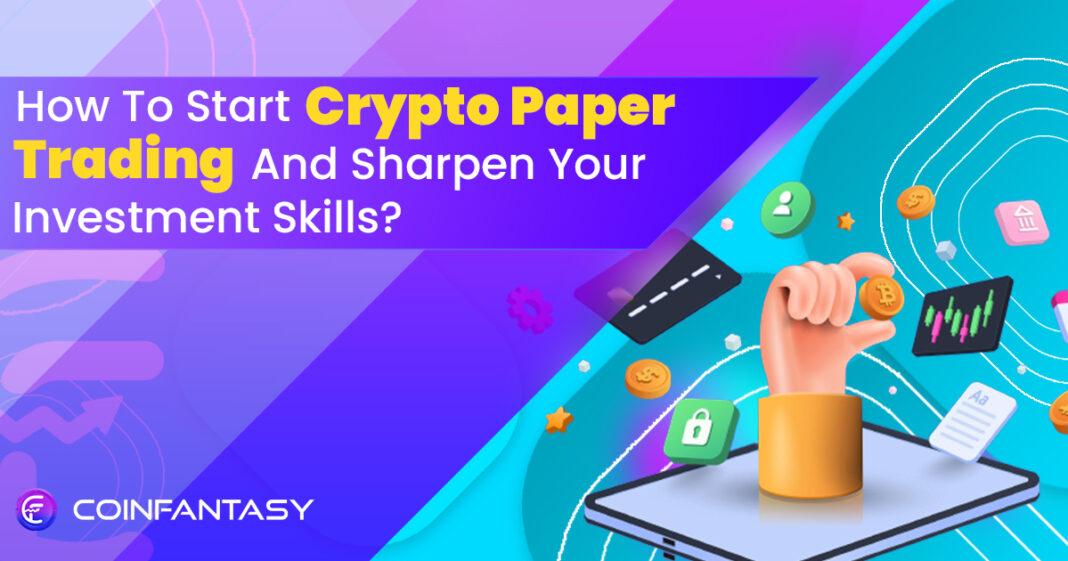 Cryptocurrency has emerged as a new and exciting asset class for investors looking to diversify their portfolios. Even the most seasoned investors may find investing in cryptocurrencies difficult due to their complexity and extreme volatility. Crypto paper trading becomes useful in such situations. Paper trading options are a way to test out investment techniques without putting actual money at risk. Before investing with real money, it enables investors to test their hypotheses, hone their abilities, and learn from their failures.
For inexperienced investors who are new to the world of cryptocurrencies, the paper trading app might be a useful tool. They may learn how the market functions and refine their investing strategy by using paper trading. For people who are afraid to invest real money, this form of trading is very helpful since it enables them to boost their confidence in their trading skills without having to risk any real money.
If you're looking to learn how to start trading cryptocurrency on paper trading, then you've come to the correct place. We'll take you through the basics of paper trading and offer some typical pitfalls to avoid as well as advice on how to trade papers effectively.
Understanding the Basics of Crypto Paper Trading
Before making actual investments in the cryptocurrency market, investors often train and hone their abilities through paper trading. Without really risking their funds, it enables investors to replicate real trading scenarios using virtual currency. To put it another way, it is a style of trading that entails learning using a practice account, placing trades with fake money, and monitoring results the same way one would with a real account.
Learning about trading tactics, market analysis, and risk management procedures through cryptocurrency paper trading is highly recommended. It enables investors to explore numerous investing techniques in a risk-free setting while experimenting with various trading philosophies. Through paper trading, investors may hone their abilities and boost their confidence in their trade in real market conditions.
Investors must choose a platform that offers a virtual trading account with all the features of a genuine trading account to begin paper trading. To provide traders with a more realistic trading experience, some platforms provide extra features including historical data and real-time market pricing. Paper trading allows investors to test out various cryptocurrencies, exchanges, and wallets, which can help them make better-educated investment decisions.
Benefits of Crypto Paper Trading for Investment Skill Development
Risk-free Learning: The main advantage of paper trading in cryptocurrencies is that it enables traders to hone their skills and tactics without having to risk any real money. Investors may try out various investing methods this way and learn from their failures without worrying about the financial ramifications.
Real Market Conditions: Paper trading on cryptocurrencies replicates real market circumstances and gives investors a taste of how the market works in the present. As a result, investors may gain insightful information about market patterns and improve their comprehension of how bitcoin trading operates.
Access to Data: A lot of paper trading platforms provide users access to previous trade data, enabling users to examine prior market trends and spot patterns that may be significant for upcoming investing decisions.
No Time Constraints: Unlike actual trading, paper trading does not have any time limits, allowing investors to take their time to research the market and make educated investment decisions without any pressure.
Test Investment Approaches: With cryptocurrency paper trading, investors may test a variety of investing approaches, including technical analysis, fundamental analysis, or a mix of the two. Investors may use this to determine the best trading techniques for their risk tolerance and financial goals.
Top Crypto Paper Trading Platforms to Try Out in 2023
CoinFantasy: CoinFantasy is a well-known tool that enables users to practice trading with funds in a risk-free setting. As the world's first invest-gaming platform, it provides a range of trading tools and features, including real-time market data, a configurable dashboard, and the capacity to try the volatility of numerous cryptocurrencies at once. They also organize curated games to gamify crypto learning.
TradingView: Paper trading is one of the many financial techniques available on TradingView, a comprehensive platform. It is a great choice for investors who want to test out their investment strategy since it provides access to real-time market data, charting tools, and technical analysis.
eToro: eToro is a social trading platform that provides cryptocurrency paper trading. It offers a variety of tools and features to assist users to refine their investment abilities and enables investors to practice trading with a virtual portfolio.
CryptoSim: The user-friendly software CryptoSim provides paper trading for a variety of cryptocurrencies. It's a great choice for investors searching for a clear and uncomplicated platform because it offers a configurable dashboard, real-time market data, and the capability to create personalized alerts.
BitMEX: A trading platform that provides paper trading for several cryptocurrencies is called BitMEX. It gives access to real-time market data, configurable dashboards, and a range of technical analysis tools, making it a popular alternative for more experienced investors.
How Crypto Paper Trading Eases the Burden on Real Investment?
While switching from paper trading to actual investing, bear the following in mind:
Start Small: When making the switch to actual investments, it is crucial, to begin with a modest quantity of money. Investors will benefit from this by becoming more market-savvy and gaining confidence in their investment choices without taking on excessive risk.
Keep Up with Market News: The cryptocurrency market is always evolving, so it's critical to remain current on news and trends. To keep updated, investors should read news stories often, follow industry leaders on social media, and sign up for newsletters.
Practice Risk Management: While investing in cryptocurrency, risk management is essential. Diversify your holdings, place stop-loss orders, and don't invest more than you can afford to lose.
Be Ready for Volatility: Due to the significant volatility of cryptocurrencies, investors should be ready for abrupt price changes. It is crucial to maintain composure and refrain from making snap judgments motivated by feelings.
Wrapping Up
In conclusion, crypto paper trading is a great approach to practicing investment, establishing trading plans, and gaining knowledge of the cryptocurrency market. Without the threat of losing actual money, it enables investors to try out various strategies and learn from their failures to determine what works best for them. Also, it is now simpler than ever for investors to begin paper trading in cryptocurrencies thanks to the availability of several online platforms.