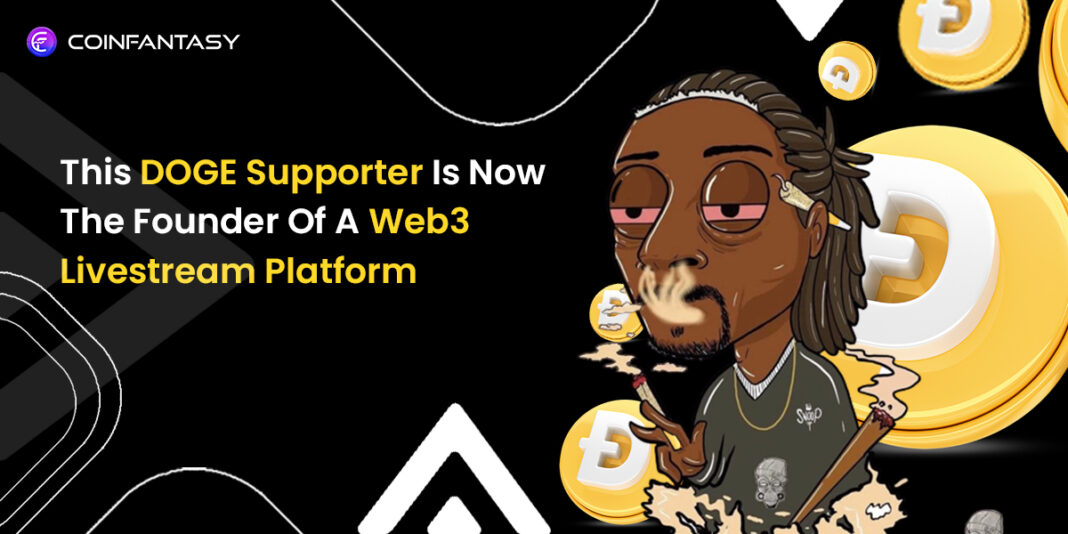 Rapper Snoop Dogg has been named as one of the co-founders of a soon-to-be-launched Web3 livestream platform. The motto of the platform is to let content producers accept tips from their followers in cryptocurrency and NFTs.
A Web3 livestream platform called "Shiller," which will link developers of nonfungible token (NFT) projects, musicians, and businesses with their "Enthusiasts" is about to be introduced by the American rapper. Shillers may be compensated in NFTs using cryptocurrencies that may then be converted to money.
"I can't wait to work with Sam to introduce Shiller to the world. With the help of this app, creators may effectively monetize their material and contact their audience in novel ways. As you all know, I always believe in directly with my followers on my terms, and Shiller is ideal for that," said Snoop Dogg.
Snoop Dogg collaborated with Sandbox metaverse to launch the "Snoop Avatars" NFT collection in April last year. He also released the hip-hop single "A Hard Working Man," followed by a 50,000-piece NFT drop.
At the MTV Video Music Awards on August 29, the rapper collaborated with Yuga Labs, the group behind Bored Ape Yacht Club (BAYC) and CryptoPunks, to perform on a stage with been turned into the metaverse.
Recently, Snoop Dogg also joined forces with the cryptocurrency casino Roobet, where he would act as its "Chief Ganjaroo Officer."
Launched with a focus on Web3, Snoop Dogg's "Shiller" livestream platform!
Shiller, a ground-breaking Web3 livestream platform designed with web3 creators in mind, was introduced by Snoop Dogg. By the use of web3 technology and real-time, interactive video and audio streaming, Snoop Dogg and Sam Jones have created a one-stop shop for monetizing content and engaging audiences. Thanks to Shiller, creators can connect with their followers and monetize their content in new ways.
The Web3 livestream platform acts as a one-stop shop for creators looking to interact with their audiences utilizing the best web3 technology. Likewise, NFT initiatives, artists, businesses, and influential people will all have the chance to make money from their fan bases and interact with them.
Shiller is the ideal platform for artists, innovators, project owners, and enthusiasts alike because it allows for creating a secure community via NFT ownership. Ultimately, Shiller serves as a venue for like-minded people to interact.
"Our collaboration seems right, and together, we will indeed pave the way for the next generation of online entertainment. I've been referring to Roooooo for a while because they offer the best player experience; we enjoy trying new things and care about our fans. As a result, when we work together, we'll change the game and make it even better than ever before, said Snoop Dogg.
Social Creation Movement
Shiller's debut is part of a more significant creative economy movement in which Web3 will likely play a role.
A few social media giants, pushed user-to-user interactions, while "Web1" allowed users to write HTML and consume content.
The "Web3" movement seeks to transform these middlemen by giving content creators full control over their results and the revenue that results from them.
Decentralized messaging services are also indeed starting to appear, with one named "Damus" aiming to "destroy Twitter."
On February 1, the Jack Dorsey-backed "Damus," based on a decentralized network that allows an encrypted end-to-end private messaging network "Nostr," was live on the Apple App Store.
The platform has indeed built-in Lightning network Bitcoin (BTC) payments.
The Bull Effect on Doge
The world's richest man, Musk, has recently mentioned Dogecoin in several tweets. "Snoop Doge" was used to pin a tweet by Snoop Dogg. Simmons, a member of the American rock group Kiss, brought up the potential profits people would have realized if they had bought Dogecoin sooner.
After Elon Musk, Kiss rocker Gene Simmons, and American rapper Snoop Dogg all tweeted a meme of a Shiba Inu, the dog species that stands in for the DOGE token, the price of the meme cryptocurrency dogecoin (DOGE) jumped more than 55% on Sunday, establishing a new all-time high.
The price of the cryptocurrency began trading at roughly $0.056 at the start of the day. It increased to $0.0872 on Sunday afternoon before falling back to $0.084 on Monday morning, up 55% in the previous 24 hours and surpassing the previous record high of $0.078 established late last month. DOGE has increased by about 1,380% so far this year.
Wrapping up
Shiller's debut is to broaden the creator economy, where Web3 will play a crucial role. The Web3 movement will do away with intermediaries by giving content producers ownership over their creations, unlike Web1 and Web2, where social monopolies like Facebook and Google controlled the creator economy. The monetization process will also be decentralized.