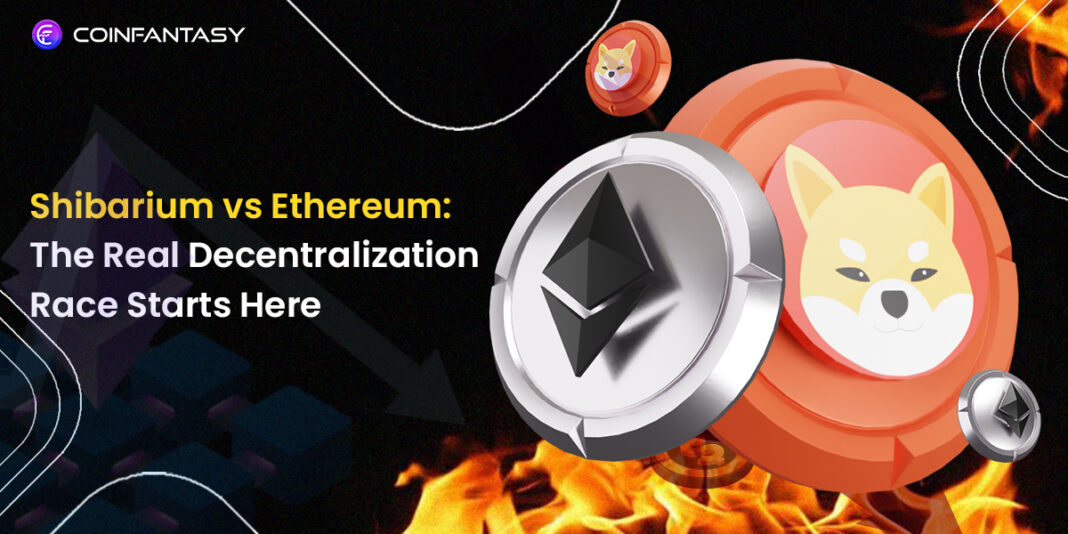 The competition between decentralized systems is always intensifying in the cryptocurrency sector. Although the Shiba Inu upgrade has lately entered the market, Ethereum has long held the top spot. Know how Shibarium vs Ethereum is attracting people into this conversation.
Shibarium, a layer 2 (L2) scaling solution developed by Shiba Inu, may eventually become more decentralized than Ethereum. Unification, the company responsible for developing Shiba Inu, has this as its goal.
Developers of Shibarium are Unfazed by Accusations
According to reports, there have been allegations on the Shiba Inu Discord claiming that the developers of Shiba Inu took a fast cut by using the same chain ID as the Rinia blockchain. When former developers came out to report unexpected changes to the code, the discussion became even more chaotic and heated. Importantly, these developers were laid off later.
Nonetheless, these accusations did not faze the Shibarium creators. The same applies to several initiatives created around Shiba Inu (SHIB). Shiba Inu's lead developer, Shytoshi Kusama, revealed that as of March 30, 500 validators had indicated an interest in joining the network, one of the many noteworthy events on the Shiba Inu upgrade.
Unification has disclosed ongoing plans for a cutting-edge wallet for Shiba Inu holders.
The Dissimilarities Between Shibarium vs Ethereum
Shibarium and Ethereum are both decentralized systems; however, their architecture and functionality differ significantly from one another.
First, the upgrade uses the Proof of Stake (PoS) consensus algorithm, while Ethereum still uses the Proof of Work (PoW) consensus algorithm. The PoS algorithm is more energy efficient and more efficient than PoW, which requires high computing power and energy to validate new blocks on the blockchain.
Second, Shibarium is designed to be cheaper and faster than Ethereum. Transaction fees on the Shiba Inu upgrade are much lower than on Ethereum, which is a big problem for users and application developers on Ethereum.
Third, layer-2 has a much larger supply of tokens than Ethereum. The total supply of SHIB on Shibarium is over 1,000 trillion, while the total supply of Ether on Ethereum is only 115 million. However, this can also be a drawback, as a large supply can significantly decrease the token's value.
Advantages and Risks of Using Shibarium
Lower transaction fees and quicker transaction times are two of Shiba Inu update's key benefits. Users may now transact more easily, while developers can create decentralized apps without worrying about paying exorbitant costs.
The SHIB value, which is extremely unstable, poses the most risk while utilizing the upgrade. Investors may suffer significant losses due to the SHIB's recent sharp rises and fall in value. Shibarium is a relatively new substance; thus there are also a lot of risks and unknowns attached to using it.
Attention #SHIBARMY 🚨

We're thrilled to announce that #SHIBARIUM Public Beta will be launching THIS WEEK! 🎉

Make sure you're following our official socials over the next few days as we reveal all the details on how to access the beta website. Hail Shib! #ShibariumBeta 🦴 pic.twitter.com/ZsgEm3AjPH

— Shibarium Network (@ShibariumNet) March 7, 2023
Shiba Inu Price Prediction
Shiba Inu (SHIB) holders have seen an up-and-down year, with a bullish rise in January immediately followed by a downward trend in February and March.
The bulls and bears have been competing for control of the SHIB price as it has been consolidating just above the $0.000010 mark during the past week. As a result, the coin is having trouble determining its course, which causes erratic intraday price changes.
Investors have started seeking alternative projects with stronger long-term prospects due to SHIB's continued volatility. Love Hate Inu (LHINU), which has raised an incredible $2.5 million in financing since its presale began on March 7, fits the bill in that regard.
Shiba Inu's technological prospects could be better right now, but a few project upgrades might cause a turnabout. The imminent launch of the "Shibarium" network, Shiba Inu's layer-2 scaling solution for Ethereum, is the most urgent of these.
On March 11, the "Puppynet" testnet for this scaling method was launched, and it has been a huge success. About 700,000 transactions have reportedly been performed in the last three weeks, which is encouraging for the main net's launch later this year.
Owners of Shiba Inu are really enthused about the Shibarium network since it appears likely to redefine what SHIB is genuinely all about. The launch of the upgrade should make sure the token has legitimate use cases that encourage long-term positive momentum rather than being perceived as just a "meme coin."
Conclusion
Shibarium is a fascinating new player in the decentralized cryptocurrency space. The upgrade, which is based on the Shibasu blockchain, provides Ethereum with less expensive transaction fees, quicker transaction times, and a more energy-efficient consensus process. The SHIB value's extreme instability and inability to accurately forecast risk tendencies pose the main risk associated with employing the network. These factors are driving major competition between Shibarium vs Ethereum.