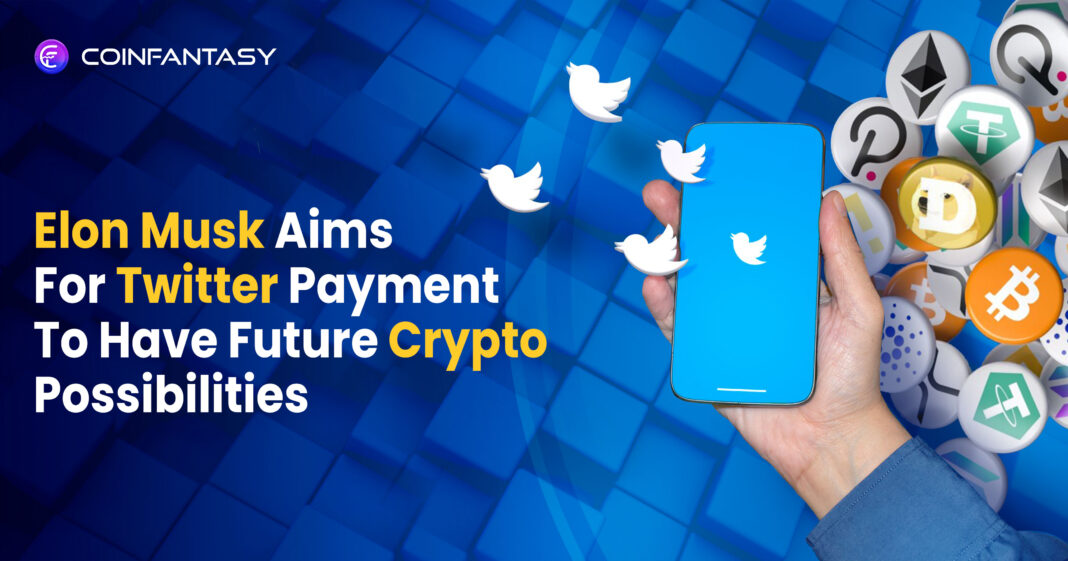 To build a "one-stop-shop" app for everything, Twitter CEO Elon Musk intends to include payments to the platform. To head a team in developing the payment architecture, Esther Crawford has been named CEO of Twitter Payments LLC.
Musk has advocated for Twitter to accept cryptocurrency payments. In his first all-hands meeting with Twitter's staff, he stated, "My goal would be to maximize the usefulness of the site."
Leslie Berland, head of marketing at Twitter, concerning Twitter and payments, questioned Musk. The Tesla CEO said, "Money is intrinsically digital," and added, "really a type of information."
Spam Accounts and Crypto Scams
Berland also questioned Musk about various Twitter problems he has noticed. The CEO of Tesla retorted: "Bot accounts and spam accounts on Twitter are undoubtedly a constant problem. On Twitter, there are a lot of cryptocurrency frauds."
He said it has improved, but there is still a significant amount of that. Other persons may be functioning but aren't necessarily bots. One person is running hundreds of accounts while attempting to make them appear to be unique people, but they aren't.
Tesla, where Musk previously experimented with cryptocurrencies, announced plans to start accepting Bitcoin as a form of payment in February 2021 and purchased $1.5 billion of the digital asset. During a discussion on the social networking platform Clubhouse, Musk also referred to himself as a "supporter of Bitcoin."
After Tesla sold out 75% of its Bitcoin holdings in the middle of the 2022 cryptocurrency bear market, his perspective changed. Musk's enthusiasm for the technology may return despite his change, given Twitter's foray into payments. Tesla continued to possess about 10,000 Bitcoins, which at the current pricing would be worth roughly $230 million when it announced its fourth-quarter profits last week.
According to multiple sources, Musk has said that the system should be designed so that crypto capabilities might be added in the future. However, it should ideally work via fiat initially. Musk stated that his goal for Twitter is to generate around $1.3 billion in payments revenues by 2028 in a pitch deck provided to investors as part of the acquisition agreement in May.
However, the road ahead is by no means simple for Twitter as there is fierce competition in the payments sector from well-established businesses like Venmo, Zelle, and Cash App. Due to this, several payment specialists are skeptical about the social media platform's ability to scale, particularly in the
Dogecoin's (DOGE) Value Increases
Within minutes of the news, the price of Dogecoin increased by 7% due to the financial world's excitement over Twitter's ambitions to integrate payments on its platform.
Investors and cryptocurrency aficionados have been speculating as the social media giant moves to implement payments. Excitement has been further heightened by Esther Crawford's hiring as CEO of Twitter Payments LLC and the beginning of the process of acquiring necessary regulatory licenses across the US.
The price surge that followed the disclosure of Twitter's plans only fueled the recent growth of Dogecoin, a cryptocurrency with meme inspiration. Many people are thrilled about the possibility of Twitter providing a compelling payment platform, even though the transition into payments is challenging.
Would Elon Musk Be Able To Turn Twitter Into A Web 3.0 Company?
The main drivers of Web 3.0 are NFTs and blockchain platforms. Twitter already supports NFT profile images, so just a few changes are needed for it to become a genuinely influential Web 3.0 corporation.
Head of consumer product marketing at Twitter, Justin Taylor, revealed a project in September that would let users validate NFTs and show off their collection of NFTs on their profiles.
As businesses that advertise on the network directly impact Twitter policy, Elon suggested doing away with ad-based revenue to make Twitter a truly free social media platform. He told me a $2 monthly subscription that would be paid yearly and allow for dogecoin payments. At a hands-on meeting for Twitter in June, Elon said that at that moment, and has been for some time, money is basically digital. 
Elon Musk is actively advancing AI technology and just unveiled Optimus, a humanoid robot. It's impossible to say with this Twitter acquisition if he wouldn't employ AI to tackle the bots that have ruined the Twitter experience for months. Artificial intelligence's usage to enhance user experience, security, and data privacy is also strongly related to Web 3.0.