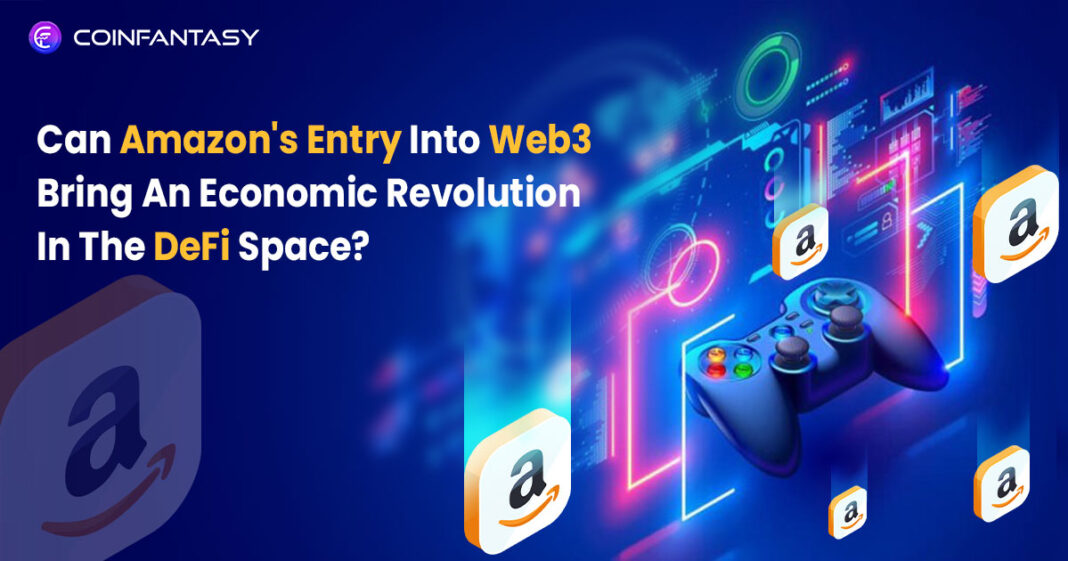 The world's biggest online retailer Amazon Inc. is preparing for "Amazon's entry into Web3", which will use non-fungible tokens (NFTs). According to a report, the project's essential part will be Web3 gaming, and gamers will receive NFTs as rewards. The report further suggests that Amazon is still in its early phases of web3, and the company plans to announce it in April officially.
Although still unclear, it is said that this is simply one of Amazon's Web3-focused projects. But over the past few years, the eCommerce giant has significantly increased its focus on digital assets. VeChain and Amazon collaborated last summer to enhance the technology's scalability, security, and other features.
What is the NFT Space Amazon is Launching?
Later definitions of Amazon's NFT initiative are required, but it is said to be a "digital assets enterprise." The venture is anticipated to concentrate on blockchain-based gaming that pays players in NFTs. 
The business has also been researching layer-1 products, blockchain gaming start-ups, and digital asset exchanges in addition to digital collectibles and other web-3 items. Over the upcoming months, the public anticipates learning more about Amazon's NFT initiatives.
With Whom Does Amazon Partner Up?
The company that created the Avalanche blockchain, Ava Labs, collaborates with Amazon. Ava Labs revealed plans to include a Subnet launch for Amazon's NFT plans in a press release.
This action undoubtedly demonstrates the increased interest that leading companies across various industries have shown in blockchain technology. Ava Labs' technology has also made it simpler for businesses to access and use blockchain technology.
Ava Labs, the company behind the Avalanche blockchain, and Amazon have a collaboration that makes Amazon's entry into the Web3 market easier. Solid hopes for the retail behemoth to establish itself in the web3 market due to a substantial entry by the e-commerce giant into the NFT globe.
The NFT project might start operating as early as April of this year.
Few reasons!
Amazon is in a unique position to provide consumers with an easy, streamlined onboarding procedure that might allow them to purchase common home items with the click of a cryptocurrency button.
Amazon might offer information on the advantages of using cryptocurrency. Customers will feel more at ease using cryptocurrencies for transactions with more knowledge.
Amazon first expressed interest in Web3 technology when it offered blockchain-related employment positions for the AWS team in the spring of 2022.
NFTs are discussed in a new documentary series called "NFTMe" which was released by Amazon in December 2022. In the series, artists, collectors, and business executives from around the world discuss their encounters with NFTs and how the fusion of this technology has improved their quality of life.
Other Companies Entering the Web3 & Crypto Space
Sony's idea for a non-fungible token platform was revealed in a patent application in November, and the investment firm Fidelity also suggested that it intended to foray further into cryptocurrencies and Web3.
Nike also made it big with its shoe-focused NFTs, generating $185 million in sales just in August. Early in 2023, Porsche appeared to have less success with its NFT collection based on the legendary 911 model, but despite an untimely mint stop on January 25th, its volume did hit $5 million on that day.
Final Note
Blockchain-based gaming and NFT collectibles are apparently among Amazon's Web3 goals. Whilst the project is still in development, the sources Blockworks spoke with stated that an April launch appears to have already been "pitched in".
It is yet unknown whether Amazon intends to build a marketplace, but given its size, scope, and reach in the eCommerce space, any moves made in that direction by the Seattle-based giant would rock market leaders like OpenSea or Rarible.