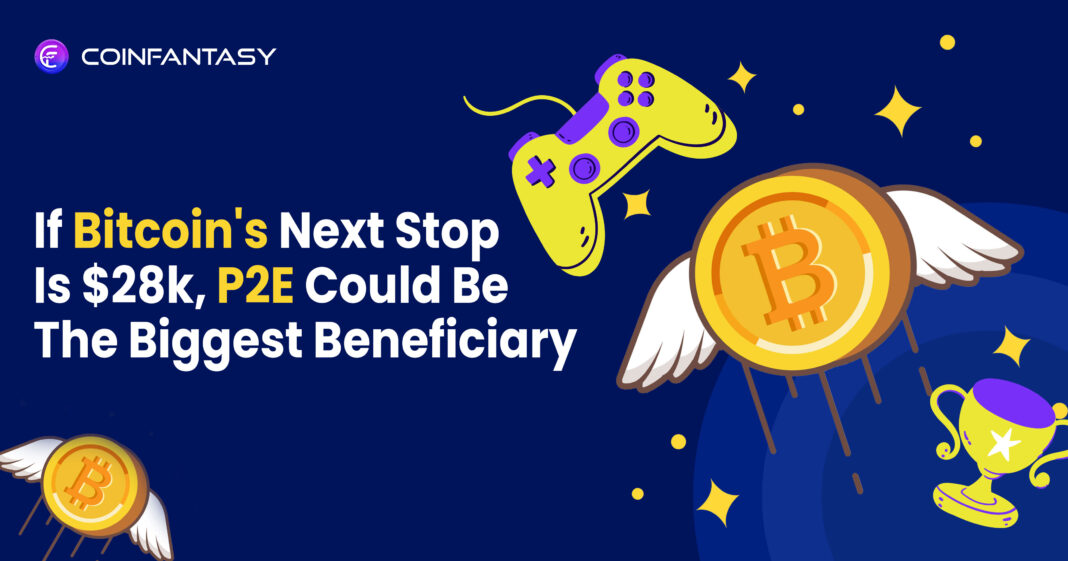 As cryptocurrency prices rise, we are also witnessing a very strong rebound in the play-to-earn market as players rush back to GameFi to start making money from what they love doing the most. P2E market leaders have performed much better than Bitcoin's 40% price growth over the past month.
Since the beginning of the year, Bitcoin has experienced a remarkable rise and has increased by 40% over the last 30 days. The top-ranked cryptocurrency was only worth $16,500 at the beginning of the year, but the recent market upswing allowed it to surpass $20,000 and get close to $24,000 this week.
With more miners online due to the recent Bitcoin boom, the difficulty of virtual mining gold has reached an all-time high. This week, the difficulty level had the second-largest positive adjustment in more than a year to achieve a new record-high level, substantially boosting the network's security. This is primarily due to increasing prices, which means that miners are earning more money and can afford to reactivate more mining equipment.
One new P2E marketplace is prepared to transform the video game industry. The theory underlying play-to-earn, according to this new effort, is fundamentally incorrect because users tend to stop participating when the benefits run out. Additionally, this new effort aims to restore gaming's fun by prioritizing it in the gaming ecosystem over earning mechanics.
What Is Driving Bitcoin's Market Price Now?
The drop in November has left cryptocurrency prices still in remission. Bitcoin prices are still low even if they have improved since last month.
Major crypto exchange FTX, once a rising star in the cryptocurrency industry, filed for bankruptcy on November 11. Evidently, the crypto market has been significantly impacted by this. BlockFi, another significant cryptocurrency exchange, and lender, filed for bankruptcy a few weeks ago.
Over the past six months, Bitcoin has only briefly risen, and it hasn't reached $50,000 since December 25, 2021. Despite the fluctuations, bitcoin's current price is still a considerable distance from its most recent record high, reached in November 2021 when it surpassed $68,000. Bitcoin is still worth more than twice as much as it was just a few years ago, despite the current price decrease. These variations in price are nothing new for bitcoin.
American Businesses are Betting on Bitcoin
Markus Thielen, the director of research at the company Matrixport, claims that institutional investors in the US accounted for 85% of recent bitcoin acquisitions (US).
According to these statistics, businesses do not appear to be "given up on cryptocurrencies." According to Thielen, this suggests that we might be entering a new "bullish crypto market."
The rise in the price of BTC in the initial month of the year and the overall recovery of the market caused the Fear and Greed Index, a metric that measures overall market sentiments towards bitcoin, to move into the "greed" zone for the first time since March 30, 2022.
Due to the protracted bear market and the multiple industry bankruptcies and scandals, including the collapse of FTX, the index, which serves as a gauge of investors' current feelings towards the digital asset, remained in "Fear" or "Extreme Fear" area for a number of months.
Will Cryptocurrency be the Future of Finance?
According to the report, 53% of Americans, including 59% of Democrats and 51% of Republicans, believe that cryptocurrencies will play an increasingly important role in financial services in the future. Democrats and Republicans both concur that bitcoin is a topic that is becoming more important and that there should be adequate regulation.