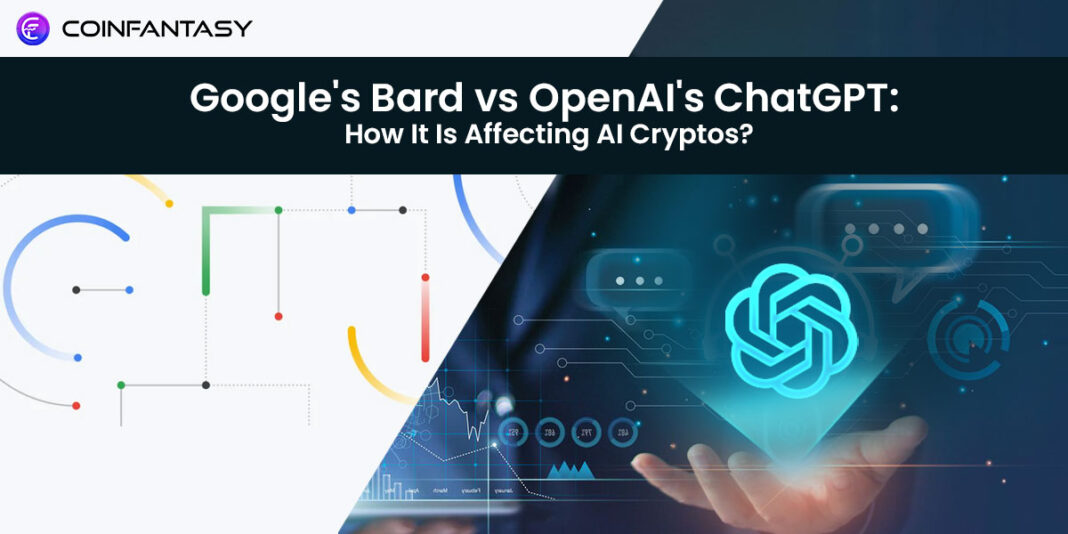 Since the ChatGPT and Bard chatbots' developed by OpenAI and Google became internet sensations and generated excitement about AI's possibilities, the value of digital assets with an AI focus has skyrocketed.
Over the previous week, almost all of the tokens included in the AI category recorded at least double-digit gains. Over the last seven days, SingularityDAO increased by 138%. SingularityNET increased by 126% throughout that time, while Artificial Liquid Intelligence increased by 87%.
According to Wilfred Daye, the former CEO of digital asset management company Securitize Capital, people are simply riding the tide of AI technologies. He mentioned, "The phenomenon can continue for as long as the feeling persists."
The phenomena reached an extreme on Tuesday when the price of ARPA, the cryptocurrency used by the privacy-focused network of the same name, increased by more than 10% in a single hour. Unknown is the precise cause of the price increase. However, Crypto Twitter pointed out that the unexpected price increase only occurred after Felix Xu, the co-founder of ARPA, tweeted a two-year-old news release about the project's machine learning collaboration with a group led by Alibaba Group Holding Ltd. in a now-deleted tweet on Tuesday.
We have seen it time and time again throughout history, whether it is by adding.com to your name or, more recently, by using a Bitcoin or cryptocurrency," he said. The most reputable company in the bitcoin market flopped along with several other significant players, upending the industry last year. For those who are speculating, combining the fad strategies of the equity market with the already wildly speculative crypto market is a prescription for disaster.
What concerns exist as the competition to create AI-based generative chatbots heats up?
While intriguing and elegant, the text production software from Google and OpenAI can be wildly inaccurate, according to experts. Real-time Internet searches that can turn up hate speech, racial and gender stereotypes, and other offensive material could cause issues and dull the appeal of these new devices.
Trading and investment are two important areas where ChatGPT & Bard connect with cryptocurrencies. ChatGPT & Bard can indeed be utilized to produce highly accurate and pertinent research and can indeed be used to offer real-time trading and investment suggestions to cryptocurrency investors. Investors may feel assured in the protection of their capital and security transactions by utilizing the transparency and security of the blockchain.
This can be especially helpful for companies in the cryptocurrency industry since sustaining client trust, and happiness depends on quick responses and accurate information.
In outcome, the nexus of ChatGPT & Bard and cryptocurrency creates a significant potential for companies and individuals to take advantage of cutting-edge technology and financial innovation to enhance their operations and safeguard their financial future. Cryptocurrency and ChatGPT & Bard are potent tools you should consider whether you're trying to invest in cryptocurrencies, automate your payment processes, or improve customer service.
What's the impact of Google's decision on the AI crypto market?
The AI crypto market has been significantly impacted by Google's recent move to forbid cryptocurrency-related marketing. The prohibition was implemented to safeguard consumers from deceptive and fraudulent crypto-related content, but it also unintentionally had an impact on respectable AI crypto ventures.
The ban's immediate impact on the AI cryptocurrency market has been to make these projects less visible. The prohibition on Google, one of the most extensive ad networks in the world, has restricted the exposure of AI cryptocurrency projects, making it more challenging for them to attract users and investors. As a result, fewer individuals are aware of these projects, which has decreased the AI crypto industry's potential for overall growth.
The AI crypto community is extremely inventive and versatile despite these difficulties. Alternative methods of reaching users and investors are being used by many projects, including influencer marketing, social media campaigns, and community-building activities. Additionally, the potential for AI to completely transform the financial sector and the growing interest in blockchain technology continue to be significant factors in the development of AI-based cryptocurrency initiatives.
The embargo is also slowing down innovation, which has an impact on the AI cryptocurrency market. Few people are aware of AI crypto initiatives; therefore developers are under less pressure to offer fresh, cutting-edge solutions. This might impede the growth of the AI cryptocurrency sector and make it more difficult for it to seize untapped business prospects.
The Google restriction has undoubtedly had an influence on the AI crypto business, but it hasn't been disastrous. The potential of this expanding industry is continuing to drive the creation of AI cryptocurrency initiatives, which are discovering new methods to connect with users and potential investors. Although the future of this sector is clearly bright and there will be many new breakthroughs to look forward to, it is still unclear how the AI crypto community will develop in the years to come.