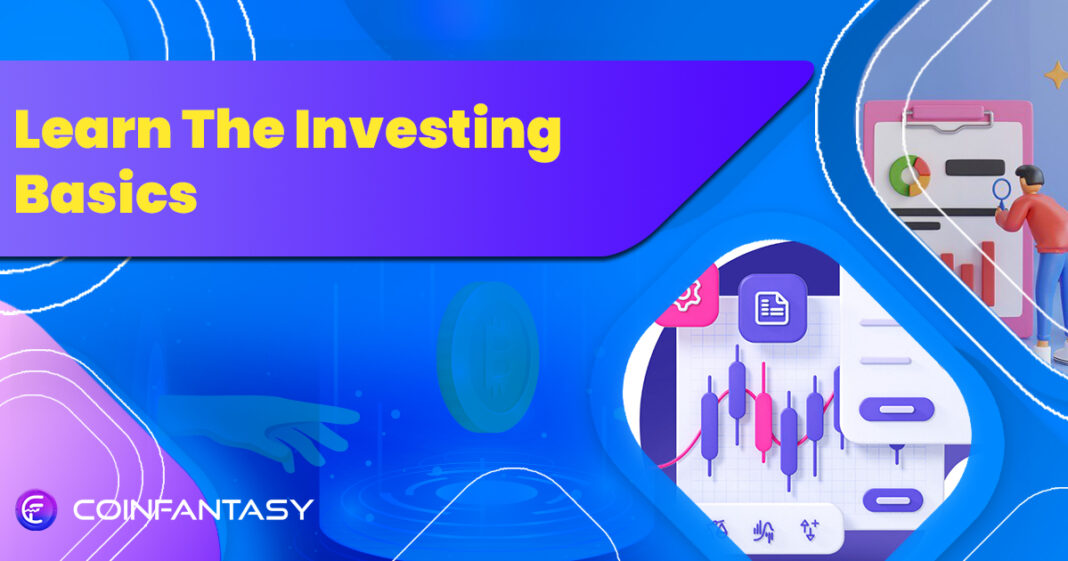 You've undoubtedly noticed that the gaming business is undergoing a transition right now. On top of this evolution, crypto games have found an iconic place. They are educating crypto investors with investing basics. Trading also involves learning a lot about investing for beginners and crypto games do exactly that. 
Blockchain gaming is a rapidly expanding sector that provides gamers with a new and secure method of buying coins, trading, and selling gaming assets. This informative investing tips for beginners article will help you learn more about investments in crypto gaming.
Know, What Is Crypto Gaming
Typical games are centralized, which means that objects obtained during the game are found only within the game. In contrast, blockchain technology is used in crypto gaming, and user-won assets can be converted to actual money. I.e., Players may now redeem their game awards and things on numerous crypto gaming sites.
Crypto gaming takes things a step higher by allowing gamers to make money while playing. This is simply known as play-to-earn games, and it may be implemented in several ways. This significantly changes the nature of gaming and makes people earn money. It is also a familiar form of side hustle. 
By playing and operating different games on the platform, users can earn cryptocurrencies or non-fungible tokens (NFTs). These digital earnings (which are obtained in-game by winning the game) are then converted into player resources. In crypto exchanges, they may trade these assets and convert them into other cryptocurrencies or fiat money. They may also trade investments or sell these digital materials on the internet and make a profit. 
Given that players are already accustomed to the concept of games and tokens, it works similarly to traditional video gaming. There you can't earn money but here you can earn, trade, and sell as you wish. Users in crypto games have complete control of their game-related resources such as tools, digital coins, avatars, weaponry, and so on. After winning the match, gamers may trade them for fiat currency or other cryptocurrencies. 
What Is The Process Of Crypto Gaming?
Players in crypto games may spend real money to buy in-game coins and tokens, as well as get in-game things and boost up their levels and characters. One of the primary reasons for the success of crypto gaming is earning money for sure. Of course, traditional games have the same components, but you cannot earn money. Players can play the game and move on.
The ability to make income by participating in the game is the main attraction here. Some games have previously been pay-to-play and there is no return. Here, in cryptocurrency games, sometimes you need to pay a nominal cost but the earning is higher than that. You may also learn investing basics by joining certain investment games. 
Blockchain technology makes the game more secure and safe to play. Your transactions can be maintained secretly and no one knows that you are earning money through a play-to-earn method.
Why Do You Want to Experiment with Cryptocurrency Gaming?
Crypto gaming makes the most sense for those who currently trade cryptocurrency. People generally choose crypto trading for the following reasons.
You may make greater cryptocurrency profits with less money.
A safe and secure platform for earning additional money.
Access to real-world assets, which means you may sell or exchange your earned crypto.
You may save your coins in a wallet and then convert them as fiat currency.
Crypto gaming will most likely remain an uncommon enthusiasm until cryptocurrencies become more broadly accepted. As a result, it is not as popular as traditional gaming.
What You Need For Crypto Gaming?
It is really simple to get started with crypto gaming. All you require is,
A wallet for cryptocurrency deposit.
An account with a cryptocurrency gaming website.
A gaming device, such as a smartphone, tablet, or PC.
For a competent web user, creating a wallet and gaming account is quick and uncomplicated, and there are several tutorials available for free to assist you well. The only difficulty may be in selecting a device for gaming because some games may demand a high-speed computer to function effectively.
Your gaming experience may suffer if your smartphone is more than a year or two years old. You often feel stuck in the game. You can't earn even though you know the game well.
How can You Make Money by Playing Games?
The play-to-earn NFT gaming market was valued at $755 million in 2021 and is expected to reach $3618 million by the end of 2028 with a CAGR of 21.3%. Making money by playing games makes a large number of players, and hence it was preferred above other conventional games. 
Previously, putting effort into games just enhanced the player's experience. For example, game levels can be completed more quickly than unpaid users. Here come crypto games that allow players to make money from their investment basics. 
Play-to-earn concepts reach the globe widely and even blockchain technology makes many people into the gaming platform. It is mostly because P2E is highly profitable.
Investing Basics For Beginners In Crypto Gaming to Begin Trading
There are several ways to learn the basics of investing and profit from crypto games, and here are some investing tips for beginners. So let's have a look at them!
Gaining Game Tokens: Most blockchain-based games have their own tokens that can be traded as other cryptocurrencies or changed into fiat currency. Some games use another cryptocurrency in their gaming process (They don't have their own tokens to be used in the game). The outcome profit will be the same in both games.
Breeding: Blockchain-based crypto games are not only about battling, exploring, and collecting; you can also breed the earned coins and it is a kind of investment basics. It is an effective way to generate passive revenue by breeding, which involves minting new coins to be used in the game.
Minting New Items in Games: In several metaverse games, users may build goods, gadgets, and other items and receive rights through secondary sales. Other GameFi initiatives allow users to get weaponry and sell them on the marketplace, as well as submit NFT collectible designs.
Staking tokens: Another way to earn money is by staking. It is the process of holding tokens to receive incentives, which allows other users to swap them.
NFT trading: Buying and selling NFTs gives more profit to players. It may appear simple, but earning money in blockchain gaming involves knowledge, time, and possibly a small investment.
Advantages of Playing Crypto Game Trading
You get to play your favorite games while earning money. It is a legitimate approach to generating passive income using cryptocurrency.
You can already witness P2E crypto games influencing new trends in the gaming industry. It enables hassle-free trading with fewer investing basics.
Players and developers can also receive rewards. It is another effective option for both to invest in cryptocurrency.
Promotes blockchain and cryptocurrency use internationally. Because of their increasing popularity, these games are successfully boosting the use of blockchain technology and cryptocurrency.
Are Gaming Coins A Profitable Investment?
The return on investment in crypto gaming is determined by several factors like other traditional assets. Among these are your financial plans, risk tolerance, marketplace circumstances, the feasibility of the project, and other factors.
Trusted gaming projects may give good returns to the players. Before engaging in any crypto gaming (or any other digital asset), you must do your own research and consider current market circumstances, and then go for it.
Don't fall into the trap because it was recommended by a friend or significant person. Begin with a trial game, play for a time, and then invest money in the game. Profit and money return are not guaranteed. Take your own chances and invest.
Closing Thoughts
Now you know the investing basics of decentralization through crypto gaming. And this article gives investing tips for beginners using crypto gaming coins. The crypto games may look easy but make sure whether the project is trustworthy or not. Some will give profits for a few levels and then stop it. Without knowing it, you will deposit and lose money often. So read the project and know who is behind the game development. And then you can invest without worries. If you feel it is not legitimate, then don't go for it at any cost.