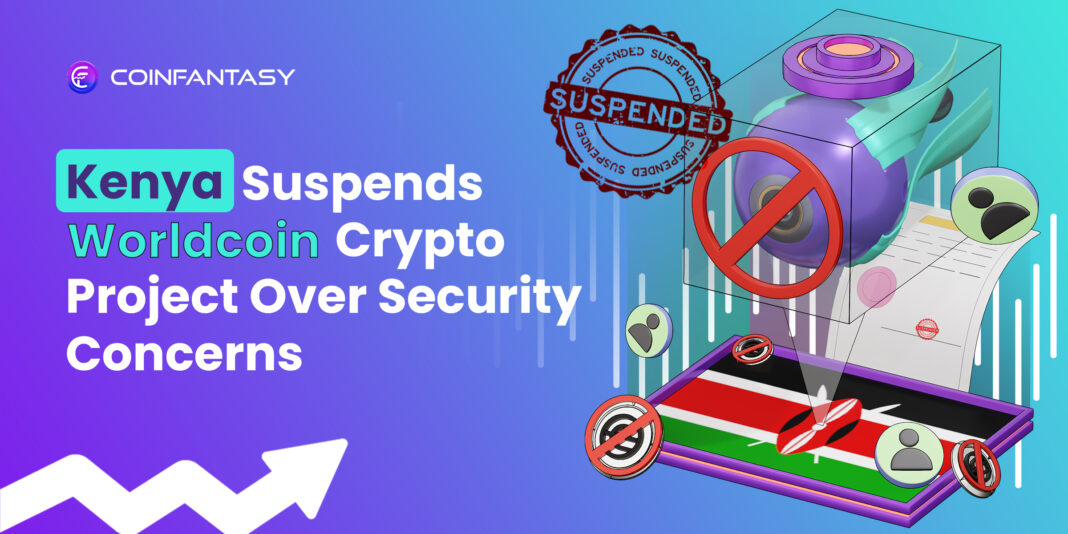 Worldcoin, a new cryptocurrency and digital identity initiative, is having difficulties getting off the ground in several countries. Kenya suspends Worldcoin as the first country and all local activities linked with it.
Kenya's minister of internal security said on Facebook on August 2 that the country has banned Worldcoin operations until relevant public bodies validate the lack of threats to Kenyans.
Last week, OpenAI CEO Sam Altman presented the initiative. It asks users to provide iris scans in return for a digital ID, and in some countries, users also receive free cryptocurrencies as part of efforts to establish a new "identity and financial network".
Statement from Kithure Kindiki Worldcoin Suspension
"Relevant security, financial services, and data protection agencies have launched inquiries and investigations to establish the authenticity and legality of the aforementioned activities," said interior minister Kithure Kindiki in a statement.
According to the Communications Authority of Kenya and the Office of the Data Protection Commissioner, a preliminary evaluation of Worldcoin's activities revealed issues, including that seeking customer agreement in exchange for a monetary prize bordered on enticement.
Kindiki stated that Kenya suspends Worldcoin because it was worried about Worldcoin's actions and that authorities will investigate how it plans to use the data it collects. He stated that anyone who participates in its operations will face consequences, although he did not elaborate.
WorldCoin's Announcement About Kenya Suspension
The Worldcoin Organization, based in the Cayman Islands, said it will use the suspension period to cooperate with officials to improve knowledge of privacy protections in Kenya and other countries where it has a business.
"Worldcoin remains focused on offering a broad, privacy-preserving, decentralized on-ramp to the worldwide digital economy and looks ahead to restarting its operations in Kenya while collaborating effectively with local regulators and other stakeholders," the company said in an announcement.
According to local media, over 350,000 Kenyans had joined Worldcoin as of Tuesday, in return for free cryptocurrency tokens valued at over 7,000 Kenyan shillings ($49).
People from all over the world, including Kenya, Germany, Spain, and France, have been rushing to registration sites to have their eyes examined by a dazzling spherical "orb" since its inception. The idea has also been investigated in the United Kingdom, Germany, and France.
About Worldcoin Launch
After three years of preparation, the Worldcoin project was formally released on July 24, 2023. Sam Altman, the CEO of OpenAI, the company powering the wildly successful artificial intelligence (AI)-based chatbot ChatGPT, co-founded by him.
Worldcoin's objective is based on the premise that as AI technology advances, it will become increasingly difficult to distinguish between humans and online bots. To distinguish humans from artificial intelligence, the business developed a digital ID system based on proof of personhood. A digital ID of this type is created by analyzing an individual's iris and assigning them a World ID.
Closing Thoughts
Sam Altman says that he launched Worldcoin to secure privacy and reduce fraud. However, Kenya suspends Worldcoin project and proves that the project is getting a downward trend from country authorities. At the same time, people from all over the world eagerly register their iris to get Worldcoin. Let's see how it is going to survey.