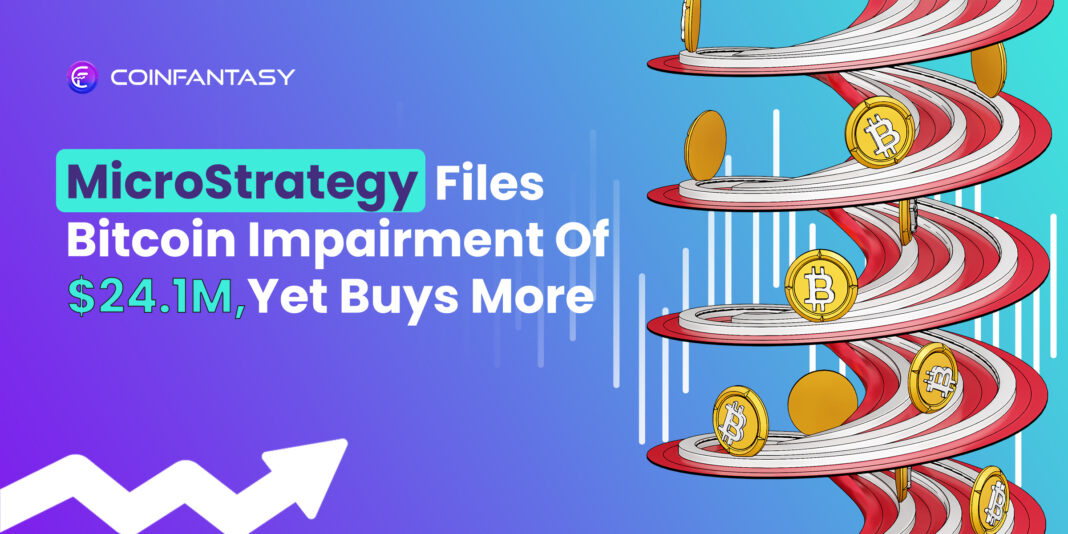 MicroStrategy files Bitcoin impairment of $24.1 million charge on its assets in the second quarter of 2023. According to the most recent earnings report, the company has filed an impairment in contrast to $917.8 million in the prior quarter and $18.9 million charge in the first.
The company's digital asset impairment represents the fall in Bitcoin's worth relative to the price at which it was bought. Current accounting regulations require that the value of digital assets such as cryptocurrency be reported at their cost and only changed if its value suffers impairment or decreases.
However, until an item is sold, price increases are not disclosed. Bitcoin began the second quarter at around $28,500 and completed the quarter at around $30,400.
MicroStrategy's Statement on Filing Impairment for Bitcoin
"Our Bitcoin investments surged to 152,800 Bitcoins as of July 31, 2023, with an acquisition of 12,333 Bitcoins in the second quarter becoming our biggest gain in a single quarter since Q2 2021," stated Andrew Kang, Chief Financial Officer, in an announcement. "We secured capital effectively through our at-the-market investment plan and then utilized income from activities to add Bitcoins to our balance sheet."
And we did so against a positive backdrop of growing institutional concern, accounting transparency advances, and continued regulatory clarification for Bitcoin." According to a tweet from executive chairman Michael Saylor, the corporation purchased 12,333 bitcoin for $347 million in funds between April 29 and June 27, and another 467 BTC for $14.4 million in July. According to a record, the firm purchased 13,000 bitcoins on the same occasion in June of last year.
In July, @MicroStrategy acquired an additional 467 BTC for $14.4 million and now holds 152,800 BTC. Please join us at 5pm ET as we discuss our Q2 2023 financial results and answer questions about the outlook for #BusinessIntelligence and #Bitcoin. $MSTR https://t.co/SCHeBJ80TH

— Michael Saylor⚡️ (@saylor) August 1, 2023
The value of Bitcoin has risen by almost 79% this year, while MicroStrategy files Bitcoin impairment equity has tripled in value. Its 152,800 Bitcoins are estimated to be worth $4.5 billion. MSTR posted sales of $120.4 million, falling short of forecasts from analysts of $123.1 million. MSTR stock was down 1% to $430 after hours on Tuesday.
A Report From Google Finance
In a conversation with Bloomberg on June 13, MicroStrategy chairman Michael Saylor stated that he hopes current Securities and Exchange Commission enforcement measures would eventually work in favor of Bitcoin the sole cryptocurrency banned from being a security by SEC Chair Gary Gensler.
#Bitcoin is clarity in a sea of Crypto chaos. pic.twitter.com/4MMpZS3Bd0

— Michael Saylor⚡️ (@saylor) August 1, 2023
In a second filing to the SEC, also on August 1, the business announced that it intends to sell up to $750 million in stocks for the purchase of Bitcoin and general corporate reasons.
The value of Bitcoin continues to climb in 2023, up 79% since the beginning of the year. As reported by Google Finance, it is presently worth $29,206.80. According to Google Finance, MicroStrategy's share price has likewise had a rebound, beginning at $145.02 per share on Jan. 3 and jumping about 200% to $434.98 at the time of writing.
Berenberg Capital analysts in New York issued an optimistic forecast for MicroStrategy in July, suggesting that the forthcoming Bitcoin halving rally might result in big price gains for the company's shares.
While everyone is delighted about the company's decision, Dan Weiskopf, co-portfolio manager of Amplify Investments' Transformational Data Sharing Exchange Traded Fund, believes that just a few organizations and traders are well-positioned to gain from the increase in revenue pushed on by AI. He did, however, say that Microstrategy may be a special case. More clarification, however, is essential.
BTIG Report Based On MicroStrategy Files Bitcoin Impairment
According to a BTIG analyst analysis, the price of a share of Microstrategy is 92% connected with the value of Bitcoin during the previous two years. If one or more of the most recent wave of applications is approved to sell exchange-traded funds that are based on the current price of Bitcoin, the business will profit from increasing interest in the cryptocurrency, broadening its prospective community of investors.
However, with large investment firms such as Blackrock and Fidelity lined up to issue Bitcoin ETFs, MicroStrategy may face competition for investor focus in the future.
The company's business intelligence division reported $19.9 million in subscription-based service profits, up 42% year on year, and $35.4 million in overall software services sales, up 4% year on year. MicroStrategy's software company has clients such as VisaV, eBay, Disney, and PfizerPFE and has consistently modest growth via cross-selling items to current customers.
Closing Thought
MicroStrategy files Bitcoin impairment in their Q2 report and it is noted by many investors. Based on the company's report, other firms also submitted their opinions too. Now, MicroStrategy becomes the U.S. largest company to hold 152,800 BTC. The company executive Michael Saylor wishes to acquire more BTCs in the upcoming years. Let's wait for the Q3 report, maybe they can buy a few more Bitcoin too.